Features
Top New Science Fiction Books in July 2020
Here are some of the science fiction books that are intriguing us this July.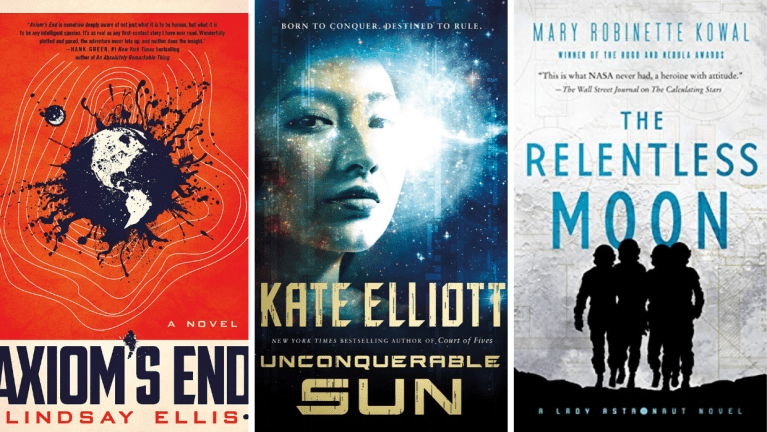 There's so much to look forward to in our speculative fiction future. Here are some of the science fiction books we're most excited about and/or are currently consuming…
Join the Den of Geek Book Club!
Top New Science Fiction Books July 2020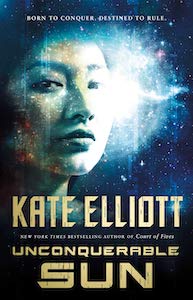 The Unconquerable Sun by Kate Elliott
Type: Novel
Publisher: Tor Books
Release date: July 7
Den of Geek says: Kate Elliott's long career in fantasy has proven her a master of world-building. It has a heck of a tagline: "female Alexander the Great in space." This series promises strong science fiction action.
Publisher's summary: Princess Sun has finally come of age.
Growing up in the shadow of her mother, Eirene, has been no easy task. The legendary queen-marshal did what everyone thought impossible: expel the invaders and build Chaonia into a magnificent republic, one to be respected―and feared.
But the cutthroat ambassador corps and conniving noble houses have never ceased to scheme―and they have plans that need Sun to be removed as heir, or better yet, dead.
To survive, the princess must rely on her wits and companions: her biggest rival, her secret lover, and a dangerous prisoner of war.
Take the brilliance and cunning courage of Princess Leia―add in a dazzling futuristic setting where pop culture and propaganda are one and the same―and hold on tight: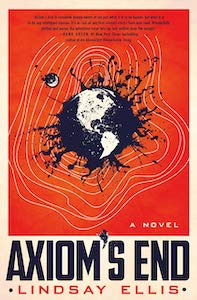 Axiom's End by Lindsay Ellis
Type: Novel
Publisher: St Martin's Press
Release date: July 21
Den of Geek says: Lindsay Ellis is known primarily as a YouTube pop culture critic. She excels at explaining why pop culture works or doesn't work, as well as adding context to day's top headlines. Her first book sounds like a mix between Arrival and The X-Files, set in the early 2000s.
Publisher's summary: The alternate history first contact adventure Axiom's End is an extraordinary debut from Hugo finalist and video essayist Lindsay Ellis.
Truth is a human right.
It's fall 2007. A well-timed leak has revealed that the US government might have engaged in first contact. Cora Sabino is doing everything she can to avoid the whole mess, since the force driving the controversy is her whistleblower father. Even though Cora hasn't spoken to him in years, his celebrity has caught the attention of the press, the Internet, the paparazzi, and the government―and with him in hiding, that attention is on her. She neither knows nor cares whether her father's leaks are a hoax, and wants nothing to do with him―until she learns just how deeply entrenched her family is in the cover-up, and that an extraterrestrial presence has been on Earth for decades.
Realizing the extent to which both she and the public have been lied to, she sets out to gather as much information as she can, and finds that the best way for her to uncover the truth is not as a whistleblower, but as an intermediary. The alien presence has been completely uncommunicative until she convinces one of them that she can act as their interpreter, becoming the first and only human vessel of communication. Their otherworldly connection will change everything she thought she knew about being human―and could unleash a force more sinister than she ever imagined.
Buy Axiom's End by Lindsay Ellis on Amazon.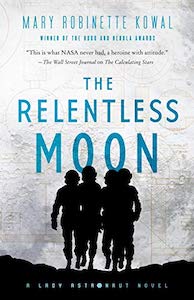 The Relentless Moon (Lady Astronauts) by Mary Robinette Kowal
Type: Novel
Publisher: Tor Books
Release date: July 14
Den of Geek says: The Lady Astronaut series tackles sexism (lots and lots of sexism) in an alternate world where the space race is hurried along by the arrival of a meteor strike. It has gained a lot of fans for its determined characters and convincing alternate history.
Publisher's summary: The Earth is coming to the boiling point as the climate disaster of the Meteor strike becomes more and more clear, but the political situation is already overheated. Riots and sabotage plague the space program. The IAC's goal of getting as many people as possible off Earth before it becomes uninhabitable is being threatened.
Elma York is on her way to Mars, but the Moon colony is still being established. Her friend and fellow Lady Astronaut Nicole Wargin is thrilled to be one of those pioneer settlers, using her considerable flight and political skills to keep the program on track. But she is less happy that her husband, the Governor of Kansas, is considering a run for President.
Top New Science Fiction Books June 2020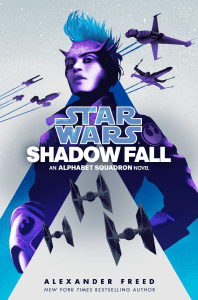 Star Wars: Alphabet Squadron #2: Shadow Fall by Alexander Freed
Type: Novel
Publisher: Del Rey
Date: June 23
Den of Geek says: Star Wars fans looking for spaceship combat or grim character studies found both in Alphabet Squadron. With an emphasis on the "wars" in the title, it's one of the more thoughtful Star Wars books on the market. The sequel is likely to continue that trend. (This month actually brings two Star Wars releases, Shadow Fall and the Prequel novel Queen's Peril.)
Publisher's Summary: Alphabet Squadron's hunt for the deadliest TIE fighters in the galaxy continues in this Star Wars adventure!
News of the New Republic's victory still reverberates through the galaxy. In its wake, the capital ships of the newly legitimized galactic government journey to the farthest stars, seeking out and crushing the remnants of imperial tyranny. But some old ghosts are harder to banish than others. And none are more dangerous than Shadow Wing.
Yrica Quell's ragtag Alphabet Squadron still leads the search for Shadow Wing, but they're no closer to their goal—and the pressure to find their quarry before it's too late has begun to shake them apart. Determined to finish the fight once and for all, Quell works with New Republic Intelligence's contentious Caern Adan and the legendary General Hera Syndulla to prepare the riskiest gambit of her starfighting career—a trap for Shadow Wing that could finish the chase once and for all.
But in the darkness, their enemy has evolved. Soran Keize, last of the Imperial aces, has stepped into the power vacuum at the head of Shadow Wing, reinvigorating the faltering unit in their hour of need. Once adrift in the aftershocks of the war, Keize has found meaning again, leading the lost soldiers of his unit through to safety. The only thing standing in his way? The most mismatched squadron in the New Republic Navy, led by his former mentee: the traitor Yrica Quell.
Buy Alphabet Squadron #2: Shadow Fall by Alexander Freed.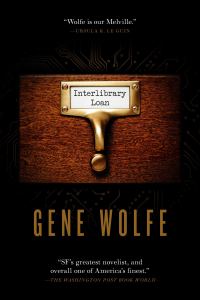 Interlibrary Loan by Gene Wolfe
Type: Novel
Publisher: Tor Books
Release date: June 30
Den of Geek says: When I read Wolfe's dark fantasy books as a teen, they introduced me to a new kind of intricately crafted prose and convoluted stories. This is a sequel to a recent series that deals with books and authorship as part of the story. It might be a bit cutesy as a concept, but the sci-fi worldbuilding full of clones sounds unique.
Publisher's summary: Hundreds of years in the future our civilization is shrunk down but we go on. There is advanced technology, there are robots.
And there are clones.
E. A. Smithe is a borrowed person, his personality an uploaded recording of a deceased mystery writer. Smithe is a piece of property, not a legal human.
As such, Smithe can be loaned to other branches. Which he is. Along with two fellow reclones, a cookbook and romance writer, they are shipped to Polly's Cove, where Smithe meets a little girl who wants to save her mother, a father who is dead but perhaps not.
And another E.A. Smithe… who definitely is.
Buy Interlibrary Loan by Gene Wolfe on Amazon.
The Sunken Land Begins to Rise Again
Type: Novel
Publisher: Hachette
Release date: June 25
Den of Geek says: I'll be honest, science fiction pickings are a bit slim right now. It's much easier to find brand-new fantasy, and this SF pick is fantasy-adjacent. With a style described as "absurdism" (Goodreads), The Sunken Land Begins to Rise Again looks like it could be a strange, dreamlike exploration of a relationship set in an ever-shifting world.
Publisher's summary: Shaw had a breakdown, but he's getting himself back together. He has a single room, a job on a decaying London barge, and an on-off affair with a doctor's daughter called Victoria, who claims to have seen her first corpse at age fourteen.
It's not ideal, but it's a life. Or it would be if Shaw hadn't got himself involved in a conspiracy theory that, on dark nights by the river, seems less and less theoretical . . .
Meanwhile, Victoria is up in the Midlands, renovating her dead mother's house, trying to make new friends. But what, exactly, happened to her mother? Why has the local waitress disappeared into a shallow pool in a field behind the house? And why is the town so obsessed with that old Victorian morality tale, The Water Babies?
As Shaw and Victoria struggle to maintain their relationship, the sunken lands are rising up again, unnoticed in the shadows around them.
Buy The Sunken Land Begins to Rise Again on Amazon.
Top New Science Fiction in May 2020
Network Effect by Martha Wells
Type: Novel
Publisher: Tor
Release date: April 7
Den of Geek says: Martha Wells is a master of comforting, friendly characters in weird, epic settings. Her highly successful "Murderbot" novellas introduced the titular killer robot, who really just wants to watch TV and hang out alone but ends up saving a lot of humans' lives. This is the first full-length book in the series and seems like a good introduction as well.
Publisher's summary: You know that feeling when you're at work, and you've had enough of people, and then the boss walks in with yet another job that needs to be done right this second or the world will end, but all you want to do is go home and binge your favorite shows? And you're a sentient murder machine programmed for destruction? Congratulations, you're Murderbot.
Come for the pew-pew space battles, stay for the most relatable A.I. you'll read this century.
When Murderbot's human associates (not friends, never friends) are captured and another not-friend from its past requires urgent assistance, Murderbot must choose between inertia and drastic action.
Drastic action it is, then.
Buy Network Effect: A Murderbot Novel by Martha Wells.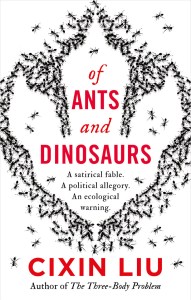 Of Ants and Dinosaurs by Cixin Liu
Type: Novella
Publisher: Head of Zeus
Release date: May 7
Den of Geek says: A new edition of a previously-published novella, this is a snazzy new cover and another intriguing title from Liu. He's bound to put a quirky hard science spin on an ecological parable about two very different species working together.
Publisher's summary: In a sunlit clearing in central Gondwana, on an otherwise ordinary day in the late Cretaceous, the seeds of Earth's first and greatest civilization were sown in the grisly aftermath of a Tyrannosaurus' lunch.
Throughout the universe, intelligence is a rare and fragile commodity – a fleeting glimmer in the long night of cosmic history. That Earth should harbour not just one but two intelligent species at the same time, defies the odds. That these species, so unalike – and yet so complementary – should forge an alliance that kindled a civilization defies logic. But time is endless and everything comes to pass eventually…
The alliance between ants and dinosaurs, was of course, based on dentistry. Yet from such humble beginnings came writing, mathematics, computers, fusion, antimatter and even space travel – a veritable Age of Wonder! But such magnificent industry comes at a price – a price paid first by Earth's biosphere, and then by all those dependent on it.
And yet the Dinosaurs refused to heed the Ants' warning of impending ecological collapse, leaving the Ant Federation facing a single dilemma: destroy the dinosaurs, destroy a civilization… or perish alongside them?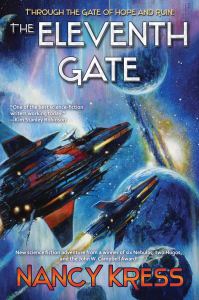 The Eleventh Gate by Nancy Kress
Type: Novel
Publisher: Baen
Release date: May 5
Den of Geek says: A literary-flavored military space opera from an award-winning author following non-combatant characters? Sign me up. The combination of a spoiled kid and a disinterested academic ending up right in the middle of a first contact war could be a lot of fun.
Publisher's Summary: Despite economic and territorial tensions, no one wants the city-states of the Eight Worlds to repeat the Terran Collapse by going to war. But when war accidentally happens, everyone seeks ways to exploit it for gain. The Landry and Peregoy ruling dynasties see opportunities to grab territory, increase profits, and settle old scores. Exploited underclasses use war to fuel rebellion. Ambitious heirs can finally topple their elders' regimes—or try to.
But the unexpected key to either victory or peace lies with two persons uninterested in conquest, profits, or power. Philip Anderson seeks only the transcendent meaning of the physics underlying the universe. Tara Landry, spoiled and defiant youngest granddaughter of dynasty head Rachel Landry, accidentally discovers an eleventh star-jump gate, with a fabulous find on the planet behind it. Her discovery, and Philip's use of it, alter everything for the Eight Worlds.
Buy The Eleventh Gate by Nancy Kress.
Top New Science Fiction in April 2020
Eden by Tim Lebbon
Type: Novel
Publisher: Titan Books
Release date: April 7
Den of Geek says: Pitched as an Amazing Race through Annihilation's Area X, this frontrunner in the wave of New Weird-derived eco-thrillers looks inventive and tense.
Publisher's summary: Earth's rising oceans contain enormous islands of refuse, the Amazon rainforest is all-but destroyed, and countless species edge towards extinction. Humanity's last hope to save the planet lies with The Virgin Zones, thirteen vast areas of land off-limits to people and given back to nature.
Dylan leads a clandestine team of adventure racers, including his daughter Jenn, into Eden, the oldest of the Zones. Jenn carries a secret–Kat, Dylan's wife who abandoned them both years ago, has entered Eden ahead of them. Jenn is determined to find her mother, but neither she nor the rest of their tight-knit team are prepared for what confronts them. Nature has returned to Eden in an elemental, primeval way. And here, nature is no longer humanity's friend.
Buy Eden by Tim Lebbon on Amazon.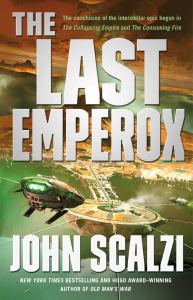 The Last Emperox by John Scalzi
Type: Third novel in the "Interdependency" series
Publisher: Tor Books
Release date: April 14
Den of Geek says: A science fiction list just isn't complete without hard SF master John Scalzi. The final book in the popular series shows Emperox Grayland II struggling to keep her star-spanning culture together.
Publisher's summary: The collapse of The Flow, the interstellar pathway between the planets of the Interdependency, has accelerated. Entire star systems―and billions of people―are becoming cut off from the rest of human civilization. This collapse was foretold through scientific prediction . . . and yet, even as the evidence is obvious and insurmountable, many still try to rationalize, delay and profit from, these final days of one of the greatest empires humanity has ever known.
Emperox Grayland II has finally wrested control of her empire from those who oppose her and who deny the reality of this collapse. But "control" is a slippery thing, and even as Grayland strives to save as many of her people form impoverished isolation, the forces opposing her rule will make a final, desperate push to topple her from her throne and power, by any means necessary. Grayland and her thinning list of allies must use every tool at their disposal to save themselves, and all of humanity. And yet it may not be enough.
Will Grayland become the savior of her civilization . . . or the last emperox to wear the crown?
Buy The Last Emperor (Interdependency #3) by John Scalzi on Amazon.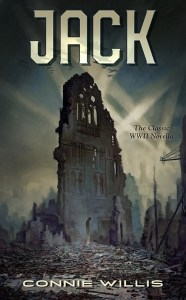 Jack by Connie Willis
Type: Novella (New Edition)
Publisher: Subterranean
Release date: April 30
Den of Geek says: Connie Willis is a classic science fiction writer full of wit and inventiveness. Subterranean Press turns their artistic eyes to a new hardcover edition of the historical SF novel Jack.
Publisher's summary: During the height of the Blitz in London, the air raid rescue squad operating out of Mrs. Lucy's house is close-knit and ever-watchful. When a new volunteer named Jack shows up, his odd behavior— not eating, disappearing during the day for a mysterious job—isn't concerning at first. The sleepless stress of the job is hard on everyone. Soon, Jack is in high demand, due to an almost uncanny talent for finding buried people still alive under the rubble… But how does he do it? As the narrator, another member of the squad also named Jack, begins to investigate, the truth turns out to have a dark, tragic twist. New York Times bestselling, multiple-award-winning author Connie Willi's surprising and deftly rendered classic 1991 novella Jack, a finalist for the Nebula and the Hugo awards, is a must-have for readers of her beloved works set in World War II, including "Fire Watch," Blackout, and All Clear.
Buy Jack by Connie Willis on Amazon.
Top New Science Fiction for March 2020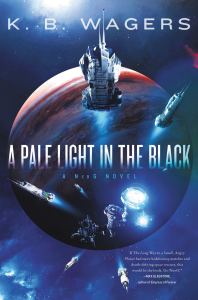 A Pale Light in the Black by K.B. Wagers
Type: Novel
Publisher: HarperCollins
Release date: March 3

Den of Geek says: When you hear the term military science fiction, the image that comes to mind is usually marines with guns. In Coast Guard-inspired starship story, the key word isn't attack, it's rescue. This slight twist on the classic story sounds like it will open up new opportunities to explore the main character and her team, without sacrificing any action along the way.

Publisher's Summary: For the past year, their close loss in the annual Boarding Games has haunted Interceptor Team: Zuma's Ghost. With this year's competition looming, they're looking forward to some payback—until an unexpected personnel change leaves them reeling. Their best swordsman has been transferred, and a new lieutenant has been assigned in his place.

Maxine Carmichael is trying to carve a place in the world on her own—away from the pressure and influence of her powerful family. The last thing she wants is to cause trouble at her command on Jupiter Station. With her new team in turmoil, Max must overcome her self-doubt and win their trust if she's going to succeed. Failing is not an option—and would only prove her parents right.

But Max and the team must learn to work together quickly. A routine mission to retrieve a missing ship has suddenly turned dangerous, and now their lives are on the line. Someone is targeting members of Zuma's Ghost, a mysterious opponent willing to kill to safeguard a secret that could shake society to its core . . . a secret that could lead to their deaths and kill thousands more unless Max and her new team stop them.

Rescue those in danger, find the bad guys, win the Games. It's all in a day's work at the NeoG.
Buy A Pale Light in the Black on Amazon.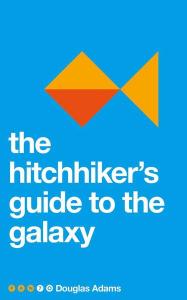 The Hitchhiker's Guide to the Galaxy
Type: Novel
Publisher: Pan Macmillan
Release date: March 5

Den of Geek says: A new edition of the humorous classic comes with some new commentary for the 42nd anniversary. It's a classic for a reason, wildly inventive (essentially predicting the invention of the e-reader) and full of laughs both zany and dry. Arthur Dent's disbelieving, tired jaunt through a weird universe is a road trip for the ages.

Publisher's summary: An international phenomenon and pop-culture classic, The Hitchhiker's Guide to the Galaxy has been a radio show, TV series, novel, stage play, comic book and film. Following the galactic (mis)adventures of Arthur Dent, Hitchhiker's in its various incarnations has captured the imaginations of curious minds around the world . . .

It's an ordinary Thursday lunchtime for Arthur Dent until his house gets demolished. The Earth follows shortly afterwards to make way for a new hyperspace express route, and his best friend has just announced that he's an alien. At this moment, they're hurtling through space with nothing but their towels and an innocuous-looking book inscribed, in large friendly letters, with the words: DON'T PANIC.

The weekend has only just begun . . .

With exclusive bonus material from the Douglas Adams archives, and an introduction by former Doctor Who showrunner, Russell T Davies.
Buy The Hitchhiker's Guide to the Galaxy on Pan MacMillan.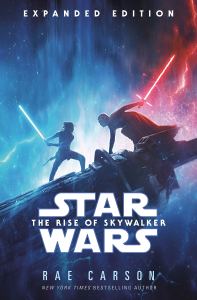 The Rise of Skywalker: Expanded Edition by Rae Carson
Type: Novel
Publisher: Del Rey
Release date: March 17

Den of Geek says: Whether you loved or hated the new Star Wars movie, there's something to wonder about in the novelization. Rey's story and its surprising twist must be a challenge for an author to reconcile. It's a big responsibility to end the current crop of Star Wars movies, even if just in book form.

Publisher's Summary: Witness the epic final chapter of the Skywalker saga with the official novelization of Star Wars: The Rise of Skywalker, including expanded scenes and additional content not seen in theaters!
The Resistance has been reborn. But although Rey and her fellow heroes are back in the fight, the war against the First Order, now led by Supreme Leader Kylo Ren, is far from over. Just as the spark of rebellion is rekindling, a mysterious signal broadcasts throughout the galaxy, with a chilling message: Emperor Palpatine, long thought defeated and destroyed, is back from the dead.
Has the ancient Lord of the Sith truly returned? Kylo Ren cuts a swath of destruction across the stars, determined to discover any challenge to his control over the First Order and his destiny to rule over the galaxy—and crush it completely. Meanwhile, to discover the truth, Rey, Finn, Poe, and the Resistance must embark on the most perilous adventure they have ever faced.
Featuring all-new scenes adapted from never-before-seen material, deleted scenes, and input from the filmmakers, the story that began in Star Wars: The Force Awakens and continued in Star Wars: The Last Jedi reaches an astounding conclusion.
Buy The Rise of Skywalker: Expanded Edition on Amazon.

Top New Science Fiction in February 2020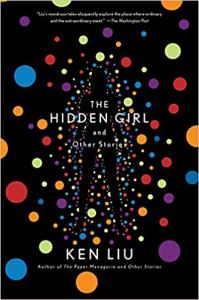 The Hidden Girl and Oher Stories by Ken Liu
Type: Short Story Collection
Publisher: Simon & Schuster
Release date: 2/25/20
Den of Geek says: Ken Liu is one of today's hottest science fiction writers, and his second short story collection could be either a good place to start or a treat for a fan.
Publisher's summary: From award-winning author Ken Liu comes his much anticipated second volume of short stories.
Ken Liu is one of the most lauded short story writers of our time. This collection includes a selection of his science fiction and fantasy stories from the last five years—sixteen of his best—plus a new novelette.
In addition to these seventeen selections, The Hidden Girl and Other Stories also features an excerpt from book three in the Dandelion Dynasty series, The Veiled Throne.
Read The Hidden Girl and Other Stories by Ken Liu on Amazon.
Picard: The Last Best Hope by Una McCormack
Type: Novel
Publisher: Simon & Schuster
Release date: 2/11/20
Den of Geek says: This is the first tie-in novel for the lauded Star Trek series Picard. What more can I say? Get inside the venerable captain's head as his new adventure begins.
Publisher's summary: A thrilling novel leading into the new CBS series, Una McCormack's The Last Best Hope introduces you to brand new characters featured in the life of beloved Star Trek captain Jean-Luc Picard—widely considered to be one of the most popular and recognizable characters in all of science fiction.
Buy Picard: The Last Best Hope by Una McCormack on Amazon.
Highcastle: A Remembrance by Stanisław Lem
Type: Nonfiction
Publisher: MIT Press
Release date: 2/18/20
Den of Geek says: Reading classic SF can put current conversations in the book world in an interesting new perspective, and MIT Press' commitment to publishing the works of Stanisław Lem brings the classics back in a neatly packaged format. Highcastle in particular may be interesting to newcomers or classic fans who want to learn about the famous author's influences.
Publisher's summary: A playful, witty, reflective memoir of childhood by the science fiction master Stanisław Lem.
With Highcastle, Stanisław Lem offers a memoir of his childhood and youth in prewar Lvov. Reflective, artful, witty, playful—"I was a monster," he observes ruefully—this lively and charming book describes a youth spent reading voraciously (he was especially interested in medical texts and French novels), smashing toys, eating pastries, and being terrorized by insects. Often lonely, the young Lem believed that he could communicate with household objects—perhaps anticipating the sentient machines in the adult Lem's novels. Lem reveals his younger self to be a dreamer, driven by an unbridled imagination and boundless curiosity.
In the course of his reminiscing, Lem also ponders the nature of memory, innocence, and the imagination. Highcastle (the title refers to a nearby ruin) offers the portrait of a writer in his formative years.
Buy Highcastle: A Remembrance by Stanisław Lem on Amazon.
What new speculative fiction books are on your radar? Let us know in the comments below or over at the Den of Geek Book Club!
Megan Crouse writes about Star Wars and pop culture for StarWars.com, Star Wars Insider, and Den of Geek. Read more of her work here. Find her on Twitter @blogfullofwords.