Features
Best New Science Fiction Books in November 2022
Whether you're looking for new horizons, space opera adventure or far future technology, you can find some among our picks for best science fiction books in November 2022.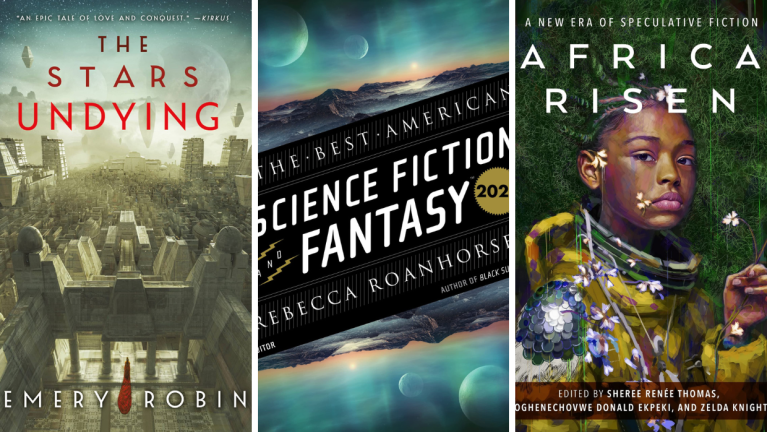 It's a good month for science fiction, with two anthologies featuring star authors and a wealth of options. Whether you're looking for new horizons, space opera adventure or far future technology, you can find some among our picks for best science fiction books in November 2022.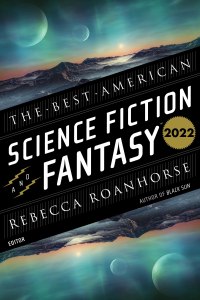 The Best American Science Fiction And Fantasy 2022 edited by John Joseph Adams and Rebecca Roanhorse
Type: Anthology
Publisher: Mariner Books
Release date: November 1
Den of Geek says: Yearly anthologies are a great resource for writers looking to keep up with the market. Plus, this is guaranteed to showcase the best of the year among professionally published science fiction and fantasy. You could do worse for entertainment than that.
Publisher's summary: Today's readers of science fiction and fantasy have an appetite for stories that address a wide variety of voices, perspectives, and styles. There is an openness to experiment and pushing boundaries, combined with the classic desire to read about spaceships and dragons, future technology and ancient magic, and the places where they intersect. Contemporary science fiction and fantasy looks to accomplish the same goal as ever—to illuminate what it means to be human.
With a diverse selection of stories chosen by series editor John Joseph Adams and guest editor Rebecca Roanhorse, The Best American Science Fiction and Fantasy 2022 explores the ever-expanding and changing world of contemporary science fiction and fantasy.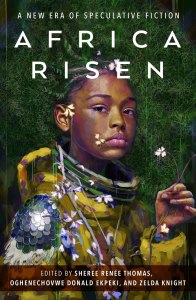 Africa Risen: A New Era of Speculative Fiction edited by Sheree Renée Thomas, Oghenechovwe Donald Ekpeki and Zelda Knight
Type: Anthology
Publisher: Tordotcom
Release date: November 15
Den of Geek says: Another well-curated anthology uplifts fantasy and science fiction from Africa and the African diaspora.
Publisher's summary: A group of cabinet ministers query a supercomputer containing the minds of the country's ancestors. A child robot on a dying planet uncovers signs of fragile new life. A descendent of a rain goddess inherits her grandmother's ability to change her appearance―and perhaps the world.

Created in the legacy of the seminal, award-winning anthology series Dark Matter, Africa Risen celebrates the vibrancy, diversity, and reach of African and Afro-Diasporic SFF and reaffirms that Africa is not rising―it's already here.
The Stars Undying by Emery Robin
Type: Novel
Publisher: Orbit
Release date: November 8
Den of Geek says: "Cleopatra in space" is a great tagline, and we're curious about any space opera said to follow in the footsteps of Ann Leckie and Arkady Martine.
Publisher's summary: Princess Altagracia has lost everything. After a bloody civil war, her twin sister has claimed both the crown of their planet, Szayet, and the Pearl of its prophecy: a computer that contains the immortal soul of Szayet's god.
So when the interstellar Empire of Ceiao turns its conquering eye toward Szayet, Gracia sees an opportunity. To regain her planet, Gracia places herself in the hands of the empire and its dangerous commander, Matheus Ceirran.
But winning over Matheus, to say nothing of his mercurial and compelling captain Anita, is no easy feat. And in trying to secure her planet's sovereignty and future, Gracia will find herself torn between Matheus's ambitions, Anita's unpredictable desires, and the demands of the Pearl that whispers in her ear.
For Szayet's sake and her own, she will need to become more than a princess with a silver tongue. She will have to become a queen as history has never seen before.
Nightwatch Over Windscar by K. Eason
Type: Novel
Publisher: DAW
Release date: November 8
Den of Geek says: We really enjoyed the first book in this series. The mystery, action, and alien cast will likely work for fans of Mass Effect and Dragon Age. Don't mind the fact that this exists in a larger universe, unless you're already a fan: the first book, Nightwatch on the Hinterlands, works as a standalone.
Publisher's summary: Iari is good at killing monsters. As a templar in the Aedis, a multi-species religious organization committed to protecting the Confederation, eliminating extra-dimensional horrors is her job. But after she helped stop separatists from sabotaging the entire Confederation, she discovered a new sort of monster: the rogue-arithmancer, political kind.

Promoted and sent north to the tundra of Windscar, Iari leads a team of templars to investigate ancient, subterranean ruins, which local legend claims are haunted, and which have mysterious connections to the dangerous arithmancy used by the wichu separatists. Iari isn't worried about ghosts. She's worried about surviving separatists and a fresh attempt to upend the Confederation.

Included in Iari's team are Char, a decommissioned battle-mecha and newly-joined templar, and Gaer, ostensible ambassador and talented arithmancer. As they delve into the ruins, they find remnants of long-ago battles, bits of broken armor and mechas—which unexpectedly reanimate and attack. It seems there is still dangerous arithmancy in Windscar–but the source isn't who Iari expected, and they're far worse than the separatists….