Features
Top New Science Fiction Books in April 2021
Looking for space opera or alternate Earths? Here are some of the new science fiction books we're most excited about and/or are currently consuming in 2021.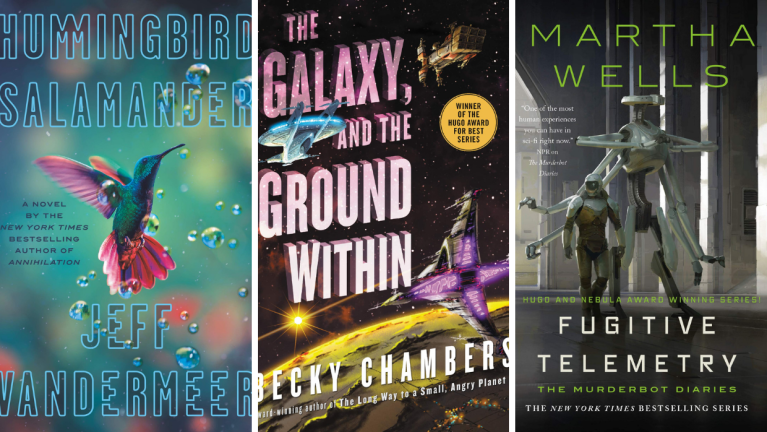 Science fiction has the power to take us away—to escape, to make us reflect back on our own world in challenging ways, to fill us with awe and wonder about the beauties of the universe. There are so many science fiction books out there worth your time, but we only have room to recommend a few. Here are some of the science fiction books we're most looking forward to in April 2021…
Top New Science Fiction Books in April 2021
The Galaxy and the Ground Within by Becky Chambers
Type: Novel
Publisher: Harper Voyager
Release date: April 20

Den of Geek says: Ever since her groundbreaking A Long Way to a Small, Angry Planet, Chambers has been a powerful voice in science fiction. Colorful, creative aliens inhabit a galaxy sparkling with healing and love, "soft" science fiction in the online sense that is also bursting with ideas and thoughtful characterization.
Publisher's summary: Return to the sprawling, Hugo Award-winning universe of the Galactic Commons to explore another corner of the cosmos—one often mentioned, but not yet explored—in this absorbing entry in the Wayfarers series, which blends heart-warming characters and imaginative adventure.

With no water, no air, and no native life, the planet Gora is unremarkable. The only thing it has going for it is a chance proximity to more popular worlds, making it a decent stopover for ships traveling between the wormholes that keep the Galactic Commons connected. If deep space is a highway, Gora is just your average truck stop.
At the Five-Hop One-Stop, long-haul spacers can stretch their legs (if they have legs, that is), and get fuel, transit permits, and assorted supplies. The Five-Hop is run by an enterprising alien and her sometimes helpful child, who work hard to provide a little piece of home to everyone passing through.
When a freak technological failure halts all traffic to and from Gora, three strangers—all different species with different aims—are thrown together at the Five-Hop. Grounded, with nothing to do but wait, the trio—an exiled artist with an appointment to keep, a cargo runner at a personal crossroads, and a mysterious individual doing her best to help those on the fringes—are compelled to confront where they've been, where they might go, and what they are, or could be, to each other.
Buy The Galaxy and the Ground Within by Becky Chambers.
Fugitive Telemetry by Martha Wells
Type: Novella
Publisher: Tordotcom
Release date: April 27
Den of Geek says: Wells' beloved Murderbot has become one of the most entertaining and must-see characters of today's science fiction. The android with a reluctant heart is not to be missed. Wells rarely fails to be entertaining.
Publisher's summary: Having captured the hearts of readers across the globe (Annalee Newitz says it's "one of the most humane portraits of a nonhuman I've ever read") Murderbot has also established Martha Wells as one of the great SF writers of today.
No, I didn't kill the dead human. If I had, I wouldn't dump the body in the station mall.
When Murderbot discovers a dead body on Preservation Station, it knows it is going to have to assist station security to determine who the body is (was), how they were killed (that should be relatively straightforward, at least), and why (because apparently that matters to a lot of people―who knew?)
Yes, the unthinkable is about to happen: Murderbot must voluntarily speak to humans!
Again!
Buy Fugitive Telemetry by Martha Wells.
Hummingbird Salamander by Jeff Vandermeer
Type: Novel
Publisher: MCD
Release date: April 6
Den of Geek says: This eco-thriller from the author of Annihilation trades the weird setting for a more prosaic but just as mysterious chase.
Publisher's summary: Security consultant "Jane Smith" receives an envelope with a key to a storage unit that holds a taxidermied hummingbird and clues leading her to a taxidermied salamander. Silvina, the dead woman who left the note, is a reputed ecoterrorist and the daughter of an Argentine industrialist. By taking the hummingbird from the storage unit, Jane sets in motion a series of events that quickly spin beyond her control.

Soon, Jane and her family are in danger, with few allies to help her make sense of the true scope of the peril. Is the only way to safety to follow in Silvina's footsteps? Is it too late to stop? As she desperately seeks answers about why Silvina contacted her, time is running out—for her and possibly for the world.

Hummingbird Salamander is Jeff VanderMeer at his brilliant, cinematic best, wrapping profound questions about climate change, identity, and the world we live in into a tightly plotted thriller full of unexpected twists and elaborate conspiracy.
Buy Hummingbird Salamander by Jeff Vandermeer.
Top New Science Fiction Books in March 2021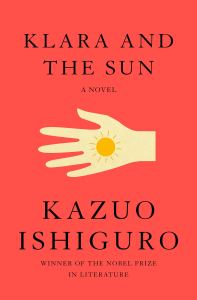 Klara and the Sun by Kazuo Ishiguro
Type: Novel
Publisher: Knopf
Release date: March 2

Den of Geek says: Nobel Prize winner Kazuo Ishiguro is known for his literary fiction like The Remains of the Day and high-brow science fiction like Never Let Me Go. His newest tackles robot sapience in a story sure to be as much about the human heart as about machines.
Publisher's Summary: Klara and the Sun, the first novel by Kazuo Ishiguro since he was awarded the Nobel Prize in Literature, tells the story of Klara, an Artificial Friend with outstanding observational qualities, who, from her place in the store, watches carefully the behavior of those who come in to browse, and of those who pass on the street outside. She remains hopeful that a customer will soon choose her.
Klara and the Sun is a thrilling book that offers a look at our changing world through the eyes of an unforgettable narrator, and one that explores the fundamental question: what does it mean to love?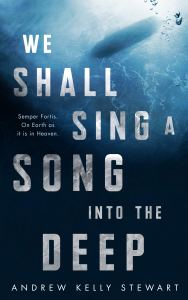 We Shall Sing a Song Into the Deep by Andrew Kelly Stewart
Type: Novel
Publisher: Tor.com
Release date: March 9

Den of Geek says: Any comparison to A Canticle for Leibowitz goes pretty far here. This claustrophobic thriller with post-apocalyptic cult elements sounds intense and inventive.

Publisher's Summary: A Canticle for Leibowitz meets The Hunt for Red October in We Shall Sing a Song into the Deep, a lyrical and page-turning coming-of-age exploration of duty, belief, and the post-apocalypse from breakout newcomer Andrew Kelly Stewart.
Remy is a Chorister, rescued from the surface world and raised to sing in a choir of young boys. Remy is part of a strange crew who control the Leviathan, an aging nuclear submarine, that bears a sacred mission: to trigger the Second Coming when the time is right.
But Remy has a secret too―she's the submarine's only girl. Gifted with the missile's launch key by theLeviathan's dying caplain, she swears to keep it safe. Safety, however, is not the priority of the new caplain, who has his own ideas about the mission. When a surface-dweller is captured during a raid, Remy's faith becomes completely overturned. Now, her last judgement may transform the fate of everything.
Buy We Shall Sing a Song Into the Deep by Andrew Kelly Stewart.
A Desolation Called Peace by Arkady Martine
Type: Novel
Publisher: Tor Books
Release date: March 2

Den of Geek says: Martine's previous novel brought us to a world of poetry, AI, body-sharing, and high-stakes politics. The nascent rebellion against the Teixcalaanli empire takes a back seat as alien invaders threaten the empire and its colonies in the sequel.

Publisher's Summary: A Desolation Called Peace is the spectacular space opera sequel to Arkady Martine's genre-reinventing, Hugo Award-winning debut, A Memory Called Empire.
An alien armada lurks on the edges of Teixcalaanli space. No one can communicate with it, no one can destroy it, and Fleet Captain Nine Hibiscus is running out of options.
In a desperate attempt at diplomacy with the mysterious invaders, the fleet captain has sent for a diplomatic envoy. Now Mahit Dzmare and Three Seagrass―still reeling from the recent upheaval in the Empire―face the impossible task of trying to communicate with a hostile entity.
Their failure will guarantee millions of deaths in an endless war. Their success might prevent Teixcalaan's destruction―and allow the empire to continue its rapacious expansion.
Or it might create something far stranger . . .
Buy A Desolation Called Peace by Arkady Martine.
Top New Science Fiction Books in February 2021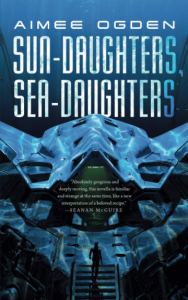 Sun-Daughters, Sea-Daughters by Aimee Ogden
Type: Novel
Publisher: Tor.com
Release date: Feb. 23
Den of Geek says: Space mermaids make for an automatically charming concept, as do the twists and turns (an witchy romance?) on the classic story.

Publisher's summary: One woman will travel to the stars and beyond to save her beloved in this lyrical space opera that reimagines The Little Mermaid.
Gene-edited human clans have scattered throughout the galaxy, adapting themselves to environments as severe as the desert and the sea. Atuale, the daughter of a Sea-Clan lord, sparked a war by choosing her land-dwelling love and rejecting her place among her people. Now her husband and his clan are dying of a virulent plague, and Atuale's sole hope for finding a cure is to travel off-planet. The one person she can turn to for help is the black-market mercenary known as the World Witch―and Atuale's former lover. Time, politics, bureaucracy, and her own conflicted desires stand between Atuale and the hope for her adopted clan.
Buy Sun-Daughters, Sea-Daughters by Aimee Ogden.
The Loosening Skin by Aliya Whiteley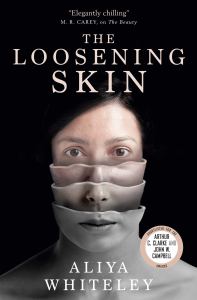 Type: Novel
Publisher: Titan Books
Release date: Feb. 23

Den of Geek says: Science fiction allows us to explore how biology effects culture. Like Early Riser by Jasper Fforde, an absurdist novel that explores a world where humans hibernate, The Loosening Skin takes one biological concept (humans who shed) and wraps a mystery around it.

Publisher's summary: Rose Allington is a bodyguard for celebrities, and she suffers from a rare disease. Her moults come quickly, changing everything about her life, who she is, who she loves, who she trusts.
In a world where people shed their skin, it's a fact of life that we move on and cast off the attachments of our old life. But those memories of love can be touched – and bought – if you know the right people.
Rose's former client, superstar actor Max Black, is hooked on Suscutin, a new wonderdrug that prevents the moult. Max knows his skins are priceless, and moulting could cost him his career.
When one of his skins is stolen, and the theft is an inside job, Max needs the best who ever worked for him – even if she's not the same person.
The Loosening Skin by Aliya Whiteley.
A History of What Comes Next by Sylvain Neuvel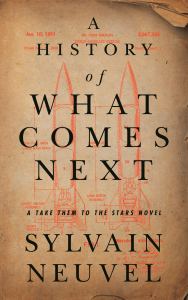 Type: Novel
Publisher: Tor.com
Release date: Feb. 2

Den of Geek says: Sylvain Neuvel wowed with the Themis Files series, a fast-paced mech thriller with adventure, heart, and body horror. An alternate look at the space race turns into sharp science fiction in the first book in his new series.
Publisher's summary: Showing that truth is stranger than fiction, Sylvain Neuvel weaves a sci-fi thriller reminiscent of Blake Crouch and Andy Weir, blending a fast moving, darkly satirical look at 1940s rocketry with an exploration of the amorality of progress and the nature of violence in A History of What Comes Next.
Always run, never fight.
Preserve the knowledge.
Survive at all costs.
Take them to the stars.
Over 99 identical generations, Mia's family has shaped human history to push them to the stars, making brutal, wrenching choices and sacrificing countless lives. Her turn comes at the dawn of the age of rocketry. Her mission: to lure Wernher Von Braun away from the Nazi party and into the American rocket program, and secure the future of the space race.
But Mia's family is not the only group pushing the levers of history: an even more ruthless enemy lurks behind the scenes.
A darkly satirical first contact thriller, as seen through the eyes of the women who make progress possible and the men who are determined to stop them…
Buy A History of What Comes Next by Sylvain Neuvel.
Top New Science Fiction Books in January 2021
Remote Control by Nnedi Okorafor
Type: Novel
Publisher: Tordotcom
Release date: Jan. 19, 2021

Den of Geek says: Award-winning Nnedi Okorafor brings a mix of science fiction and fantasy with this unique take on the Grim Reaper.

Publisher's Summary: The day Fatima forgot her name, Death paid a visit. From hereon in she would be known as Sankofa­­—a name that meant nothing to anyone but her, the only tie to her family and her past.
Her touch is death, and with a glance a town can fall. And she walks—alone, except for her fox companion—searching for the object that came from the sky and gave itself to her when the meteors fell and when she was yet unchanged; searching for answers.
But is there a greater purpose for Sankofa, now that Death is her constant companion?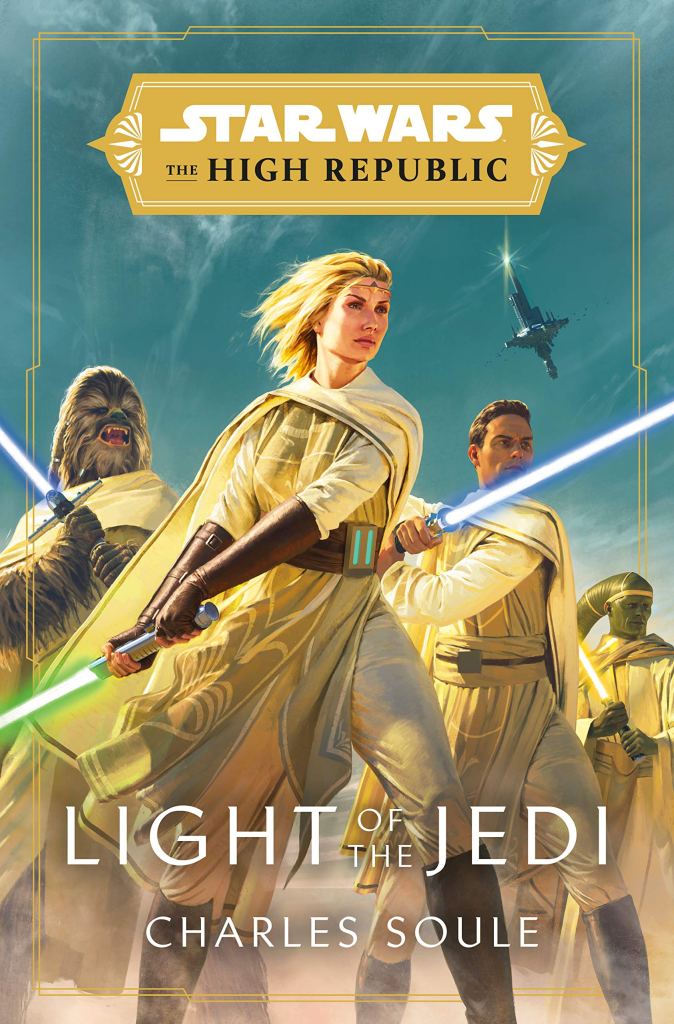 Star Wars: Light of the Jedi
Type: Novel
Publisher: Del Rey
Release date: Jan. 5, 2021
Den of Geek says: One of the first books in the The High Republic series, it introduces the new era with the story of Jedi 200 years before the fall of the Republic. You'll find no Skywalkers, Solos, or Palpatines here, but rather an ensemble of fun new galactic warrior-monks.
Publisher's summary: Long before the First Order, before the Empire, before even The Phantom Menace . . . Jedi lit the way for the galaxy in The High Republic

It is a golden age. Intrepid hyperspace scouts expand the reach of the Republic to the furthest stars, worlds flourish under the benevolent leadership of the Senate, and peace reigns, enforced by the wisdom and strength of the renowned order of Force users known as the Jedi. With the Jedi at the height of their power, the free citizens of the galaxy are confident in their ability to weather any storm But the even brightest light can cast a shadow, and some storms defy any preparation.
When a shocking catastrophe in hyperspace tears a ship to pieces, the flurry of shrapnel emerging from the disaster threatens an entire system. No sooner does the call for help go out than the Jedi race to the scene. The scope of the emergence, however, is enough to push even Jedi to their limit. As the sky breaks open and destruction rains down upon the peaceful alliance they helped to build, the Jedi must trust in the Force to see them through a day in which a single mistake could cost billions of lives.
Even as the Jedi battle valiantly against calamity, something truly deadly grows beyond the boundary of the Republic. The hyperspace disaster is far more sinister than the Jedi could ever suspect. A threat hides in the darkness, far from the light of the age, and harbors a secret that could strike fear into even a Jedi's heart.

Buy Star Wars: Light of the Jedi.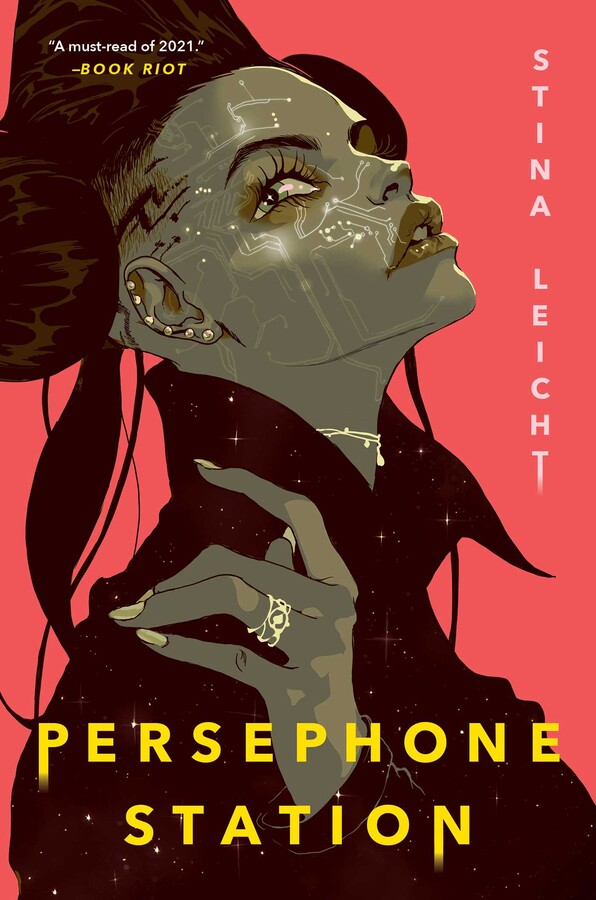 Persephone Station by Stina Leicht
Type: Novel
Publisher: Gallery / Saga Press
Release date: Jan. 5, 2021

Den of Geek says: Roguish space opera serves up escapism with a side of criminal glam.

Publisher's Summary: Hugo award–nominated author Stina Leicht has created a take on space opera for fans of The Mandalorian and Cowboy Bebop in this high-stakes adventure.
Persephone Station, a seemingly backwater planet that has largely been ignored by the United Republic of Worlds becomes the focus for the Serrao-Orlov Corporation as the planet has a few secrets the corporation tenaciously wants to exploit.
Rosie—owner of Monk's Bar, in the corporate town of West Brynner, caters to wannabe criminals and rich Earther tourists, of a sort, at the front bar. However, exactly two types of people drank at Monk's back bar: members of a rather exclusive criminal class and those who sought to employ them.
Angel—ex-marine and head of a semi-organized band of beneficent criminals, wayward assassins, and washed up mercenaries with a penchant for doing the honorable thing is asked to perform a job for Rosie. What this job reveals will effect Persephone and put Angel and her squad up against an army. Despite the odds, they are rearing for a fight with the Serrao-Orlov Corporation. For Angel, she knows that once honor is lost, there is no regaining it. That doesn't mean she can't damned well try.