Features
Best New Fantasy Books in August 2022
House of the Dragon and The Rings of Power got you hungry for more sword and sorcery? These are the best new fantasy books to read this month!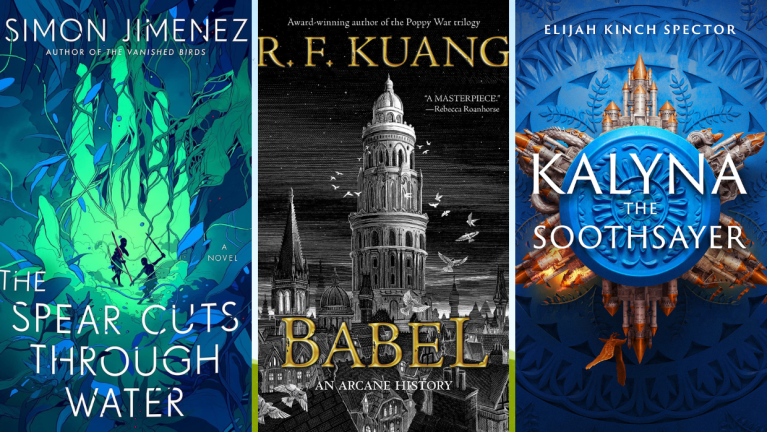 Fantasy has always had an interest in kingdoms, royals and governments, but contemporary books like the Baru Cormorant series tie that to a cynicism about government effectiveness in a way that tends to make for dark, convoluted political stories. This month we have a selection of precarious kingdoms, plus a microcosm of the same in academia. Here are our picks for best new fantasy books in August 2022.
Kalyna the Soothsayer by Elijah Kinch Spector
Type: Novel
Publisher: Erewhon
Release date: August 30
Den of Geek says: We love the idea of an oracle who doesn't actually have the power to tell the future. How will her lies complicate the kingdom's troubles? And how much of that kingdom was built on lies in the first place?

Publisher's summary: Kalyna's family has the Gift: the ability to see the future. For generations, they traveled the four kingdoms of the Tetrarchia selling their services as soothsayers. Every child of their family is born with this Gift—everyone except Kalyna.
So far, Kalyna has used informants and trickery to falsify prophecies for coin, scrounging together a living for her deteriorating father and cruel grandmother. But Kalyna's reputation for prophecy precedes her, and poverty turns to danger when she is pressed into service by the spymaster to Rotfelsen.
Kalyna is to use her "Gift" to uncover threats against Rotfelsen's king, her family held hostage to ensure her good behavior. But politics are devious; the king's enemies abound, and Kalyna's skills for investigation and deception are tested to the limit. Worse, the conspiracy she uncovers points to a larger threat, not only to Rotfelsen but to the Tetrarchia itself.
Kalyna is determined to protect her family and newfound friends, but as she is drawn deeper into palace intrigue, she can no longer tell if her manipulations are helping prevent the Tetrarchia's destruction—or if her lies will bring about its prophesized downfall. 
Babel by R.F. Kuang
Type: Novel
Publisher: Harper Voyager
Release date: August 23
Den of Geek says: Author R.F. Kuang describes this novel as "a love letter and breakup letter to Oxford" with "formal, stylistic, thematic experimentation." The interplay of language and politics gets a magical twist in this alternate history.
Publisher's summary: 1828. Robin Swift, orphaned by cholera in Canton, is brought to London by the mysterious Professor Lovell. There, he trains for years in Latin, Ancient Greek, and Chinese, all in preparation for the day he'll enroll in Oxford University's prestigious Royal Institute of Translation—also known as Babel.
Babel is the world's center for translation and, more importantly, magic. Silver working—the art of manifesting the meaning lost in translation using enchanted silver bars—has made the British unparalleled in power, as its knowledge serves the Empire's quest for colonization.
For Robin, Oxford is a utopia dedicated to the pursuit of knowledge. But knowledge obeys power, and as a Chinese boy raised in Britain, Robin realizes serving Babel means betraying his motherland. As his studies progress, Robin finds himself caught between Babel and the shadowy Hermes Society, an organization dedicated to stopping imperial expansion. When Britain pursues an unjust war with China over silver and opium, Robin must decide…
Can powerful institutions be changed from within, or does revolution always require violence?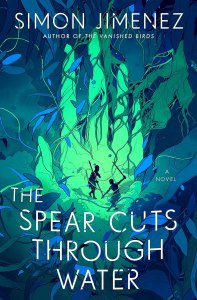 The Spear Cuts Though Water by Simon Jimenez
Type: Novel
Publisher: Del Rey
Release date: August 30
Den of Geek says: In a field full of derivative fantasy, the classic quest narrative sometimes feels new. This entry promises a dark undercurrent and bright adventure.
Publisher's summary: The people suffer under the centuries-long rule of the Moon Throne. The royal family—the despotic emperor and his monstrous sons, the Three Terrors—hold the countryside in their choking grip. They bleed the land and oppress the citizens with the frightful powers they inherited from the god locked under their palace.

But that god cannot be contained forever.

With the aid of Jun, a guard broken by his guilt-stricken past, and Keema, an outcast fighting for his future, the god escapes from her royal captivity and flees from her own children, the triplet Terrors who would drag her back to her unholy prison. And so it is that she embarks with her young companions on a five-day pilgrimage in search of freedom—and a way to end the Moon Throne forever. The journey ahead will be more dangerous than any of them could have imagined.

Both a sweeping adventure story and an intimate exploration of identity, legacy, and belonging, The Spear Cuts Through Water is an ambitious and profound saga that will transport and transform you—and is like nothing you've ever read before.