Reviews
Yellowstone Season 5 Episode 7 Review: The Dream is Not Me
The plot begins to thicken right before Yellowstone's mid-season finale, but the flavor of the dish remains the same.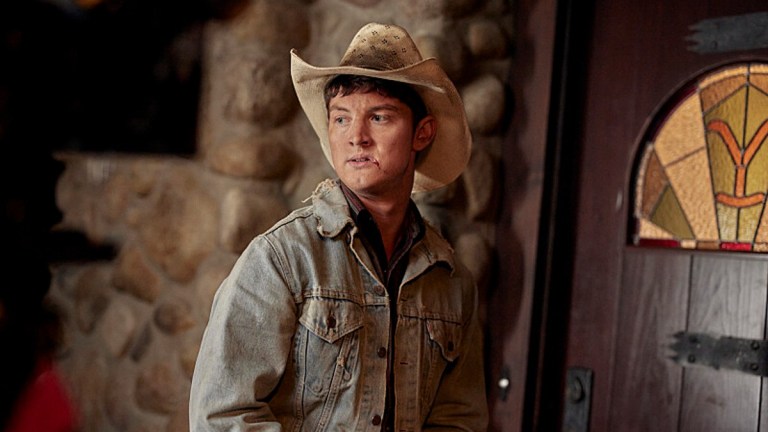 This Yellowstone review contains spoilers.
Yellowstone Season 5 Episode 7
Throughout this season, Yellowstone co-creator Taylor Sheridan has been preparing his audience for the end. The end of the purple mountains majesty of states like Montana, as they become overdeveloped and lose all their character. The end of the cowboy way of life and ranches across the country that can no longer maintain the life and the land they've known, in some cases, for generations. Most poignantly, Sheridan may even be preparing audiences for the end of Yellowstone itself. 
"The Dream is Not Me" makes even the most diehard fan wonder what's to come next, which is something this season has lacked for the first half-dozen episodes. Sheridan does well to create intrigue about the future of the ranch, and some of the characters, but what's truly intriguing is how often he's been looking to the past, first.
Sheridan's formatting for this episode was certainly well-balanced, and that begins with yet another flashback to a young Rip (Kyle Red Silverstein) and a younger, more virile John (Josh Lucas). For the most part, these flashbacks have served a purpose that at best has been surface-level. Beth (Kelly Reilly) has often reflected about how cruel she was to her now-husband Rip (Cole Hauser) but so far, her trip down memory lane has only shown how loyal Rip is to Beth no matter what – a fact well established at this point.
Seeing John in his prime could be a reminder of who the man once was, perhaps showing audiences why he continues to fight like a dinosaur staving off extinction. It is a reminder of the passion the now emotionally stoic John once showed. Yet, once again, so far, it has yet to be revealed why Sheridan has shoehorned so much of this era into this season of the show. This episode's flashback filled in a little tidbit of Rip's history, as we learn why he's a branded man who will forever wear the "Y", but sadly, once again, there was nothing really new about what was discovered about the character.
"The Dream is Not Me" is a perfect example of the fifth season's shortcomings in the fact that it is slow, character-driven, and somewhat repetitive. So why is it that this episode was arguably the most entertaining of this early season? Simple. Sheridan remembered two things the show had really been missing – heart and joy.
Don't misunderstand either, this reviewer very much recognizes there have been moments of joy or moments of heart in the fifth season, and has often spoken to how they have been the most memorable bits of their respective episodes. But "The Dream is Not Me" seems to have a lot more of it, and because of that, the stakes are finally heightened. The audience, it feels like for the first time, has become invested.
Those stakes come in a few fundamental subplots. Predominantly, we learn the cattle may have caught a blight from local bison and need to be moved far off the ranch, which leads to Yellowstone having to rent land down south. This means spending money John doesn't have, and losing key members of the extended ranch family as they transport the herd, and ensure they can thrive in their new home. Rip, Teeter (Jen Landon), and Ryan (Ian Bohen) are likely to be gone for the better part of a year which throws a wrench into several romantic relationships on the ranch.
Beth and Rip may be apart. Teeter and Colby (Denim Richards) could have their first true test in their relationship. Sadly, this also means it could be the end of this season's blossoming love between Ryan and Abby (Lainey Wilson). While the stakes have finally been raised, there is a cautious cynicism when viewing this episode, as again, some of it just feels all too familiar. Ryan and Abby's short lived romance becoming possibly problematic mirrors what Jimmy (Jefferson White) and Mia (Eden Brolin) went through when Jimmy had to go to Texas. They too fought about him leaving, and even before that, as she told him to be the man he wanted to be, and not simply honor his debt to the Yellowstone. Ryan pleading with Abby, preaching about how this is his dream and his existence rings a little hollow simply because the show has done it before. Jimmy had to choose between duty and love, and now, so does Ryan.
One romance that seems to be thriving is that strangely provocative pairing of Summer (Piper Perabo) and John. Summer is making strides to understand how the other half lives, and it was a joyful experience witnessing her vaccinating calves and truly attempting to be a part of that way of life. The romance feels a little forced to be perfectly honest, but the dynamic of the characters' core differences does in fact make their scenes together worthwhile.
The most praise however, once again goes to the development of two characters who have been due for more than four seasons. There simply cannot be enough promotion when it comes to the characters of Monica and Jamie. Period. Monica (Kelsey Asbille) has never received the accolades she has deserved as a character, because sadly, she's typically been relegated to the voice of reason, which many audience members simply don't want to hear. But the respect and relationship building Sheridan has written for the character has been tremendous.

It was nearly the beginning of the show when Beth came to the rescue of Monica when she was wrongfully profiled and humiliated at a local shop, and here we are, years later and we finally get another exchange between the sister-in-laws that shows a modicum of love and a lot of respect. Monica calls Beth on her behavior, which few people can ever do with Beth, and Beth in response tells Monica why she's never been mean-spirited to her. They share a tremendous bonding moment when Beth reveals her secret about losing her ability to have children. This moment showed those two previously mentioned keys to the show's success, heart and joy. While it is a sad shared experience these two women have gone through, there was something so tremendously touching, and yes, joyful in seeing the two bond.
Which brings us to Jamie (Wes Bentley) – the most interesting character in the most interesting storyline. Don't bother re-reading that – you read it correctly the first time. While Monica is finally being given the spotlight, Jamie is evolving too, and perhaps into the only form that suits the character, as Jamie is quickly becoming a full fledged-villain, and this reviewer, for one, is all for it.
The character has been beaten down and bullied his entire life. He's never won any real battle, and it seems that he has finally snapped. His alliance with Sarah (Dawn Olivieri) is sadly predictable, as it becomes more and more clear she is simply manipulating him, but to see Jamie as irate and vengeful as he was in this episode is a thing of long-awaited beauty. John's latest move to protect the ranch was selfish and shortsighted, but of course John doesn't care, but perhaps he might when Sarah convinces Jamie to use this against his adopted-father. The actual focus and resolve Jamie shows in those cold-gray eyes has been the most refreshing aspect of this season. Yes, chances are, this will not end well for Jamie, but at least for once, this episode has inspired viewers to worry about what Jamie's uneasy alliance might actually mean for the Duttons. Perhaps Jamie is finally worth noticing.
While there have been rumors that Sheridan may end the show next season after six solid years, nothing has been confirmed, but even if you are a fervent fan of the Dutton family, you have to recognize, we are significantly closer to the final episode than we are to the first. Yet the strength of "The Dream is Not Me" doesn't truly rely on looking ahead, and it certainly does not need another flashback. The humor, the heart, the fun the characters had in their shared kisses, carnival games and bonding moments is a long-needed and long-awaited reminder of what made us all a fan of this show.
New episodes of Yellowstone season 5 premiere Sundays at 8 p.m. ET on Paramount Network in the U.S. and the day after on Paramount+ in the U.K.