Features
Yasuke Soundtrack: Exploring Flying Lotus's Magical Themes
The secret weapon in the arsenal of Netflix's new anime series, Yasuke, is Flying Lotus's soundtrack that taps into the mind of a samurai.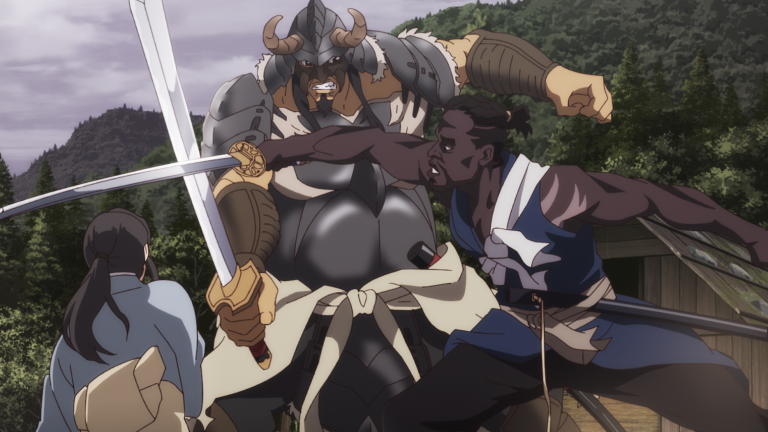 Audio elements and sound design, especially the score, are as fundamental to animation as the visuals. The proper use of music at the right time can make the action soar and it's genuinely exciting that more experimental and passionate creators are embracing the sonic possibilities that television allows. Flying Lotus is an innovative musician with a flair for the extraordinary that cut his teeth on many of the surreal animated series that fill Adult Swim's programming block.
In addition to his frequent collaborations with Adult Swim, Flying Lotus' music can be heard in everything from The Boondocks, to Grand Theft Auto V, to episodes of Atlanta and Insecure. Flying Lotus approaches art like a wondrous game and the cleansing energy that comes from his music feels like it's trying to do something important beyond simple entertainment. His most recent music in Netflix's anime series Yasuke comes across as the truest distillation of the artist's talents and passions. Yasuke's soundtrack is so expressive and poignant because it's the beating heart of the anime and the unsung ally that never leaves the stalwart samurai's side.
Some themes that are persistent throughout Flying Lotus's albums as well as his television work are death, reincarnation, and the return of magic to the world. These are ideas that speak towards survival and the promise of new heroes that will come to the world to inspire change and return "magic" to the people in the process.
At the same time, there's an expanding thread of elementalism and spiritualism to Flying Lotus' music that fosters an unpredictable, rebellious energy. These themes are integral to Yasuke as the anime introduces an alternate magic-filled version of feudal Japan as it follows Yasuke, an African samurai in Japan. Yasuke rises as this new variety of savior, but the series also deals with actual magic and fantastical elements that run rampant and need to be controlled. Yasuke becomes a literal representation of the figurative ideas that fascinate Flying Lotus in his music.
A major obstacle that a lot of anime like Yasuke face is that audiences are quick to compare them to similar series and almost use archetypes of the genre as a deterrent. This can also be a crutch in music when artists become increasingly derivative of themselves or the conventions of the genre. Flying Lotus recognizes this both within himself as well as in Yasuke. There's a concentrated effort on his part for Yasuke's soundtrack to avoid the trappings and familiar hip-hop conventions that pepper Flying Lotus' music, but are also prevalent in anime like Afro Samurai, Samurai Champloo, or Gurren Lagann. 
Flying Lotus has previously embraced a "jazz-like" energy where he never wants to repeat himself and do the same thing twice, but Yasuke is the strongest example of him knowing which baggage to shed and which to become vital armor for Yasuke. The anime itself also intentionally eschews genre expectations in the same manner when it introduces a picture of traditional feudal Japan that suddenly explodes with magic, mechas, and monsters. A particularly powerful sequence occurs in Yasuke's third episode where a trippy vision explodes with cherry blossoms. Flying Lotus's music accentuates the primal chaos and it feels like a scene that wouldn't be out of place in one of his music videos.
Another reason that Flying Lotus's score for Yasuke feels so distinct and impactful is that it's a rare case where the musician composed the anime's music in chronological order in tandem with the fictional character. This isn't a scenario where the music was written in a vacuum or through viewing disconnected scenes from the anime. Flying Lotus aims for the music to evolve and grow along with Yasuke and for the score to exhibit as much evolution as the series' titular character. Flying Lotus shares such a deep connection with the story and character within Yasuke that it results in a uniquely collaborative composition process where Yasuke almost works through composer.
Flying Lotus' unique creative process for Yasuke involved him surrounding himself with certain musical instruments, including Japanese and African percussion, and allowing his body to utilize whatever tools seemed correct for Yasuke's current actions. It's a composition style that involves a level of lucidity that's not dissimilar to the zen state that samurai enter in battle. This strategy doesn't just allow Flying Lotus and Yasuke to work as one, but it also breaks from Flying Lotus' old patterns and why this music from him has a unique flow to it. It uses Yasuke's battle tempo as its inherent metronome. 
In the end, Flying Lotus' soundtrack isn't just the music that completes scenes, but it almost signifies the artist actively fighting alongside Yasuke. The score becomes one of the most dangerous weapons in this war and symbolic of Yasuke's heartbeat as he soldiers ahead. Yasuke's score grows more intense and powerful when Flying Lotus senses that this lone warrior needs his help.
The score and visuals endlessly complement each other. Flying Lotus fights with his instruments while Yasuke defends with his blade and it culminates in passionate music that transcends Flying Lotus's typically high benchmark. It's an example of how evocative a soundtrack can be when the composer is so moved by the subject matter and can identify with the hero's struggle.
Flying Lotus pours a tremendous amount of himself into the entirety of Yasuke and his affinity for the anime goes beyond just musical contributions. Flying Lotus brings up Black Panther as a point of comparison for Yasuke, both in terms of the types of stories that this anime can launch, but also with how music is so baked into its very foundation. Flying Lotus and Yasuke both thrive on a collaborative energy and so there'd be nothing more fitting than if Yasuke's soundtrack inspires more heroes to rise up and put their own magic into the world. 
Yasuke is available to stream on Netflix now.