Features
X-Men '97 Could Redeem an Iconic Marvel Villain for the MCU
X-Men villain Mister Sinister has been teased in Marvel movies for a long time. With his place as X-Men '97's main antagonist now set, is he finally ready for his live action debut?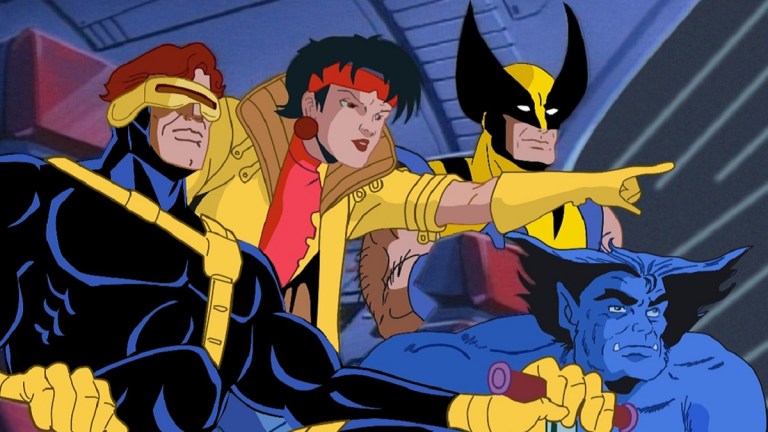 Cue that iconic theme music because X-Men: The Animated Series is coming back in a big way! Many a Saturday morning was defined by sitting in front of the television and watching Charles Xavier's gifted youngsters save the day in their colourful spandex, but it's been nearly 26 years since X-Men: The Animated Series bowed out with the acclaimed "Graduation Day," and while the likes of X-Men: Evolution and Wolverine and the X-Men have their merits, they've paled in comparison to The Animated Series. 
Thankfully, Professor X is hovering back into our lives in his yellow chair soon, as the revamped X-Men '97 unites the old team. Alongside voice actors Cal Dodd, Lenore Zann, and George Buza reprising their roles as Wolverine, Rogue, and Beast, there's the return of a familiar foe…Christopher Britton's Mister Sinister. X-Man '97 is poised to bring Mister Sinister to the mainstream, with this humble cartoon doing what Fox's X-Men movies never could.
Who Is Mister Sinister in X-Men: The Animated Series?
Despite being a kid's show, The Animated Series put the sinister in Mister Sinister, with the seemingly immortal Nathaniel Essex getting his signature look after conducting biological experiments on himself. During the course of his arc, he kidnapped everyone from Jean Grey to Apocalypse, trapped Xavier and Magneto in the Savage Lands, and tried to create an army of mutant slaves.
Speaking during the "X-Men: 60 Uncanny Years Live Virtual Event" (via Toonado.com), Head Writer Beau DeMayo confirmed Mister Sinister will be the lead villain of X-Men '97. As well as saying Sinister is a favorite villain of his, DeMayo said he "will rear his ugly head from the past with a pretty foolproof plan to destroy the X-Men once and for all." There were plenty of campy villains in The Animated Series, however, this renegade geneticist was terrifying from the moment he got an MCU-worthy tease in the Season 1 finale.
Like any good comic book villain, Essex was given a suitably tragic origin story in Season 5's acclaimed "Descent." Taking us to 1888, he faced off against Charles Xavier's ancestor and was revealed as the husband of Jean Grey's distant relative. This brought everything together and explained Essex's obsession with our flame-haired heroine. Even though it was set long before his final chronological appearance in "The Phalanx Covenant: Part II," the episode made for a fitting end to the character – until now.
In modern times, Essex was last seen (underwhelmingly) running away into a dark alleyway to seemingly never be heard from again. X-Men '97 is supposedly picking up a few months after Xavier and Lilandra flew off into space in the show's finale, with the synopsis claiming that Storm and Cyclops are trying to keep the team together, while formerly villainous Magneto will be stepping up for Charles. Sinister's scheme surely makes him the big bad of the series, but this has us thinking: are Marvel setting up something bigger?
What the X-Men Movies Get Wrong
Despite Mister Sinister being a mainstay of X-Men: The Animated Series, the character has failed to leap to the silver screen. With the character becoming one of the most infamous X-Men villains since his full introduction in 1987's The Uncanny X-Men #221, it's no surprise Fox has at least tried to bring him to life on several occasions.
The post-credit scene for X-Men: Apocalypse was their first attempt. The 2016 movie featured a stinger of Wolverine's blood being collected by men for the Essex Corporation. While this was meant to lead into James Mangold's Logan, the director told CinemaBlend his movie didn't lend itself to "operatic, highly-costumed, stroboscopic villainy." Similarly, the maligned Dark Phoenix was an Apocalypse sequel that abandoned the tease. 
Beyond this, Deadpool 2 had Russell/Firefist (Julian Dennison) being tortured at the Essex House for Mutant Rehabilitation, but our biggest tease came from John Boone's The New Mutants, where Dr. Reyes (Alice Braga) worked for the Essex Corporation. The movie was delayed and reshot more times than we have Kang variants and, at one point, was supposed to be the first chapter of a trilogy. 
The New Mutants eventually became a standalone that nixed its Mister Sinister setup and marked the end of Fox's reign over the X-Men in disappointing style. Boone told us rumors of Mad Men's Jon Hamm playing Essex weren't far off the mark, but it's thought the character was going to be repurposed for Gambit – which was also abandoned. 
Could We See Mister Sinister in the MCU?
We think Hamm is still a pretty inspired casting that could work in the MCU, however, there's been no word on when/if Mister Sinister could arrive. Even though Kevin Feige won't confirm when the X-Men will enter the MCU, there's been a slow tease of mutants thanks to the likes of Kamala Khan/Ms. Marvel (Iman Vellani) and Namor (Tenoch Huerta). 
The biggest wink came from Patrick Stewart reprising his role from the Fox movies, appearing to play a live-action version of The Animated Series' Xavier during Doctor Strange in the Multiverse of Madness. Complete with that signature yellow chair, it made viewers question whether Earth-838 of the Illuminati is the same reality as X-Men '97. This was once thought to be Earth-92131, shared with Spider-Man: The Animated Series, but if it's all been streamlined into Earth-838, a live-action Mister Sinister could be closer than we thought.
With the House of Mouse largely burning Fox's mutant slate to the ground, Deadpool 3 is a lone Phoenix Force from the ashes. Deadline reports The Crown's Emma Corrin has been cast as the big bad of Shawn Levy's threequel, and while some think they'll be playing Lady Deadpool to lean into the rumored Loki connections, someone like Mister Sinister could be another major addition to the cast.
Exploring the Multiverse is an easy way to pull mutants into the MCU, but in typical style, DeMayo gave "no comment" when The Direct quizzed him on whether X-Men '97 will fit into mainline canon. There's an obvious time jump between the events of the series and where we're up to with Wade Wilson and co., but with Essex's mysterious plan to eradicate the X-Men for good, X-Men '97's potential place in the MCU is an exciting prospect that DeMayo said will be "part of the surprise" when the series debuts. 
As usual with the MCU, things are never that simple. For all we know, Feige will revamp Nathaniel Essex as a Spider-Man villain and have him leading something ridiculous like the Mister Sinister Six. On the hopeful side, we should see something similar to what Batman: The Animated Series did with Mark Hamill's Joker, where X-Men '97 can improve on one of the greatest cartoons of all time and bury those accusations of a MCU villain problem. Looking at what happened with MODOK, it might be best for Mister Sinister to lurk in the shadows of cartoons for now. 26 years after he slunk off into an alley, we'll take our pale-faced foe in whatever form we can.