Features
Why The Crowded Room Was the Biggest Challenge of Tom Holland's Career
Stars Tom Holland and Emmy Rossum spoke with Den of Geek about unpacking the secrets of The Crowded Room.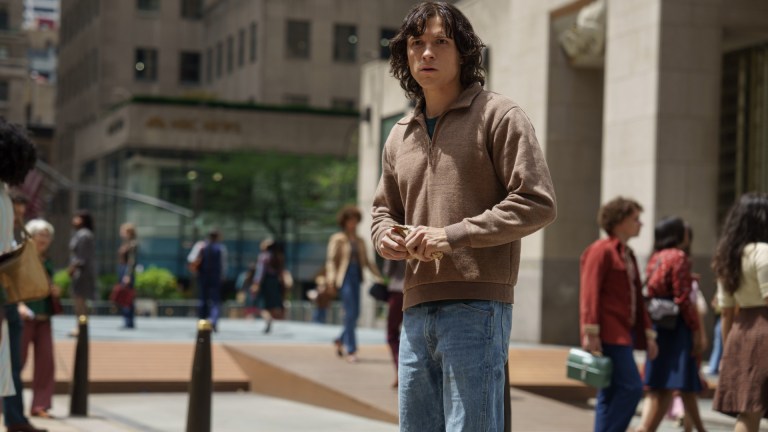 The first three episodes of Apple TV+'s psychological thriller, The Crowded Room, are finally here and are bound to grip audiences with their intense storytelling and mystery. The 10-episode limited series stars Tom Holland (Spider-Man: No Way Home) as Danny Sullivan, a man who is arrested following his involvement in a shooting in New York City in 1979.
Den of Geek had the opportunity to speak with Holland and Emmy Rossum about their characters' mother-son relationship, why the show was such a big acting challenge, and what to expect from the rest of the season.
Along with starring in the show, Holland also serves as an executive producer, which he called a "really great privilege."
"I think why it was so important for me to have the EP credit here was to protect myself," Holland says. "You know, this is a really, really daunting task, playing this character. It's TV, it's something I haven't done before. It's a lot of work and I wanted to just have that extra stake in the game. I'm delighted to say I never needed to exercise that power though."
Danny's life story is told through interviews with a curious interrogator named Rya Goodwin, played by Amanda Seyfried. Each interview session includes flashbacks and presents elements of the puzzling past that shaped the character we meet in the present, leading to a life-altering revelation that will shock both audiences and Danny. This proved to be a unique challenge for the actor, but one that allowed him to showcase his range.
"When you're looking down the barrel of a hundred pages of dialogue with one actress in one room, you're really limited to what you can do creatively," Holland says. "Amanda was the perfect scene partner. The writing was just such a pleasure. Our directors weren't afraid to break the rules and find new ways to make that room interesting. I was really worried that those scenes were gonna feel like somewhat of a speed hump in the show, but I think they're just as compelling as the flashbacks."
Rossum portrays Candy, Danny's mother, and their relationship is one that we see develop throughout all of the twists and turns over a 10 year period of time. In a lot of ways, it can be considered the heart of the series.
"One of the biggest challenges of this character was getting to play her over a span of time," Rossum says. "When we meet her, she's a young, 25-year-old single mom. She's a nurse and a bartender, and she's incredibly committed to her kid and you see they're in sync and kind of in love. You watch her be a caretaker in every aspect of her life and you watch over 10 years as she ages to 35 and her child grows up, and the family secrets and the things that they hide from each other and themselves shatter that closeness and ultimately, lead to this crime. In the scenes with Tom, we had to know what we were both mourning, the loss that we had shared of that bond when he was a child."
Additionally, Holland had nothing but praise for his co-star, even teasing that her performance in episode nine might "steal the show."
He shares, "Emmy was so collaborative, she was game. There is this one scene that I was not there for when they filmed, and I remember watching it and she somehow morphed into a version of Danny and the bridge between like mother and son. I remember when I saw the scene I was like, 'Emmy hasn't seen any of the things that I've done since we started shooting this show. How is she portraying Danny in her own way?' Like, it's mind blowing what she did. I loved working with her."
With seven episodes left and so much to still be revealed, Rossum tells me what fans can expect.
"As we learn more and more about these characters, their pasts, and how they cope, we learn that something that mother and son actually have in common is this survival skill of denial. How do you know something and also not know it at the same time? Because the very acknowledgement of knowing that thing would be so deeply uprooting to your sense of self and your whole life. You don't have the strength to manage that, so it can't be true and I think that that is ultimately kind of what shatters their closeness."
New episodes of The Crowded Room will premiere weekly, Fridays on Apple TV+.