Features
Why Shadow and Bone Season 3 Could be the End
Netflix phenomenon Shadow and Bone is back for season 2, and fans are already asking what's next for season 3 of this fantasy series.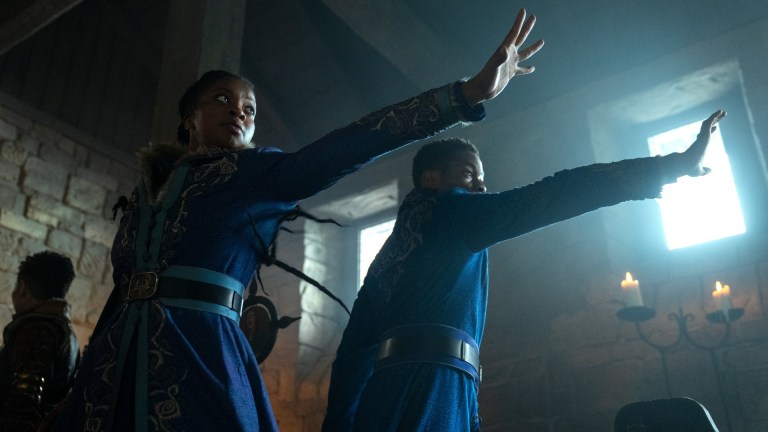 This article contains spoilers for Shadow and Bone season 2.
It's understandable that before fans get into a Netflix show nowadays, they want to know whether the show will have another season or whether they'll be stuck with another cliffhanger ending that will never be continued. Yes we're talking about Julie and the Phantoms, First Kill, Partner Track, and so much more. But with a show like Shadow and Bone, where we have a whole universe's worth of stories to pull from and a strong fan base, viewers will be happy to hear that back when showrunner Eric Heisserer pitched the show for Netflix, he told them his ideas for a three-season series. 
If you're yet to start Shadow and Bone or have forgotten the premise since season one, Shadow and Bone is Alina Starkov's (Jessie Mei Li) story based on a book series of the same name by Leigh Bardugo. Set in a world of royalty and intrigue, there is a darkness lurking within Ravka called the Fold. The Fold is essentially a dark cloud, running North to South across Ravka, which has evil creatures lurking within it to prevent anyone from crossing. Mapmaker and orphan Alina discovers she is one of the most powerful Grisha, a Sun Summoner, whose power has the potential to destroy the Fold and free her country. The first season follows Alina's journey as she tries to master her powers among those in Ravka who don't wish for her to destroy the fold. It also follows criminals Kaz Brekker (Freddy Carter), Inej Ghafa (Amita Suman), and Jesper Fahey (Kit Young), also known as the Crows, who are employed to find Alina. It also includes other Grishas who are Heartrender's and healers.
The Netflix series combines two of Bardugo's book series, the "Shadow and Bone" trilogy and the "Six of Crows" duology – which takes place two years after the events of Shadow and Bone despite being set in the same world. The Crows' inclusion in the Netflix Shadow and Bone series serves as a prequel to their story in Six of Crows. The two series are part of a universe known as "the Grishaverse."
There is also another spinoff series that is yet to be adapted by Netflix as well as some companion novels, adding up to a whopping total of ten books that currently exist in the Grishaverse. Still, despite the number of books Netflix has to go within Bardugo's canon, it very much feels that with the ending of season two, a third season may be the last for the Shadow and Bone series as we know it. Allow us to explain why.
Will There be a Shadow and Bone Season 3?
Season three is pretty much ready to go based on previous comments by the showrunner.
Back in 2021, Heisserer, who became the series showrunner at the recommendation of a friend, revealed to Collider that his plan for Shadow and Bone was always three seasons. Heisserer got the gig as showrunner because his friend gave him a copy of Bardugo's books and he loved them so much that he tweeted the author to tell her how much he enjoyed them. That tweet led to Netflix calling him: "it was a year later that I got a call out of the blue from Netflix and they said, 'Hey, we know you tweeted the author a year ago.' You know, so I got past like the Big Brother paranoia and Leigh just remembered that. It really stuck with her. And she's like, 'Well, we can get the guy who wrote Arrival maybe, you know, 'cause he likes it."
However, it wasn't plain sailing for the series from there, as showrunner Heisserer almost left the series when Netflix revealed they didn't have the rights to Bardugo's second series, Six of Crows. Netflix later gained the rights to that saga, allowing Heisserer to combine the stories of Alina Starkov and the Crows together. 
Combining the two series was a real risk for Heisserer as each story runs on a different timeline, but Heisserer told TV Guide that telling both "required building some story — a prequel worth of story for some characters — so that we don't break anything in Leigh Bardugo's timeline." His emphasis on not breaking the Grishavere's timeline suggests that there are plans to tell the rest of the crow's stories properly and thoroughly rather than make them a part of the Shadow and Bone series as it is currently. However, when Shadow and Bone writer Christina Strain was asked about the Six of Crows' spinoff, she, tweeted "I seriously can not stress enough just how important it'll be for people to watch Season 2 of Shadow and Bone."
Does the End of Shadow and Bone Season 2 Follow the Books?
Strain's comments make sense after watching season two and seeing the arrival of Prince Nikolai (Patrick Gibson) also known as the sea captain Sturhmond, and Grisha fighters Tamar (Anna Leong Brophy) and Tolya (Lewis Tan). As it highlights that season two is, in fact, following Siege and Storm and Ruin and Rising, which are the final two books in the Shadow and Bone series.
To be honest, even if we didn't know that, the poster that Netflix released in anticipation of season two would have been enough to make it clear. It featured the Darkling, Alina, and Mal being flanked by symbols representing Morozova's amplifiers: the Stag, the Sea Whip, and the Firebird. Each amplifier gets its own book in the series by Bardugo, as the first book focuses on the Stag, while books two and three center around the hunt for the Sea Whip and Firebird, respectively. The Sea Whip and Firebird's discoveries are made in season two, as the firebird is discovered to be Mal. 
In the books, this is discovered towards the end of the final novel Ruin and Rising, alongside the death of the Darkling, Alina once again refuses Nikolai's proposal and eventually returns to her hometown with Mal, where they rebuild the orphanage and school. Considering most of these things happened at the end of season two, it means that really there are only a few things left to be wrapped up for season three, such as Prince Nikolai getting rid of the darkness that was transferred to him after the death of the Darkling. 
It really does seem like we're seeing the ending of Alina Starkhov's story, especially as Heisserer confirmed to Entertainment Weekly that while working on season two, he opened a separate writers' room to develop a Six of Crows spinoff series. It seems like it may be time for the Grishaverse's next adventure, a.k.a. Six of Crows unless the Netflix series plans to deviate from the books. 
All eight episodes of Shadow and Bone season 2 are streaming on Netflix now.