Features
Why Brooklyn Nine-Nine is Ending
Brooklyn Nine-Nine is handing in its badge and gun with season 8 serving as the show's last. The challenges presented by continuing police comedies may be one reason why.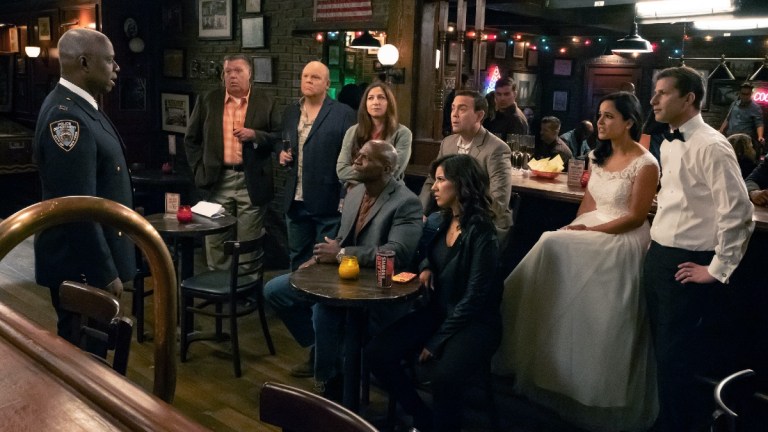 Usually when a TV show is renewed or canceled, its network will send out a press release to celebrate or explain its decision. Oftentimes these releases are accompanied by a statement from the series' producers. When the series is a comedy, those producers seem compelled to couch their statement in a joke, perhaps to prove to the network that their investment is paying off comedic dividends already.
Today, NBC announced that Brooklyn Nine-Nine's upcoming eighth season will be its final. Not only that, but the episodes won't premiere during this TV season as expected but rather during the 2021-22 season and feature an abbreviated 10-episode run. As is tradition, however, showrunner Dan Goor's statement to the press still began and ended with a joke.
"I'm so thankful to NBC and Universal Television for allowing us to give these characters and our fans the ending they deserve," Goor said. "When Mike Schur and I first pitched the pilot episode to Andy (Samberg), he said, 'I'm in, but I think the only way to tell this story is over exactly 153 episodes,' which was crazy because that was exactly the number Mike and I had envisioned. Ending the show was a difficult decision, but ultimately, we felt it was the best way to honor the characters, the story and our viewers. I know some people will be disappointed it's ending so soon, but honestly, I'm grateful it lasted this long. Title of my sex tape."
This is, by all means, a lovely and diplomatic statement on the approaching end of Brooklyn Nine-Nine. Eight seasons is a long time for any comedy, let alone one that had cheated death already when NBC rescued it from cancellation on Fox following its fifth season. THR even reports that NBC is planning to give the show a proper sendoff, holding the final season until next year in part so it can better be promoted throughout this year's Olympics.
Still, Goor's genial statement to the press obscures a potentially unpleasant aspect at play in Brooklyn Nine-Nine's end. Brooklyn Nine-Nine's writers were using the time between seasons to envision how they could continue a show about policing that didn't overly glorify the profession, nor shy away from its racist past and present in America. This decision to both shorten and end the show seems like an implicit admission that doing so was harder than anyone thought.
Following the murder of George Floyd by police in Minneapolis and the subsequent protests around the country last summer, many actors involved in series about police publicly acknowledged rethinking their roles. The cast and crew of Brooklyn Nine-Nine were particularly open and honest about how they intended to examine their part in creating a police comedy.
"We're taking a step back, and the writers are all rethinking how we're going to move forward, as well as the cast," star Andy Samberg told People. "We're all in touch and kind of discussing how you make a comedy show about police right now, and if we can find a way of doing that that we all feel morally okay about."
Actors Terry Crews and Andre Braugher gave similar responses in interviews, with Crews even revealing that the show's writers had completely abandoned their planned plotlines for the season and were intending to start from scratch.
Now we know that that process led to a situation in which the show opted to conclude its story with only 10 more episodes.
There are many considerations that go into when to end a TV show. This is as good a time as any for Brooklyn Nine-Nine to wrap up, with the series having already accomplished so much. Still, it's hard not to view this decision within the context of this current moment. In trying to figure out how a comedy about police officers could fit into a post-2020 world, it would seem that Goor and company decided that it can't…at least not for much longer.
There aren't many other shows out there like Brooklyn Nine-Nine currently. It's an excellent, funny, and often thoughtful workplace sitcom. But there are plenty of other cop dramas that haven't fully reckoned with the country's evolving perspective on policing. It will be fascinating to see if any come to a similar conclusion to Brooklyn Nine-Nine.