Features
Who's Playing Steve Rogers in Marvel's What If…?
Chris Evans didn't reprise his role as Steve Rogers in Marvel's new animated series What If...? so Spider-Man actor Josh Keaton stepped in.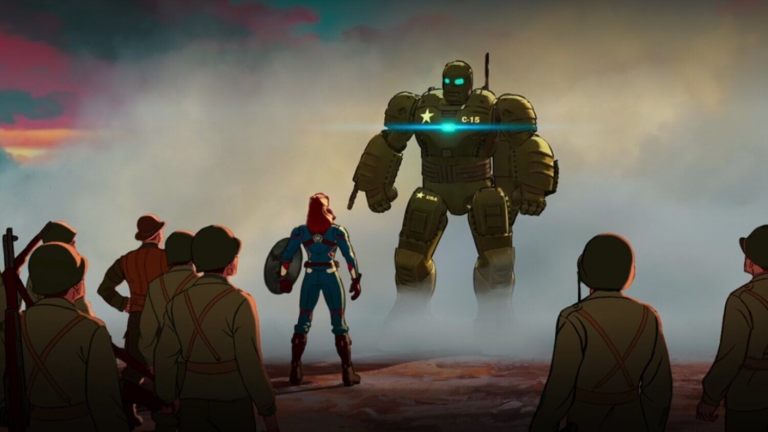 This article contains spoilers for Marvel's What If…? episode 1.
Some big MCU actors have returned to lend their voices to Marvel Studios' first animated project, What If…?, but before the show started streaming on Disney+ it became clear that not all the major players were up for being in the mix.
Chris Evans, who left Steve Rogers/Captain America behind after Avengers: Endgame, did not reprise his iconic role in the new show, so the creators looked to established voice actor Josh Keaton to take up the mantle in the multiverse-busting season premiere, 'What If…Captain Carter Were The First Avenger?', which imagined a timeline where Peggy Carter took the super soldier serum instead of Steve and became Captain Carter.
Keaton's voice will already be familiar to animation geeks and gamers. He's an admired vet, having brought his talents to Takashi 'Shiro' Shirogane in Voltron: Legendary Defender, Peter Parker, Norman and Harry Osborn in various Spider-Man projects, Jack Darby in Transformers: Prime, Ryu Hayabusa in Ninja Gaiden and Revolver Ocelot in Metal Gear Solid 3: Snake Eater.
The action-packed first episode of What If…? was a hit with Marvel fans, and the majority were genuinely impressed with how close Keaton got to copying Evans' voice. It was a tricky process that required a high level of skill and deftness.
"The thing is, it's trying not to bump the audience too much and have it be as much of the person they remember from the show, but having the actor bring a little something to themselves," director Bryan Andrews explained to Games Radar. "I'm not just doing an impression. It's not about impressions, right? They have to actually act the moments and deliver some of the emotional intent."
But while the absence of "retired" OG Avengers like Evans, Robert Downey Jr. and Scarlett Johansson in What If…? was kind of understandable, there were still question marks surrounding the non-involvement of actors like Tom Holland, Zoe Saldana, Elizabeth Olsen and Dave Bautista, who plays Drax in the Guardians of the Galaxy franchise.
"Let's start with I was never asked," tweeted Bautista after a curious fan asked if the former professional wrestler would feature in What If…?.
Executive producer Brad Winderbaum eventually tried to explain the confusing situation with Bautista, remarking that it may have been down to a "miscommunication".
"I saw that [comment] too," he told Variety. "It's my understanding that everybody was asked in some way, shape or form, either through their agents or directly. I don't know really what happened behind the scenes there, but certainly, we would have loved for him to be in the show. So there's probably some miscommunication somewhere."
Other MCU actor absences were brushed away as schedule conflicts.
"All of these people are extremely talented and they've got a lot of stuff going on," Andrews told Uproxx. "We figured we probably wouldn't be able to get everybody—but we got a lot, and that was great. So yeah, it'd be awesome to have everybody, but you've got to deal with what you've got to deal with. And if someone's too busy and they can't make it, it's a bummer."
Marvel's What If…? is streaming weekly on Disney+.