News
Who is Fleabag Talking to When She Breaks the Fourth Wall?
Phoebe Waller-Bridge revealed who she thinks Fleabag is talking to when she breaks the fourth wall during a special BAFTA conversation event.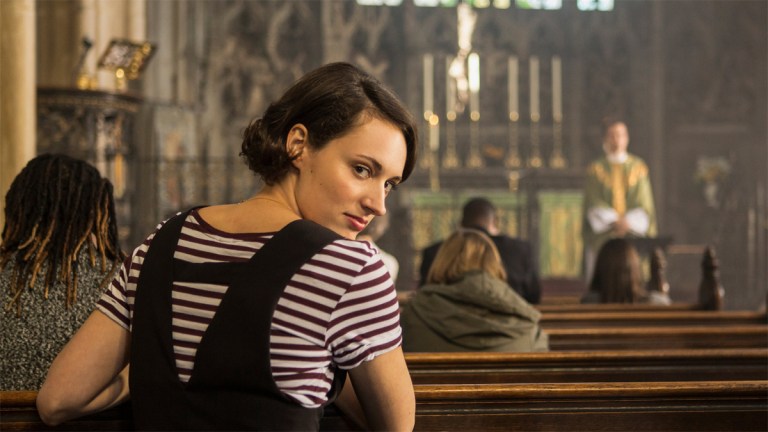 This article contains spoilers for the ending of Fleabag.
Even people who have yet to immerse themselves in the hope, wonder, and agony of Fleabag probably know the structural "gimmick" of the Emmy-winning Amazon Prime series: protagonist Fleabag, played by series creator Phoebe Waller-Bridge, routinely breaks the fourth wall. Throughout the series, she turns to the camera, and tells the viewer what she is really thinking and feeling, usually in the form of a snarky joke. The series ends with Fleabag walking away from the camera, leaving us viewers behind.
While the "mystery" of who Fleabag is talking to may seem easy to solve on a structural level (um, she's talking to us), it's less clear on a narrative level—after all, Fleabag doesn't know she is the subject of a much-discussed TV series with her own audience glued to the screen for her every, brilliant monologue. So who does Fleabag think she's talking to? Waller-Bridge addressed the question earlier today, during a "BAFTA Television: The Sessions" conversation.
"I love the idea that people can interpret it how they like," said Waller-Bridge during the Zoom call, suggesting that some have seen the presence on the other side of the camera as Boo or society. "It's as open in my mind, I think, as it could be. I felt like it was symbolic of something that I can't really explain. For me, it was never a certain person, but I love that, for some people, it is that."
How did Waller-Bridge see it as she was writing the script for the series?
"I feel like it's that pressure of being watched," said Waller-Bridge, "and feeling watched, and feeling like if you're not being witnessed, does what you're doing count for anything, does it matter? But then, the flip side of that is: if you're constantly witnessed, you can never really… you're too frightened to slip up or let someone see you be vulnerable. So she's constantly grappling with this need for the audience to be there, to validate her, and also to leave her alone so she can experience things on her own. So, for me, it was more about that."
Waller-Bridge also gave some insight into how the character of The Priest, and his relationship with God, mirrors Fleabag, and her relationship to the presence on the other side of the camera.
"She has a relationship with the camera the whole way through, and it was interesting to have somebody who has a similar thing, he's mirrored [because] he has God," said Waller-Bridge. "And she's witnessed by the camera the whole way through, and in the end, the big question for her is whether or not she can let go of the camera. And he is witnessed by God the whole time, and is always having slight check-ins with that the whole time, and in the end he has the same question, so I just felt like it would be a really good way to mirror each other's journeys."
Those who have seen the series finale know that, in the end, Fleabag and The Priest make different choices. The Priest chooses to continue on with that "pressure," which Waller-Bridge says is "asking him if he's a good person," whereas Fleabag, who has a "really fraught, wrought relationship" with the presence on the other side of the camera, chooses to let that relationship go.
For many, including this reviewer, the Fleabag's final choice represents her having learned how to love herself again—an interpretation Waller-Bridge admits she initially chafed against.
"[Director Harry Bradbeer] said, 'You've written the story of a woman who can't love herself and then, in the end, she realizes that she can love herself,'" recounted Waller-Bridge. "And I was like, 'Goddammit, I didn't write anything that mushy!'" Later, she described the ending as Fleabag "maybe not even [coming to] love herself, but [realizing] that she can love and that she can be loved. And that means she doesn't need from from the camera the whole time."
Who do you think Fleabag is talking to when she breaks the fourth wall? Let us know in the comments below.
Fleabag is nominated for 3 TV Craft Awards (Director: Fiction, Editing: Fiction, Writer: Comedy), and 4 TV Awards (Female Comedy Performance: Sian Clifford, Female Comedy Performance: Phoebe Waller-Bridge, Scripted Comedy, and Virgin Media Must-See Moment: Confessional scene).
The British Academy Television Craft Awards take place on Friday 17 July and will be broadcast from 7pm BST on the BAFTA YouTube channel and BAFTA's Facebook page
The Virgin Media British Academy Television Awards will be broadcast on BBC One on Friday 31 July.