News
What's Next for John Constantine on Legends of Tomorrow Season 6
Matt Ryan tells us what he wants to see for John Constantine in Legends of Tomorrow Season 6.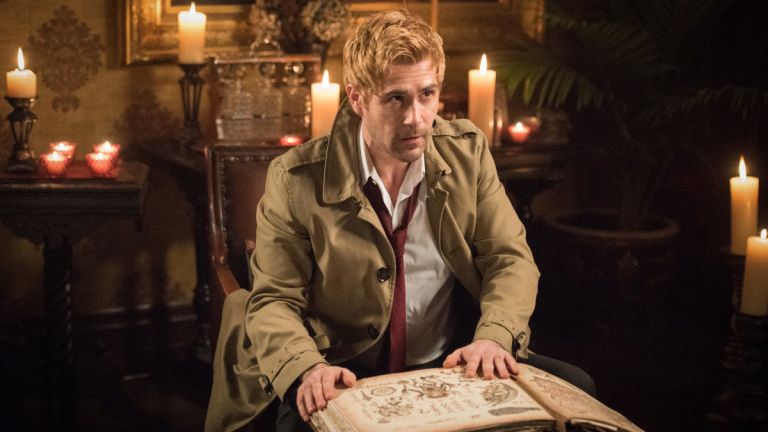 This article contains spoilers for Legends of Tomorrow and Justice League Dark: Apokolips War.
John Constantine is a man defined by his own failings. In Justice League Dark: Apokolips War, the occultist is once again set on a path of redemption after a cataclysmic event. It's an arc reflected in the latest season of Legends of Tomorrow too, where John has had to pay dues for a horrific mistake that he made in the past.
The actor who brings the character to life in both formats is very happy that he got the chance to delve into such an iconic part of Constantine's comic book history even if it was–like all the best adaptations–a little different than the story that inspired it.
"What's great is having gone on this journey of Legends and being able to flesh out the Astra Logue story, you know, albeit in the world of Legends," Ryan says. "Having been able to explore that has just been great."
With John potentially about to find true redemption, what happens next? That's a question that both Ryan and the creative team have been trying to answer too.
"All of the conversations I had with the producers about Legends about going into season six have been like: Where do we go? What happens?" he says. "I've spent a lot of time with John in redemption. He's always had that at his back. But if he gets to a place where–I'm probably spoiling something here–what I mean is like, next season, the guys are writing it now. And what I love about Legends is that when you get the script, you're always surprised. It's like being on a different TV show every week."
So without spoiling anything, what does Ryan want most for John when he returns for Legends of Tomorrow Season 6?
"There has to be something new. In terms of John's self deprecation, and all of that, he always carries that with him. But what's he gonna do that's gonna make him faster and better? So really what you need is the fuck up," Ryan laughs. "But it won't be the actions of the world that spur him on. It'll be John's mistakes that spur him on. In Apokolips War, it's what he feels is his mistake that spurred him on. And that's integral to John's motivation. So we need another event like that I think, but I haven't had conversations with the writers about what they're doing so I'm just spitting, you know."
But before we discover what he's going to have to repent for this time, Ryan has an idea up his sleeve.
"Maybe he takes a holiday," he says. "Maybe he's gone to Aruba. You know, like where the guys were at the end [of season three] when he shows up with the dragon's head. Have me sitting there and then they turn up and say, 'John, John, we need you.' And he's like, 'Fuck off, this is the first time in years that I've been sitting here, smoking a ciggy, having a gin and tonic, piss off!'"