Reviews
What We Do in the Shadows Season 4 Takes Advice From Fred Armisen
Nadja's dream of a vampire nightclub flirts with night terrors and free-form observational humor in What We Do in the Shadows' "The Grand Opening."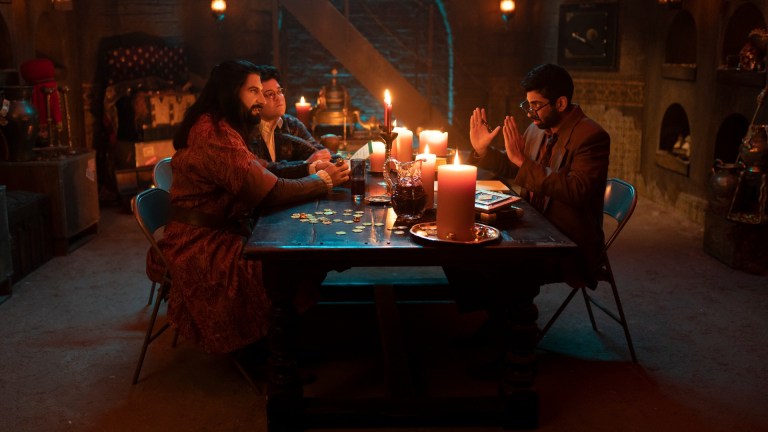 This What We Do in The Shadows review contains spoilers.
What We Do in the Shadows Season 4 Episode 3
What We Do in the Shadows season 4 episode 3, "The Grand Opening," opens with great promise. Nadja (Natasia Demetriou) is beside herself with excitement, she's even wearing matching red hats. The line to get into her new vampire nightclub, Nadja's, stretches around the block. She's booked the most famous vampire DJ, Richie Suck (Affion Crockett), as the premiere act.
"Gonna bust loose, on the club roof, drinking 'Throat Juice,'" Nadja intones, relishing the lyrics of his biggest hit in anticipation of the club's debut. The exquisite agony of expectation is high. There are so many things which can go wrong, what will tumble first?
In "Reunion," Nadja bemoaned about how the International Vampiric Council belittled her brilliant bloodsucking cash scheme as amateurish and clichéd. The condensation of her short tenure on the board was actually a letdown for the season 4 opener. The season 3 finale set up a cliff-hanging scene change, and, even though we were expecting to land back in Staten Island, we should have gotten more of a taste of the vampires' individual bloodshed abroad. It could have been spilled liberally over "The Grand Opening."
This can probably be lain at the feet of Dr. Tom, played with a magnificent mix of passive aggression, guilt, and misplaced narcissism by Fred Armisen, who specializes in diluting past indulgences. He is the all-too-familiar familiar to Richie Suck. "You let him talk to you like that," Nadja gasps.
Suck and the doc are playing out the Brian Wilson and Eugene Landy dynamic. The Beach Boys' main songwriter was at the top of his artistic game when he began therapy and disappeared into his soundless era. Richie Suck hasn't put out a new record in two years, and everyone is expecting it to be the greatest thing since sliced veins. But it's not what the doctor orders, which makes the whole sequence a comedy of artistic restraint, cool jazz and observational humor.
The workplace comedy aspect of the episode is fraught with usurping twists to gainful employment. If a Wraith is in danger of being killed by a vampire guest, for example, it must request a replacement at its post. The Guide (Kristen Schaal) is a wonder at keeping it all together while always on the edge of falling apart. She ain't no cop and she ain't no narc, but she can't be trusted not to steal a scene. Schaal shows this exceptionally well when listening in on her bosses' most intimate discussions and trying to keep a professional poker face.
As we knew would happen, trouble is brewing in Nandor's (Kayvan Novak) paradise of impending marital bliss with Marwa (Parisa Fakhri). An earlier discussion over the perfect ass teeters on vaudevillian turf but, and it's a big but, Nandor's own quest for self-improvement twists it into contemporary retro. What We Do in the Shadows succeeds in subverting expectations in almost every scenario.
Of course, Nandor's big takeaway to relationship hardship is the need for the biggest penis in the world. Nothing else would occur to him to improve, everything is perfect, he was a mighty warrior, and it is completely consistent with the characteristic vampiric self-centeredness. This is exactly why the Djinn (Anoop Desaigenie) would encourage such a gripping entanglement, and the ultimate genie curse is unambiguously impeccable in several ways. It is a masterpiece of frustration, with double the kick, because it feeds into a very familiar desire. Guillermo (Harvey Guillén) makes a very good point: "It's not yeesh."
Guillermo is not only almost a match for the Djinn's contractual trickery. He is also the first to note how quickly Colin Robinson (Mark Proksch) is developing, and there appears to be a bonding between the two. "Oh no," exclaims Laszlo (Matt Berry). "What hath the dark lord wrought?" The most devastating blow of the evening comes not from rockstar excesses or lasting large penile impressions, but from the "lowest of all entertainments. Gutter pantomime, performed by half-wits in painted faces, enjoyed by lower wits."
The mere notion that Gizmo defends Colin's horrifying regression is supposed to express how deep the bond is between the familiar and the fated energy vampire. Instead, it inadvertently proves it, and in-adversity is proof enough for Laszlo's tortured conclusion. His character thrives on adversity. The art-theft sequence is a masterful mix of acrobatic sight gags and verbal ballet in a mockery of all things nimble.
The characters became more clearly defined in their roles in season 3, with some very unexpected turns. Laszlo wound up being a much more loyal friend than might have been suspected when he took on the secret knowledge of Colin Robinson's then-impending death. He continues to do so with the offspring which popped out of the energy vampire's chest. This almost-paternal relationship continues to grow, and the interesting thing is how each of the two characters really believe they are trying to accommodate the other. It is so against either of their true natures.
Guess what? It is truly moving. Laszlo is downright altruistic, desperate to show the young lad a good time, appropriate to his age, but dangerous as hell. He honestly believes teaching a preschooler, basically, between the ages of 6 and seven by Guillermo's reckoning, to break into a protected vault is character building. Laszlo is not doing this for his own reward, but the betterment of vampire kind. Colin is suffering the same diametrical pull. His nature tells him to drain the life out of the person with the most to give, but he is authentic in his interests. His YouTube channel is called Colin Knolls, and he only has 2 subscribers, but he truly sees the value in his Lego Avengers Infinity War+South Pacific Reviews.
Opening night of Nadja's vampire nightclub is saved by the one thing vampires can never get enough of: creepy kids doing ghastly things. It is a perfect way to end an evening. Written by Sam Johnson and Chris Marcil, and directed by Kyle Newacheck, "The Grand Opening" is a headlining act. As Nadja says "it's so disgusting, I love it." What We Do in the Shadows weaponizes irony, and has earned the right to wear it like fangs.
What We Do in the Shadows airs Tuesdays at 10 p.m. on FX, and streams the next day on Hulu.