Reviews
What We Do in the Shadows Season 2 Review (Spoiler-Free)
The bloodsucking roommates up the block get comfortable in What We Do in the Shadows season 2.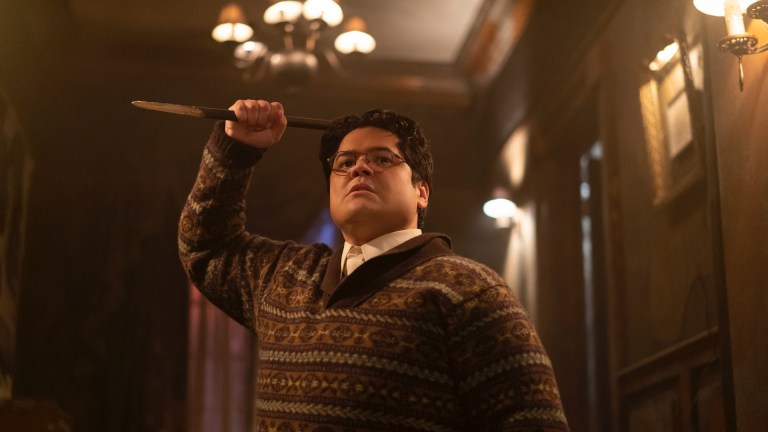 This What We Do in the Shadows season 2 review contains no spoilers.
FX's horror comedy mockumentary series What We Do in the Shadows season 2 rises from the crypt to present classic-style comedy worthy of the ancients yet not entirely at odds with the modern world. Staten Island's favorite vampires – Nandor (Kayvan Novak), Nadja (Natasia Demetriou), Laszlo (Matt Berry) and Colin Robinson (Mark Proksch) – continue to make a mess of their community, tradition, monster standing, and genre. Their human familiar, Guillermo (Harvey Guillén) continues to mop up mortal and immortal remains.
These aren't the scariest vampires in the tri-state area. They're not even the scariest bloodsuckers in a three-block radius of the house they share. One of the best things about What We Do in the Shadows is how it presents the dangers to the vampires. Most shows and movies about the thirsty undead make them out to be the threat. But even lions, tigers and bears can be killed by a little girl from Kansas if she's got a shotgun. Of course, buckshot doesn't work on vampires, just like it would probably be little help if you notice a mosquito in the tiny hairs on your arm. Holy water, sharpened stakes and pages from The Bible are the weapons of choice against the vampire. But their perils don't end there.
The Staten Island contingent doesn't just face off against vampire hunters, they also face threats from other vampires, werewolves, an occasional babadook (although Nandor insists there was only one, so I won't exaggerate), ghosts and free offers from Fandango. A chain email gets through the ancient warrior's chainmail and brings with it horrors of a kind unseen since he slaughtered thousands of men, women and children during his human reign of terror. Not that he was such a bad guy back then, he really liked his horse.
The first season ended with the Staten Island vampire contingent fending off the Vampire Council after they accidentally let Baron Afanas (Doug Jones) get fried by an all too familiar familiar. Guillermo continues to rack up a body count. The reluctant van Helsing faces competition from Nadja and Laszlo's new familiar, played by Haley Joel Osment, the kid from Sixth Sense. In the first season, the show featured iconic horror figures like Wesley Snipes, Tilda Swinton, Dave Bautista and Pee Wee Herman, who both got staked by cheerleading Buffy and put in a classic vocal appearance in Nightmare Before Christmas. They also add solid guests with no horror bona fides.
Craig Robinson, who plays Doug Judy, Detective Jake Peralta's (Andy Samberg) best nemesis and worst friend on Brooklyn Nine-Nine, goes full-on militant nerd as the head of a local vampire hunting gang. At one of their meetings, a vampire-killer-wannabe nervously suggests pre-emptive fight plans to better protect virgin blood. With two words from Robinson we know the teenager has been trying to get laid since he joined the group.
The wannabes barely notice how much ass Guillermo kicks on their behalf, partly because he's playing both sides of the fence and partly because they're not too quick on the uptake. No one on the show really comes across as too bright, except the energy vampire Colin Robinson, who always seems to know more than he's letting on. Nandor relentlessly assumes he knows everything, until he runs directly into a wall of mystery, and then he immediately calls for instructions.
Kayvan Novak dives into his anachronistic alter ego completely. When we actually see Nandor as he used to be, and hear him speak his native tongue, it becomes apparent he was always insufferable. This is a man who does not like to suffer. Inflict it unto others, sure, with abandon and glee. But gods forbid his mortal self ever got so much as an ingrown toenail on the battlefield, he'd moan about it for weeks. We hear it in his voice, passive-aggressively welcoming Guillermo home from a fun time while Nandor and his fellow vampires faced life and limb while he was gone. He knows how to throw guilt, and it plays against the myth of what we've come to expect from our warlords. The show turns everything on its head. It's positively madcap in its farce. Although, for some reason, the thing which cracks this reviewer so consistently up is how he calls, refers to or answers the name Colin Robinson. Every utterance of those two words comes out differently, yet molded in an almost catchphrase-like personification, not unlike Seinfeld's Newman!
Colin is smart and Mark Proksch is subtle. He brought his subversive delivery to the wonderful cult film VHYes at the end of last year and it was a perfect ingredient. Not all his subtlety is downplayed. Watch his eyes and smile every time he is in a situation in disarray. Colin says he's going to boring places, but taps the energies of distraught excitement. It occasionally looks orgasmic.
Nadja (Natasia Demetriou) and Laszlo (Matt Berry) are always orgasmic. For a blood-deprived member of an inbred species, Laszlo is surprisingly ever-ready to get as stiff as his topiary. He's of the kind who can peril if the sun hits him yet I'm sure Laszlo could get it up at the crack of dawn. Nadja is basically Mae West of the Eastern European section of the city. Every line drips with some kind of twisted erotic promise. She rarely uses double entendre properly, but the graphics sound innocent, and it comes out nakedly funny.
It's not like What We Do In the Shadows is without its scary stuff, filling in occult mysteries the world has pondered over since videos started going viral. We get to see the origin of a haunted doll in the same episode we learn ghosts narcissistically circle jerk. We witness, first hand, what happens to unwanted necromantically-recharged zombies: they work in sweat shops, making license plates like common prisoners and animators on The Simpsons. What We Do in the Shadows also tips a hat, though not Laszlo's famously cursed skin-hat from season 1, to New York City's theosophists of the late 19th Century. Each of the vampires holds séances, individually and as a group.
The vampires teach a new way to enjoy the Super Bowl, giving the best night of his life to a witness to their true identities. What We Do In the Shadows excels in exploring the unforeseen and unnoticed consequences of their actions. They really think they're showing this guy a great time, and every moment is torture for him. They mistake his shrieks for cheers. The vampires remain completely oblivious to whatever chaos is happening around them. When a zombified familiar starts climbing the walls, it's just old news to them. We're not sure whether it's because they've already seen it all and are bored with the mundane things in life or whether they were always this self-involved and clueless. All evidence points to the latter.
Everyone seems to be even more comfortable in their characters. The acting is more assured this season even as the characters' self-consciousness grows. The vampires constantly second guess themselves, most often and effectively after they've done something fairly irredeemable. But we get the idea they don't retain anything, which keeps the grounds fertile for revisiting ideas. How many times can you make a vampiric gift funny? They can fly. Laszlo turns into a bat at the bat of an eye. Nadja went around hypnotizing most of Staten Island last season, with hysterical results. This year, Nandor and Laszlo have to double down.
The special effects make for excellent punch lines. Whether a character is frantically running back and forth burning to death in a background or floating mid-air in slow motion, the visuals cement the gags. It also mixes into the documentary approach well because the viewer isn't supposed to expect supernatural occurrences to be caught on Reality TV cameras. It is also always gratifying to watch the cameramen run.
Based on the movie by Jemaine Clement and Taika Waititi, FX's What We Do in the Shadows squeezes itself well onto the small screen. As the series enters its second season it solidifies its place as a placeholder for classic TV comedy. All the jokes land, even the ones which try their best not to. Irony works as well as screwball and everything is fertilized with gallows' humor. What We Do in the Shadows is this decade's Addams Family in many ways.
What We Do In The Shadows season 2 premieres April 15 at 10 p.m. on FX.