Features
What to expect from Dead To Me season 3
What's next for Jen, Judy, Ben and the others in a third season of Dead To Me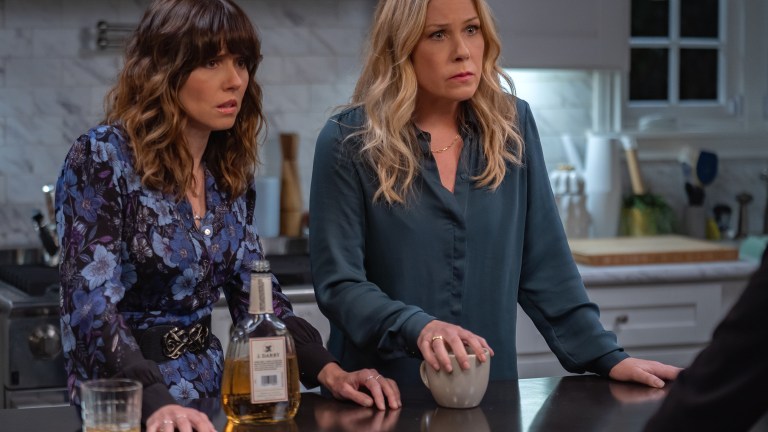 If the first season of Dead To Me revolved around Judy Hale's (Linda Cardellini) crippling guilt over her responsibility for the death of Jen Harding's (Christina Applegate) husband, Ted, the season two reverses the roles. Having finally found out the truth, Jen ostracises Judy but when Judy's awful ex-fiance Steve (James Marsden) turns up at Jen's house looking for Judy an altercation occurs resulting in Steve's demise.
It leads to a reconciliation between the two women in a way that suggests some sort of strange balancing out of the universe. Judy accidentally killed Jen's cheating husband, Jen killed Judy's terrible ex- in self defence and now they are free and even.
Except they are not. Because Jen didn't kill Steve in self defense and there's the matter of a missing persons case surrounding Steve's disappearance, prompted by his twin brother Ben (yeah) and headed up by Detective Perez (Diana Maria Riva) who finds Judy particularly suspicious. It's Jen's turn to suffer under the weight of her guilty secrets.
By the end of season two some problems are resolved and others are just emerging. Jen's apparently got away with murder, having confessed to Perez and been given leniency when she can't find the body. Judy knows the truth and has forgiven Jen. The financial problems the two were having seem to have been solved when Judy gets back possession of her paintings which are stuffed with money and they've been able to buy Jeff's mother's share of the house back from her.
But in the season finale there are serious cliffhangers that need to be addressed, if a season three materialises (which we hope it does). Here what you might expect from Dead To Me season three.
What happens after the car crash?
On the way back from buying a brand new car for Charlie (Sam McCarthy), Judy and Jen are run off the road by Ben who has just discovered that his brother's body has been found buried in the woods. Ben has been drinking and after the crash he scarpers.
It's likely that he will play a major part in season 3 then. While it's not clear if he has any inclination that Jen and Judy were in any way involved in Steve's disappearance he has had clues. Ben knows Jen spoke to Steve before his disappearance and her neighbour Karen (Suzy Nakamura) thinks that it's Ben she saw in Jen's yard the night of the murder.
Since Dead To Me plays with balance, and with guilt, the dynamic between the three could play a major part.
Is Jen killed in the car crash?
Not a chance. Christina Applegate is such a major part of the show that it just wouldn't work without her. However she takes the brunt of the impact of the crash and she is unconscious at wheel immediately after Ben hits them. At the very end of the ep she wakes up and asks Judy what happened, and when Judy tells her they got hit, she responds with the customary 'oh shit'.
It's unlikely at this point that the pair know that it was Ben who hit them, and it's unlikely that Ben knows who it was he hit.
Talking to Variety, James Marsden said,
"I don't think he saw them in the car. I don't know that he'd remember them. He was also just blackout drunk, I think. I think the reminder is going to be the blood coming from his nose."
And although Jen isn't dead it doesn't mean she's not seriously hurt in the crash – a point which creator Liz Feldman makes in a recent interview with The Hollywood Reporter.
It seems likely in Season 3, that Ben will inevitably discover who it was that he hit. Ben suffering guilt feelings over hurting Jen while drunk driving, and Jen having guilt feelings over killing Ben's brother could make for an interesting dynamic that's very much in tune with the tone of the show.
What does Charlie know?
He knows that his mum had Steve's car. She tells him he gave it to her, as compensation for a deal that fell through and that it got burnt after they left it on the side of the road. She explains that they can't tell the cops about the car and that it wasn't Steve driving it, because then they'd have to reveal that Charlie was driving, and it would stop him getting a license. It's a bit of quick thinking from the ladies which they just about get away with at the time.
Later Charlie confronts his mother but she convinces him not to keeping pushing by telling him that she is scared and that Steve was involved with some dodgy people, but Charlie is clearly highly suspicious.
But exactly how long that's going to last is another story. In the season two finale Charlie finds Judy's box hidden under her bed when he's hunting for a joint. In the box Charlie finds the letter that his mum wrote to Judy. The letter – which Judy reads at the start of the episode when Jen has turned herself in – has some incriminating content, and Charlie isn't stupid.
While the letter doesn't explicitly reveal that Jen killed Steve, it does indicate that Jen was planning to go away and leave Judy as the legal guardian of the two boys. In it Jen also says she's sorry she couldn't forgive Judy sooner for Ted. What exactly Charlie will make of that will likely be a big part of season three.
Is Jen going to prison?
Jen turned herself in to agent Perez and tried to show her where Steve's body was buried but couldn't actually find it. Jen gives Perez a full confession but on the drive back to the station, Perez has a change of heart and tells Jen to go home to her kids.
The corrupt Chief Hastings (Jere Burns) who was working with the Greek mafia and Steve has been put away, based on evidence from the tape recorder in Steve's bag that Judy passes to Nick (Brandon Scott), and as Nick points out to Hastings it seems far more likely on paper that his death would be at the hands of the Greek Mafia than Judy or Jen.
But that's before the body turns up. In the final episode a hiker has discovered Steve's body, and the police have notified Ben that it's Steve.
Now that there's a body, and Perez knows that Jen was responsible can either woman, in good conscience, do nothing about it?
This shared guilt and knowledge could also play a big role in season 3.
There's another potential spanner. Before Jen confessed, her son Charlie was potentially in the frame after Parker gave the police photos of Charlie with Steve's car, and he shows up driving it on cctv footage. With the body now found, surely eyes will now be on the Harding family – could we see a world where Charlie is pushed to turn against Jen and Judy if he himself is being accused.
What's the future for Michelle and Judy?
At the end of Season two Michelle (Natalie Morales) has moved out of the flat she shared with Perez and isn't responding to Judy's texts. Perez gives Michelle some hard truths when the three meet in the hospital after Michelle's mum has had a stroke. Any future for Judy and Michelle's romance is uncertain. If Michelle does return the fact that she doesn't know about Judy's complicated past with Jen, Jen's dead husband and the now dead Steve is going to make for further complicated dynamics. Oh and the fact that her ex-, Perez, does know who killed Steve but is at present covering it up adds a further layer to that.
A third season hasn't even been announced yet but there's plenty of scope for further tensions and conflicts going forward.
Dead To Me season 2 is currently available to stream on Netflix.