Features
Wednesday: 8 Questions Season 2 Needs to Answer
What's next for Wednesday Addams? Here are some of the questions the second season of her Netflix show should answer.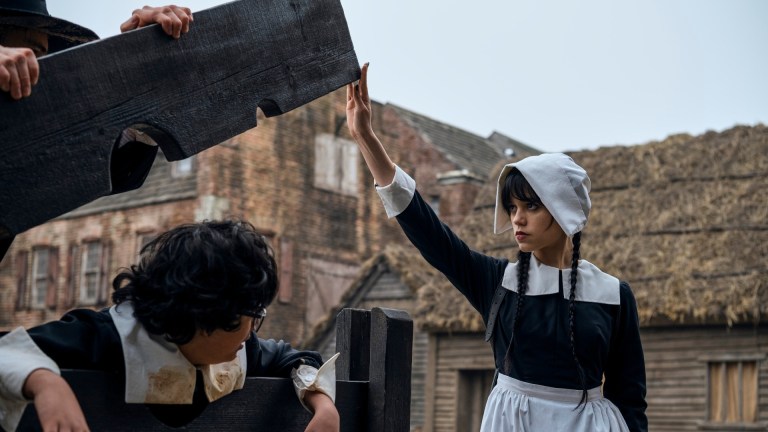 This article contains spoilers for Wednesday season 1.
Life is never easy when you're a teenager, and in Netflix's Wednesday, the titular character is learning this the hard way.
Without her creepy, kooky, mysterious and spooky family on hand, Wednesday (Jenna Ortega) has been let loose on her own. Soon she's playing detective around the small town of Jericho as she tries to find a serial killing monster in between navigating boys and finishing her studies. You know, normal teenage stuff. 
But the series did not end simply, with plenty of plot threads that either went nowhere, were left dangling, or teased a potential season 2. As Wednesday herself said, "I know the suspense is killing you".
Well… that's not quite good enough for us, in fact, it's more than a little frustrating. Here's what we need to understand and what we hope to get answers to if the show gets renewed.
Did Wednesday Actually Murder Laurel Gates/Ms. Thornhill? 
We knew Wednesday was going to be pretty dark before we even watched an episode, but are we seriously expected to believe Wednesday actually curb-stomped a woman to death, even if she was out to get her?
Laurel Gates was the epitome of the kind of world Wednesday thought she lived in. Spending time earning her trust as the seemingly unassuming Ms. Thornhill (Christina Ricci), Wednesday had (against her better judgement) learned to appreciate the support she was receiving. But then having a gun pointed at you by someone who literally resurrected the dead in order to wipe you out will change a few things.
Killing Laurel Gates has kind of been breezed over. Sure it was self-defense, but it was still taking the active decision to end someone else's life. So is there a chance that Laurel isn't actually dead, rather severely maimed? And will she come back to exact even more revenge on Wednesday in the future?
Who's Stalking Wednesday? 
In between the ancestral background checks, the mystery of the week, the overarching murder mystery and figuring out how to make friends, Wednesday also had to deal with a stalker.
Someone has been taking photographs of her throughout the first season, and by the end of the finale, their physical prints were brought into the 21st century. Wednesday was gifted a phone, and immediately started receiving these weird snaps. While most would freak out about it, Wednesday just sees it as a new case to solve, and is kind of thrilled at someone paying her this kind of unauthorised attention. But there is literally no clue as to who this person could be.
Where Were They Taking Tyler and Did He Escape? 
Considering Tyler is a breed of outcast so volatile and dangerous that they are banned from attending Nevermore Academy, it's hard to imagine where they were planning on taking the teen now he's been caught.
In the final moments of the episode, we saw Tyler having miraculously recovered from his brutal injuries from a Hyde vs. Werewolf fight with Enid in the woods, strapped into a straightjacket and drugged to the eyeballs in the back of an armed van. None of that stopped him "hyding out" again though. So does he manage to break free from his current situation? And if so, where are they taking him? Is there a prison or hospital for outcasts?
Are Tyler and Xavier Psychically Connected and What Does That Mean? 
It was established Tyler and Xavier were at war before Wednesday made her arrival in Jericho, but having a girl to fight over definitely made things worse. However, throughout the show's run, it became clear they were somehow connected, with no actual reason or decision behind why.
Xavier was so tormented by visions of the Hyde-d out Tyler he took it out in paintings and drawings as an artist. Tyler, from what we know, doesn't even know about said connection.
But what exactly is it about these two that force them to be bound together, even when hating each other's guts?
Where Did Bianca Go After the School Closed? 
One of the more fascinating side plots is siren Bianca and the complicated relationship she has with her mother, who is a member of a group known only as "Morning Star". Morning Star is, without doubt, a cult, and one that Bianca wanted free of so badly she conned her way into Nevermore Academy using her abilities as a siren and against her mothers wishes.
She was allowed to stay on the condition she return to them by the school's end. Bianca was trying the best she could to break free from the group, but now that school has finished early will she actually return to them like she promised? Where else is she going to go in the meantime?
What is Morning Star About and Who is Gideon? 
This ties in with the previous question, but Morning Star is a full-on cult, with the unseen Gideon the Charles Manson-esque figure leading it. Bianca's mother is so involved she even married the mystery figure, who uses her abilities as a siren to bring others into her cause.
Now, as her mother's abilities fade with age, he's wanting to get his claws (metaphorical or otherwise) into Bianca, and use her in her mothers place. But what is Gideon's goal with all this and is it even more sinister than Bianca realises?
Who Will Be the New Headmistress? 
Poor Principal Weems, she did not deserve to go out the way she did. Becoming collateral damage in Wednesday's investigation, she took a syringe of nightshade to the neck when she had finally cracked the case.
Despite appearing shady, all she really wanted to do was keep the school safe.
But now there's a position open as top dog of the school for Outcasts. Who will be the next person to take on the mantle and will they be a friend or foe to Wednesday?
Will We See More of The Addams Family? 
The whole point of The Addams Family is that they're a loving family despite their macabre quirks, and they were brutally under-utilized this season. So we would be lying if we said we didn't want to see more of them in the next season. While Pudsey has been reduced to a weird and badly bullied kid, Morticia and Gomez are still packing on the PDA like a celebrity couple on a red carpet despite making everyone very uncomfortable.
Morticia and Wednesday's connection only scratched the surface of what could, and should, be explored with these characters. Both have psychic visions and can communicate with the dead, and Wednesday is desperate to step out of her mother's uber-popular and successful shadow and become her own person.
Will she be able to do that in season 2?
Wednesday is available to watch now on Netflix.