Features
Warrior Nuns Through TV History
The superpowered lead in Netflix's new comic book fantasy Warrior Nun is all well and good, but how does she measure up to these fictional TV sisters of the highest order?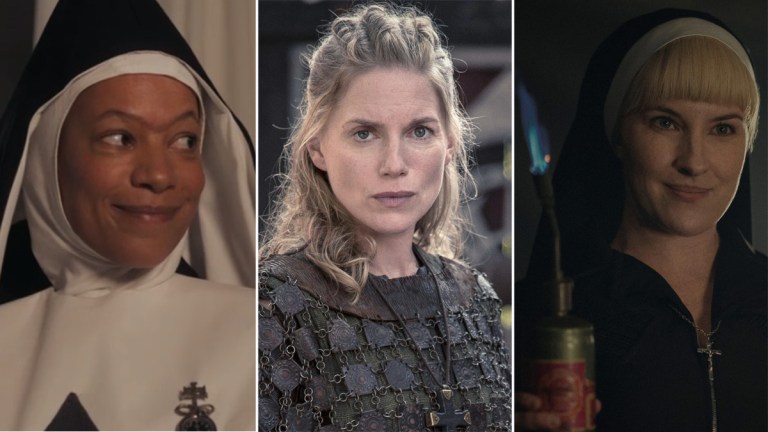 TV nunning is a broad church. Sometimes, it's all gunfire, demon-dissolving punches and running through walls, as in Netflix's latest comic book adaptation Warrior Nun. In that show, a mystical artifact gives a non-believing teen superpowers passed down the generations from holy sister to holy sister. Defeat the demons, protect the world, praise the Lord, and so on.
Other fictional TV nuns lead quieter, more cake-focused lives, but that doesn't mean they aren't also fighters. You might say that like superheroes, not all warrior nuns wear capes. You'd be wrong – nuns definitely wear capes. They're called mantles and though roomy and practical, likely represent a significant time commitment with regard to ironing.
Warrior Nun's superpowered teen follows in the echoey footsteps of a whole conventful of fictional TV nuns remembered here – some good, some bad, some inordinately fond of biscuits, but all, in their own way, warriors.
Sister Mary Loquacious in Good Omens (2019)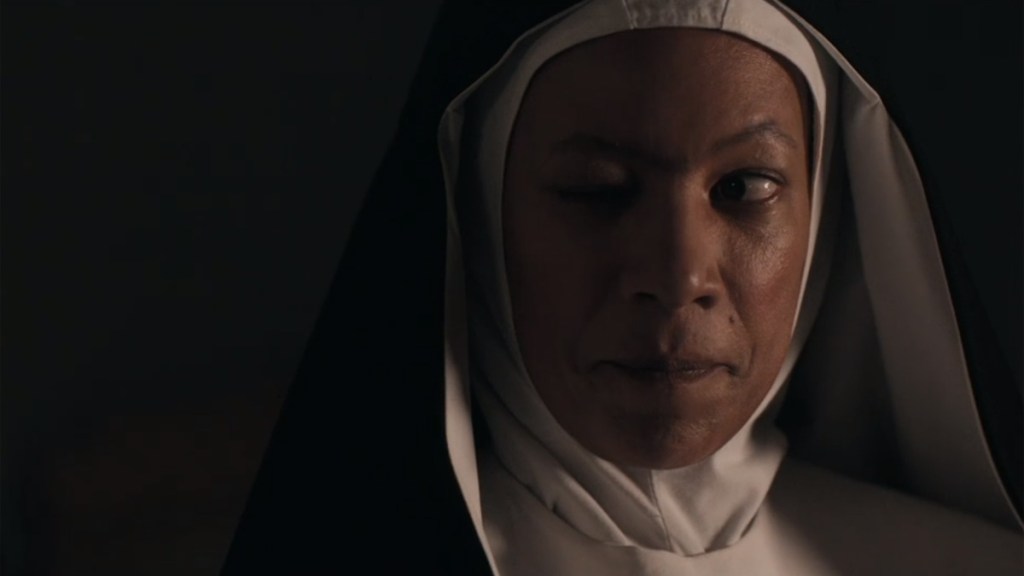 Played by: Nina Sosanya
Allegiance: Satanic nuns of the Chattering Order of St Beryl
Warrior level: Novice
Weapon of choice: Infantilising baby talk of hoofikins and widdle demonic tails
Specialism: Biscuits with pink icing
Most likely to say: 'Fancy me holding the Antichrist! Counting his little toesy-woesies!'
Getting into heaven? Absolutely not
Demon Crowley and angel Aziraphale may have been Good Omens' major players, but Sister Mary Loquacious kicked off the whole mess by accidentally confusing the infant Adversary, Destroyer of Kings, Angel of the Bottomless Pit, Prince of this World and Lord of Darkness with the human child of a couple from the Oxfordshire village of Tadfield. Easily done.
Sister Agatha in Dracula (2020)
Played by: Dolly Wells
Allegiance: The Army of the Faithful, St Mary's Convent of Budapest
Warrior level: Intellectually? Top Tier. She's Dracula's 'every nightmare at once: an educated woman in a crucifix'
Weapon of choice: Wooden stakes and double-barrel wit
Specialism: Scientific rigour and one-liners
Most likely to say: 'A house of God is it? Well that's good, we could do with a man about the place, eh sister?'
Getting into heaven? Ja, if she cared to grace it with her presence.
Unfazed, brave, funny and intellectually curious, Dutch-born Agatha put both her faith and folklore to the test when she took on Count Dracula, meticulously gathering research on his powers and learning the rules of the beast to try to use them against him. A true scientist and quite a woman.
Sister Michael in Derry Girls (2018)
Played by: Siobhan McSweeney
Allegiance: Our Lady Immaculate College/Rawhide
Warrior level: Untested in battle but doubtless lethal
Weapon of choice: Apathy, withering sarcasm and eye-rolls
Specialism: Judo (on Fridays)
Most likely to say: 'Sweet suffering Jehovah'
Getting into heaven? I wouldn't be the one to stop her.
You won't find an ounce of sentiment beneath this wimple, Sister Michael's dry disdain for the pupils at Our Lady Immaculate is expressed only through cutting remarks and declarations of boredom. Not a fan of priests, the French, love songs or… most things, she's an authority figure for the Derry Girls. Every so often though, like when she turned a blind eye to Erin and co. distributing their banned lesbianism-focused edition of the school magazine, she'll surprise you.
Sister Jane Ingalls in Orange is the New Black (2013)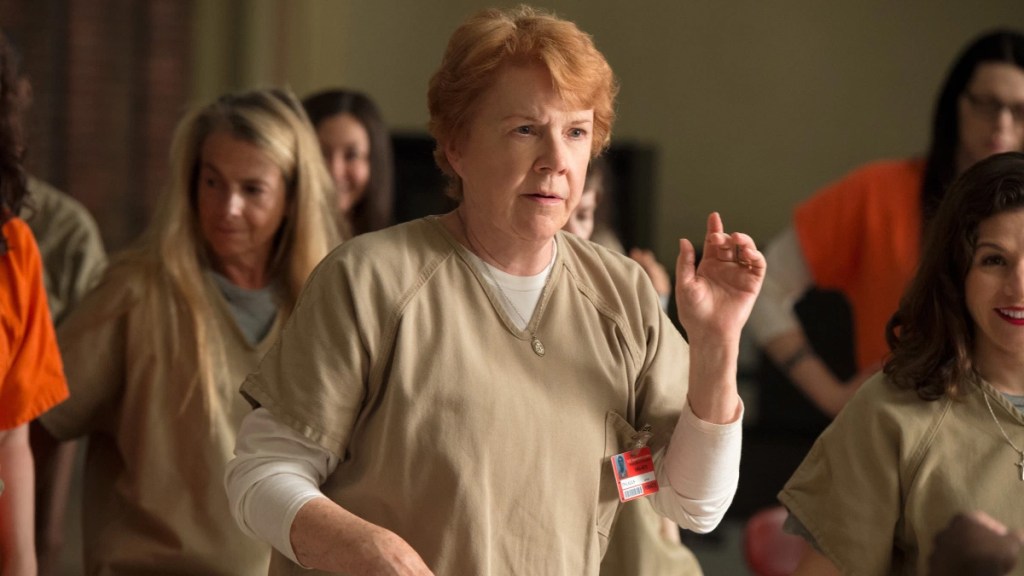 Played by: Beth Fowler
Allegiance: Catholicism
Warrior level: Basically nil as she's a committed pacifist, though she does punch Gloria in the mouth at one point for PR
Weapon of choice: Civil disobedience and the Good Book
Specialism: Activism
Most likely to say: 'I was afraid nunning was going to be boring!'
Getting into heaven? Sure
As a young novice in the 1960s, Ingalls fell in with the bad nuns and got a taste for non-violent activism. A bunch of protests and a memoir later (full points for the title: Nun Shall Pass), and the church didn't want anything to do with her, neglecting to cover her legal fees after she handcuffed herself to a nuclear facility, landing her in Litchfield.
Sister Harriet in Hunters (2019)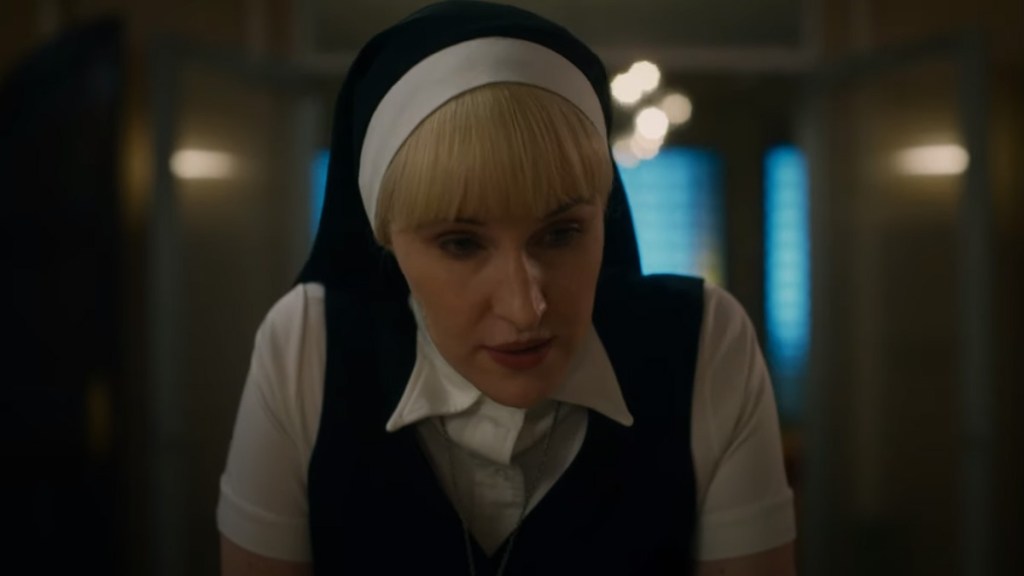 Played by: Kate Mulvany
Allegiance: Anti-Nazi, Pro-Quip
Warrior level: Top level. A highly capable operative.
Weapon of choice: Gun, blowtorch, you name it
Specialism: Threats of extreme violence delivered in the voice of a Downton Abbey marchioness.
Most likely to say: 'I will set you aflame, child'
Getting into heaven? There's some intrigue as to her real deal but she certainly seems to be on the right side of history.
This MI6 agent/Nazi-hunting nun from Amazon Prime's Hunters is something of a Scary Poppins. She does an excellent line in death threats and action-movie quips. She's deadly, has a shady backstory, speaks in a cut-glass English accent and is fond of biscuits. In other words: our kind of nun.
Matron Casp in Doctor Who 'New Earth' (2006)
Played by: Doña Croll
Allegiance: Sisters of Plenitude
Warrior level: Merciless eugenicist
Weapon of choice: Cat claws and science
Specialism: Incinerating conscious and begging-for-help human cloning experiments without a spark of fellow-feeling.
Most likely to say: 'Who needs arms when we have claws'
Getting into heaven? Nah. Space prison more like.
The Sisters of Plenitude, healers on New Earth, may have called their work 'the tender application of science' but 'the incredibly painful application of bastard cruelty' better sums up their human cloning farm. This order takes a lifelong vow to help and mend, but clearly not to do no harm. And their hospital doesn't even have a shop.
Abbess Hild in The Last Kingdom (2015-)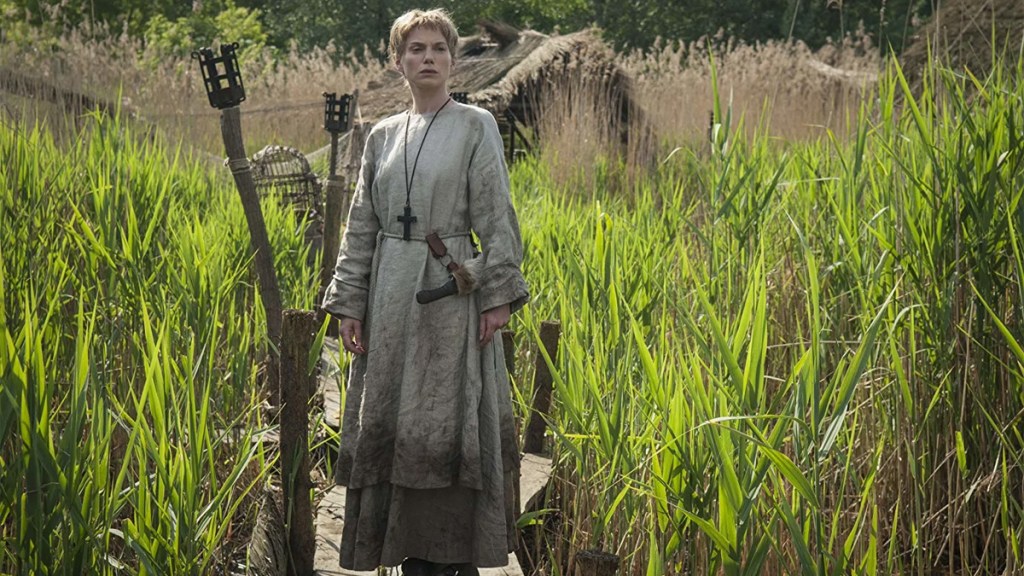 Played by: Eva Birthistle
Allegiance: Uhtred of Bebbanburg/the Lord
Warrior level: Advanced (but retired)
Weapon of choice: Dagger
Specialism: Throwing buckets of cold water on a sleeping Uhtred and sawing through the necks of dead Danes
Most likely to say: 'I have killed, and I will kill again I'm sure, but hopefully not today'
Getting into heaven? Big yes.
Hild's journey in The Last Kingdom took her from nun to warrior and back again. Rescued from attack by Uhtred, Leofric and Yseult, she swore to become a fighter and more-than earned the title. Eventually, her vocation called her back to the church, where she now remains as the Abbess with whom you don't mess.
Sister Jude in American Horror Story: Asylum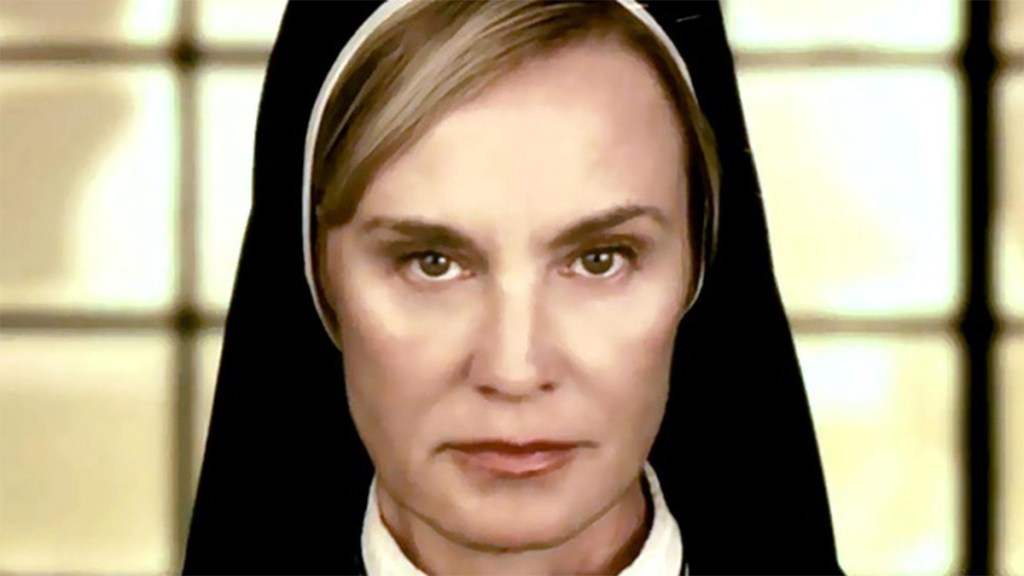 Played by: Jessica Lange
Allegiance: Catholicism and the teachings of Monseigneur Timothy Howard
Warrior level: Complicated
Weapon of choice: Forced commitment to an insane asylum,
Specialism: Guilt
Most likely to say: 'All monsters are human'
Getting into heaven? Bad things happened under her watch but she does try to atone
The head of Briarcliff, an institution for the criminally insane, Sister Jude is a complex character with a complicated trajectory. She mistreats, but is also also gravely mistreated.
Sister Monica Joan in Call the Midwife (2012-)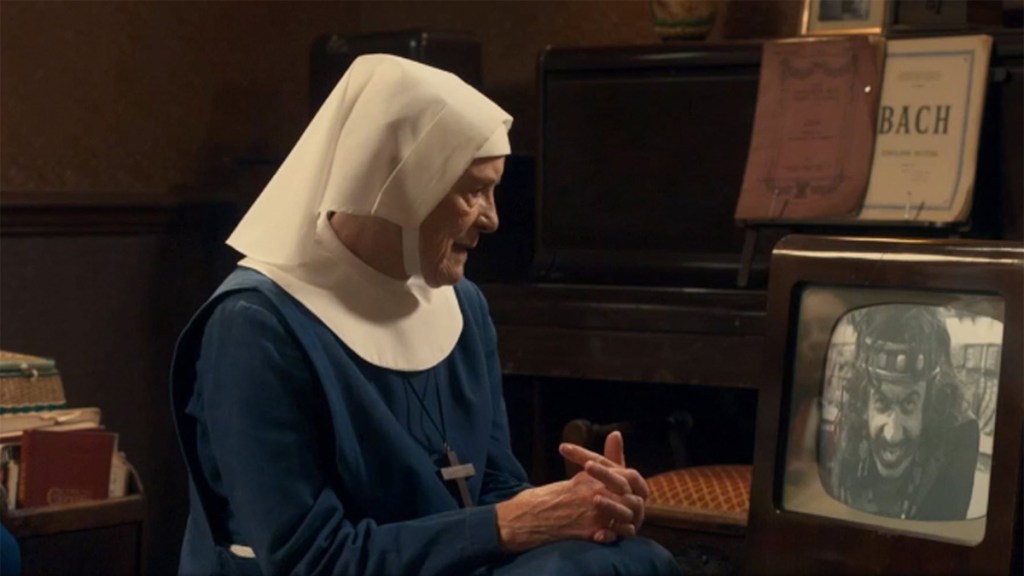 Played by: Judy Parfitt
Allegiance: Raymond Nonnatus, patron saint of childbirth
Warrior level: Yoda
Weapon of choice: Forceps and fey literary quotation
Specialism: Sniffing out and emptying hidden cake tins
Most likely to say: 'My first responsibility is to ensure the consumption of this cake'
Getting into heaven? Hundo P
AKA the best Call The Midwife nun, and an OG resident of Nonnatus House ever since the BBC One series began. Owing to her advanced years and developing dementia, Sister Monica Joan is now retired from midwifery, but in her prime there wasn't a birth canal in Poplar that hadn't welcomed her up to the elbow. She's highly educated and extremely well-read with an instinctive love of beauty, poetry, cake and Doctor Who, which makes her the patron saint of all our hearts.
Sister Sybil in Camelot (2011)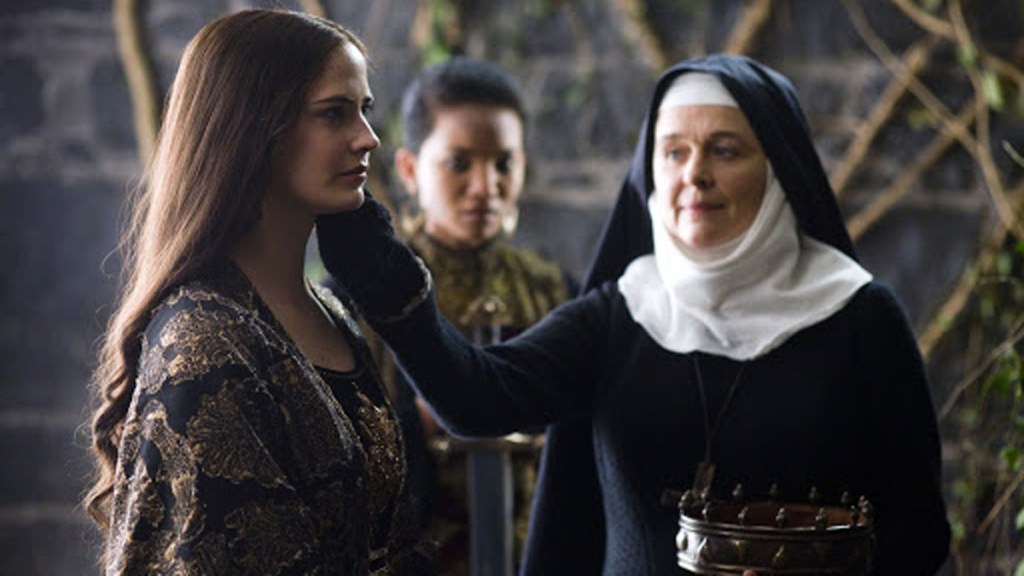 Played by: Sinéad Cusack
Allegiance: Shady but ultimately loyal to Morgan
Warrior level: Witch
Weapon of choice: Dark magicks
Specialism: Child sacrifice?
Getting into heaven? Nah.
When Uther Pendragon banished his daughter Morgan in Chris Chibnall's 2011 Camelot, she was raised in a nunnery by a sister who was no stranger to the dark arts. When Morgan (played by Eva Green) returned to claim her birthright, Sister Sybil was the one whispering poison in her ear and teaching her how to channel her powers.
Sister Bertrille in The Flying Nun (1967)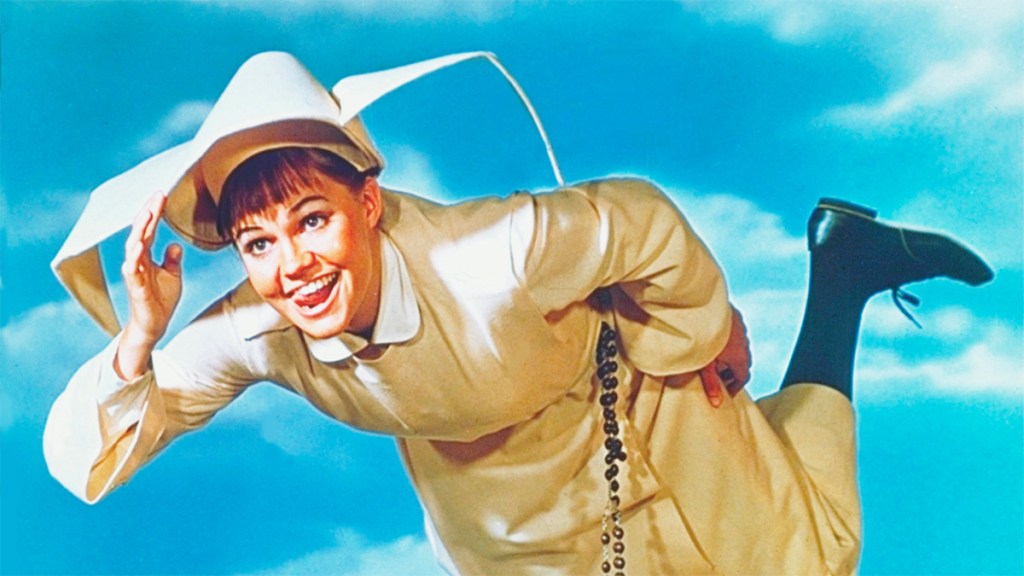 Played by: Sally Field
Allegiance: El Convento San Tanco in San Juan
Warrior level: Negligible
Weapon of choice: Not so much a weapon, but her flight-enabling cornette was the big thing.
Specialism: As the title suggests, flight
Most likely to say: 'When lift plus thrust is greater than load plus drag, anything can fly.'
Getting into heaven? Si señor.
A creation of Tere Ríos' book The Fifteenth Pelican, Sister Bertrille was the fresh-faced nun-next-door whose cornette combined with the Puerto Rico coastal winds allowed her to fly in the 1960s TV series. According to Sally Field's excellent memoir In Pieces, the whole experience was more drag than take-off.
Miss Clavel in Madeline (1988-2001)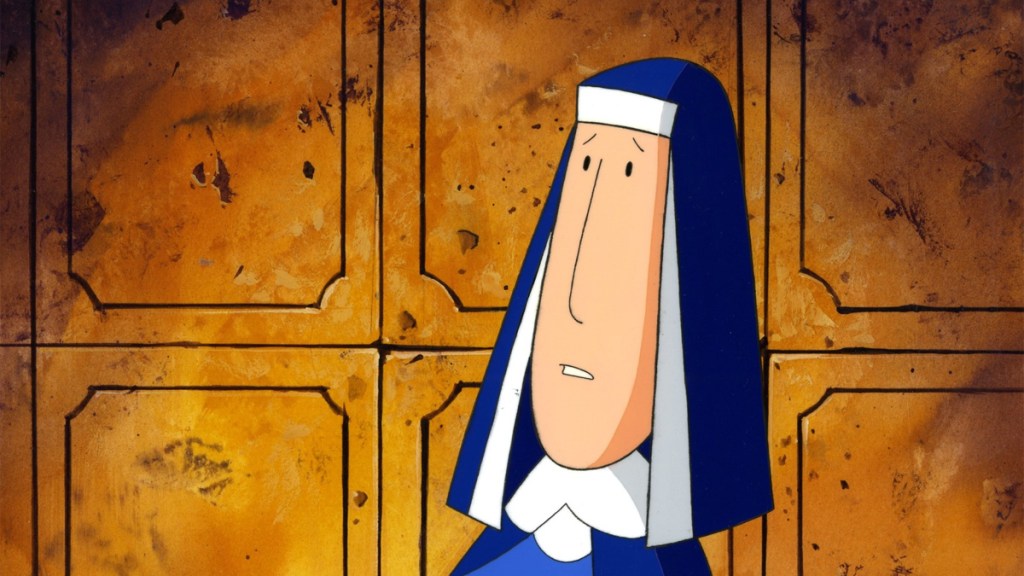 Voiced by: Judith Orban & various
Allegiance: An old house in Paris/the Catholic church
Warrior level: more sentry than prize fighter
Weapon of choice: Education! (Read: day trips to the circus)
Specialism: Waking up in the middle of the night with a nagging sense that something's off kilter with her young schoolgirl charges, then singing a song about it.
Most likely to say: 'Vite, vite mes petits'
Getting into heaven? Mais oui
The headteacher at Madeline's Parisian boarding school in the Ludwig Bemelmans' books and their various TV and film adaptations, Miss Clavel is a kindly sort. She gives her young boarding school pupils warm moral instruction and generally manages to extract Madeline from the mouth of whatever tiger she's crawled inside that week. Not ferocious, as warriors go, but kind and dependable.
Septa Unella in Game of Thrones (2015)
Played by: Hannah Waddingham
Allegiance: The Faith of the Seven
Warrior level: High Bastard
Weapon of choice: Wooden spoon and ignominy
Specialism: Torture and bell-ringing.
Most likely to say: 'Confess!'
Getting into heaven? Not in one piece she won't after what Cersei did to her
The Geneva Convention didn't reach the Seven Kingdoms. If it had, then the supposedly holy Septa Unella wouldn't have beaten Cersei Lannister with a water ladle and made her drink from the floor like a dog before parading her naked to jeering crowds around the city. Not a nun to mess with, unless you're a Lannister.
Also-Nuns
Sister Boniface in Father Brown (2013)
Mother Superior in Avatar: The Last Airbender (2005)
Kassia the Byzantine nun in Vikings (2019)
Warrior Nun is available to stream now on Netflix.