Features
WandaVision: The Sitcom Influences of Episode 5
It's time for the '80s on WandaVision! Here is how the show's fifth episode pays homage to Family Ties and more.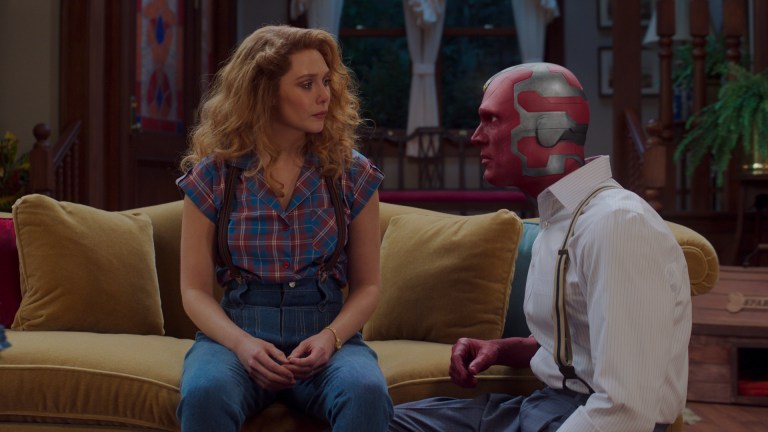 This article contains spoilers for WandaVision episode 5.
Last week's WandaVision took a break from our regularly scheduled programming to check in with Monica Rambeau, Jimmy Woo, and Darcy Lewis as they studied the Westview Anomaly. It provided a much-needed dose of explanations and exposition. This week, however, WandaVision thrusts us right back into the sitcom world of Wanda Maximoff's making.
Sure, the cracks in Wanda's facade are beginning to show a little more consistently. But even among Agnes's fourth wall breaking, Norm's mortal terror, and Vision's sleuthing, episode 5 contains a truly impressive amount of sitcom homages. Let's break them all down here.
Family Ties
It's well-established at this point that each episode of WandaVision uses one sitcom of a particular era as a stylistic jumping off point. Episodes one through three cribbed from The Dick Van Dyke Show, Bewitched, and The Brady Bunch, respectively. Now, the sitcom that episode 5 "On a Very Special Episode…" is paying homage to is unquestionably the 1982 NBC series Family Ties.
Family Ties was perhaps the archetypal '80s sitcom, as it deftly captured both the aesthetics and class politics of the era. It followed the Keaton family, made up of ex-hippie parents Steven (Michael Gross) and Elyse (Meredith Baxter), raising their children in Reagan's America. The show was particularly famous for the character of Alex P. Keaton (played by Michael J. Fox), the eldest child and an aspiring Wall Street bro. Family Ties was as much a time capsule as it was a TV show.
WandaVision obviously doesn't borrow much, if any, of Family Ties's themes but it does liberally (no pun intended) take from the show's style and look. Wanda and Vision's '80s outfits are closely similar to Steven and Elyse's usual threads. Their new home also closely resembles that of the Keaton's. Back when WandaVision's very first trailer premiered, many astute viewers were able to identify the Family Ties homage quicker than anything else.
The Family Ties comparisons extend to even the episode's opening intro. Both the lyrics and the handcrafted style suggest that of season 2 of the NBC show.
In fact, this might be the closest WandaVision has copied any show's credits yet. And that might be because the show's composers Robert Lopez and Kristen Anderson-Lopez are particularly familiar with the '80s era of sitcoms. As Robert told EW:
"I think we can say — maybe because we're '80s kids — that the '80s was our favorite decade to take on. The craft of theme songwriting peaked in the '80s because, after the '80s, you see fewer and fewer songs at the beginning of sitcoms and TV shows. It was their heyday. It was the brilliant starburst before the death of the sun. They're longer. They're touchy-feely ballads. And it was fun to really put some emotion into the one we did."
Here are the lyrics of the Lopez' song for posterity's sake:
"You wander the world with a vision
Of what life could be
But then the years come and teach you
To just wait and see
Forces may try to pull us apart
But nothing can phase me
If you're in my heart
Crossing our fingers
Singing a song
We're making it up as we go along
Through the highs and lows
We'll be right, we'll be wrong
We're making it up as we go along
And there will be days
We won't know which way to go
But we'll take it higher
You're all I desire
When the going gets tough
When push comes to shove
We're making it up
Cuz we got love we got love we got love
We got WandaVision"
Episode 5 also takes some aesthetic inspiration from '80s sitcoms Growing Pains and Step by Step, but Family Ties is the real homage here.
On a Very Special Episode…
We need to take a moment to appreciate just how good WandaVision's episode titles have been. There have been so many familiar TV-related phrases through nearly a century of broadcasting and WandaVision seems determined to shout out all of them. The name of this episode is particularly apt.
Anyone who watched sitcoms in the '70s or '80s could tell you about the "very special episode" phenomenon. Every so often, a network's voiceover would interrupt the beginning of a particular episode by saying "Tonight, on a very special episode of XXX…"
Before content warnings became in vogue, this was usually a gentle nudge that this episode could cover some "real shit." The "very special episode" warning could precede an installment covering everything from drug use to child abuse to Punky Brewster getting trapped in a refrigerator.
The aforementioned Family Ties featured many, many "special episodes." One Family Ties special episode, in particular, is quite noteworthy. The season 2 entry "Say Uncle" features none other than Tom Hanks as Uncle Ned. While spending some time with the Keaton family, Uncle Ned quickly makes it clear that he has a drinking problem (which includes him consuming vanilla extract). This culminates with Uncle Ned attacking Alex.
Many "very special episodes", including Family Ties' hallmark "A, My Name is Alex" deal with death. Fittingly, much of this WandaVision episode revolves around death as well. And the episode's final moments that reveal Pietro (albeit a "recast" version) confirm that this is indeed a Very Special Episode.
The Kramer Effect
One of my personal biggest disappointments in WandaVision's earlier episodes is that the studio audience didn't clap when Kathryn Hahn's Agnes burst into a scene. For starters, it's polite to cheer when one sees Kathrhyn Hahn in any context. But also, the uber popular "drop-in" neighbor is a recurring TV trope.
Doors and knocking are but mere suggestions for neighbors in the sitcom world. And every time a neighbor invades our lead characters' personal space, it's a cause for celebration. Observe the audience's reaction every time Jerry's neighbor Kramer drops in unannounced. Thankfully, the studio audience got the memo this time around and cheers Agnes's sudden appearance. They are also kind enough to do the same when Pietro Maximoff arrives at episode's end.