Features
Travelers Season 3: The History of a Historian
Reilly Dolman, who plays Philip the historian with the flawless memory in Netflix's Travelers, talks about his character and career.
The following interview is spoiler-free for Travelers season 3.
With the return of Travelers season 3 on December 14, Netflix quietly continues one of the smartest science fiction series on television, and part of the show's brilliance lies in its understated references to a devastated future from which the travelers of the show's title originate. Only glimpses are shared, for example, of how Philip Pearson, the historian of the team that's trying to correct history, is able to remember every minute detail about the 21st century. Reilly Dolman, who portrays Philip on the show, spoke about the subtleties of his character and the path of his career that led him to Travelers.
Sharp-eyed viewers may have noticed that Dolman and a few other actors from Travelers, like Patrick Gilmore (David) and Jennifer Spence (Grace), were also in one of executive producer Brad Wright's earlier sci-fi efforts, Stargate Universe, but Dolman is not entirely sure that gave him an advantage in being cast as Philip. "I don't think Brad knew who I was when I auditioned again; I could be wrong," Dolman laughs. "I'm half-kidding, but I don't actually know if we ever spoke about that. But when I worked on Stargate, I don't think I ever actually met Brad in person. It was just kind of a different process, and we never met."
After enjoying two seasons of Travelers, fans may see Dolman as the perfect embodiment of Philip, but the actor didn't see it at first. "Honestly when I saw [the role], I called my agent, and I said, 'Are you sure I'm going for the right character here?' Previous to that, there's a type of role that I was sort of pigeon-holed for at times, so I was a little bit confused," he says. "When I read all the breakdowns, I kind of thought I should be going for Trevor, and previous to that audition, maybe a few months before, I would have. But no, that was who I was brought in for. So it was very exciting because it was different; I got to flex a different muscle."
Although Dolman says he always wanted to be a part of the entertainment industry, he wasn't sure how to go about it until a successful high school work experience with a director of photography found him enjoying behind-the-scenes work. "It felt good; it felt like that was the realm that I belonged to," he says. "But it wasn't quite enough for me, personally. And I had a friend who was taking acting classes, and I thought with my aspirations of directing, I thought I should see what it's like from the perspective of an actor. If I'm going to direct people and give them my opinions, I should see how they're going to view me."
His path to acting wasn't necessarily a smooth one, but in the past decade, he has made it his career. "It wasn't easy, and that's what I liked about it. It was tough, and I wasn't getting it at first," Dolman admits. "There was a huge learning curve for me at the beginning — not that there still isn't; there always will be. But at the beginning it was a lot steeper than it feels anyway right now. And I just kind of fell in love with it… I don't want to say I fell into it; that's a little cliche, but I worked hard to feel like there was a potential for me in that route."
The "different muscle" that Dolman got to flex in playing Philip involved a very realistic portrayal of a character struggling with a heroin addiction, which has been a key part of his arc in Travelers. "My goal with the portrayal is to accurately depict what people go through in real life and not to over-embellish it or glamorize it or anything because it's a real problem, addiction," says Dolman. "And with that, it comes with a lot of other problems with depression, and a lot of mental health issues can be associated with that as well. Through my life I've struggled with those issues myself a little bit, and it was important to fulfill an honest space for him. So I think it's something that will never fully be fixed, per se… It will always be a devil on his shoulder."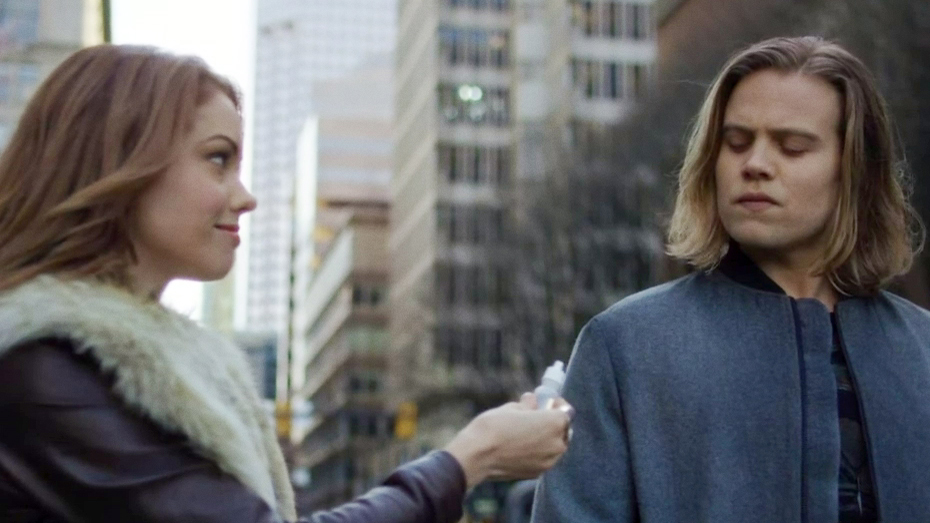 Another key aspect of Philip's unique position as the traveler team's historian is how alienating his foreknowledge can be. "Everybody has somebody; Philip really doesn't," Dolman explains. "Even Ray isn't much of anything; he's a friend-ish, but not the same way that some of the other relationships are. Once Jenny comes in, obviously there's a bit of a vulnerability. You let somebody in, and the fact that he has really no one, the way that the writers portrayed that aesthetically was really leaving him feeling lonely. He's really alone, and honestly it just digs the hole deeper. The loneliness only gets more lonely."
That being said, Philip is far from a dour character, and Travelers fans have found themselves charmed by the historian's likability in, for example, caring for his pet turtle. He knows more than his fellow team members, but his expertise often becomes his anchor. "There is a well of optimism and positivity there, which is constantly being challenged through addiction, mental health, and the lack of relationship," says Dolman. "And that's something that I think is important: the idea of hope and looking forward to a better day."
Further Reading: Travelers: Not Just Another Time Travel Show
Part of Philip's renewed confidence comes from the brilliantly depicted "upgrade" he received last season after history had changed enough to be at odds with his outdated set of memories. "That was really fun to be able to go through and to experience because I guess prior to that, there was a sense of uselessness," Dolman says. "He's becoming obsolete with respect to their missions and what they're doing. If he can't recall certain facts and information, what use does he have? That update was helpful in feeling like he was worth something again, even though he was never not."
Fans of Travelers will almost certainly agree that Philip Pearson is a key aspect of their enjoyment of the show, but they won't see Dolman joining in a live tweet anytime soon. "I'm just a private person. A lot of the people I look up to in the industry don't have much of a presence, and they're more focused on the work," explains Dolman. "For me, it's important that when someone watches what I do, in the future or in the past, I want them to be able to experience that character without preconceived ideas of who I am as a person. There's that saying, 'Never meet your heroes.' There's something to that."
Philip may be a technology expert from the future, but chances are the loner character would applaud Dolman's choice to stay off the grid. The historian's journey continues when all episodes of Travelers season 3 become available on Netflix on December 14, 2018. The full audio of this interview is available on Den of Geek's science fiction television podcast, Sci Fi Fidelity. Subscribe or listen below: Apple Podcasts | Spotify | Stitcher | Soundcloud
Keep tabs with all of our Travelers season 3 news here!
Michael Ahr is a writer, reviewer, and podcaster here at Den of Geek; you can check out his work here or follow him on Twitter.