News
Future Man Season 3 Trailer Features Time Travel Gone Mad
Future Man season 3 trailer features plenty of time-hopping shenanigans for the final season airing soon on Hulu.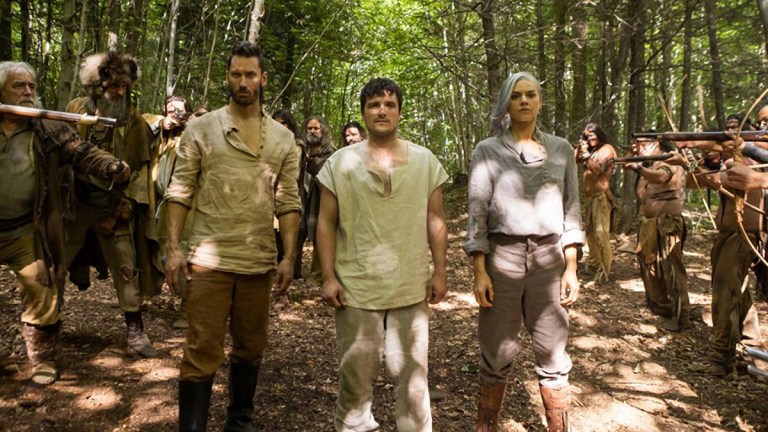 Future Man has traditionally followed gamer and pop culture nerd Josh on his romps through time accompanied by his soldier companions from the future, Tiger and Wolf, and season 3 is no exception. But if the latest trailer is any indication, this time it won't be about preventing an apocalyptic future filled with Biotics as in season one or about attempts to scrape out a life in a future ruled by a megalomaniac as in season two. The name of the game in Future Man season 3 is survival and escape as all of time threatens to unravel.
The official synopsis of Future Man season 3 from Hulu reads, "Convicted of time crimes and sentenced to death by entertainment, Josh, Tiger, and Wolf become fugitives, on the run through time, trying desperately to evade capture while clearing their names and fixing the big mess of history they've made along the way." This would appear to include plenty of history-hopping to please time travel fans according to the trailer below.
Fans will remember that executive producer Seth Rogen made an on-screen appearance in the Future Man season two finale as a member of an organization charged with policing the time stream, and the synopsis and trailer above show us that Rogen's character is set to continue his mission to capture Josh and his friends to be held accountable for their incessant meddling.
As for what else can be gleaned from the trailer, it would seem that our heroes might begin their journey trying to remember who they are and what their original mission was, and at least part of their adventure involves some unsurprisingly surreal settings and outlandish costumes. However, it's nice to see some familiar banter as well, including Wolf shouting "Body spray!" in his expressive video-game-voiceover way that viewers have come to know and love.
When Future Man season 3 returns to Hulu on April 3, 2020, it will be the show's final run, but it's nice to see that time travel has returned to center stage after last year's extended period in the altered future. Things are about to get pretty trippy as figures from history like Abraham Lincoln, Bruce Lee, and Gandhi intersect with our intrepid travelers in ways that could truly "break time," as Josh puts it.
Future Man stars Josh Hutcherson, Eliza Coupe, and Derek Wilson. The series is created and executive produced by Kyle Hunter and Ariel Shaffir and directed by Seth Rogen and Evan Goldberg. Matt Tolmach, James Weaver and Ben Karlin executive produce alongside Kyle Hunter, Ariel Shaffir, Seth Rogen and Evan Goldberg. Future Man is produced by Sony Pictures Television.