Features
Transatlantic: The Real Story Behind the Netflix WWII Series
Transatlantic tells the real story of Varian Fry's daring World War II rescue but does it leave anything out?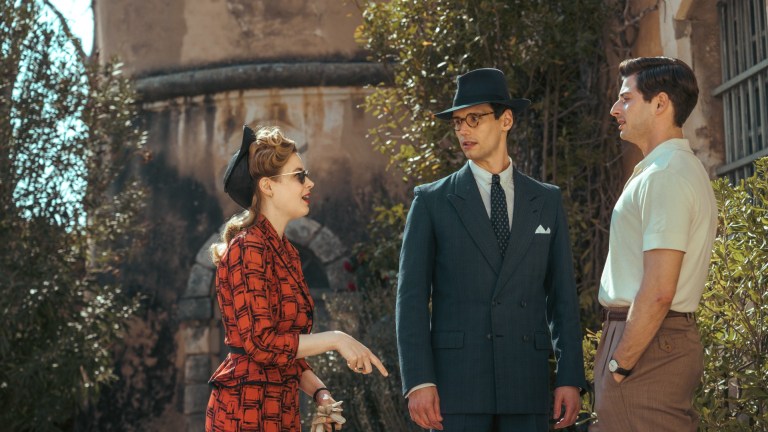 This article contains spoilers for Transatlantic.
Netflix's new period drama Transatlantic tells the story of Journalist Varian Fry (Cory Michael Smith), and American expatriate and heiress Mary Jayne Gold (Gillian Jacobs) who founded the Emergency Rescue Committee (ERC) that helped over 2,000 people flee the Nazis during World War II, without government support.
The series, created by Anna Winger and Daniel Hendler, is a fictional representation of true events in which people did whatever was necessary to save those in danger. So how much of Transatlantic is the real story and what did the creators leave out?
The Inspiration Behind Netflix's Transatlantic
In both the series and real life, Gold and Fry helped prominent European figures such as political philosopher Hannah Arendt, painter Max Ernst and German novelist Heinrich Mann escape to the United States, away from the Nazis persecuting Jews across Europe.
While the real story inspired Transatlantic, the series is mostly inspired by the 2019 historical novel The Flight Portfolio by Julie Orringer. The novel is inspired by the work of Fry and the ERC but is also a fictionalized account of real events as it centres around five characters, with Fry being the only one who existed. In an interview with Publisher's Weekly Orringer said she made Fry's "unbearable moral conundrum" the heart of her novel because "Fry's situation—trying to decide which human lives to save based on assessments of refugees' artistic or intellectual value—was morally impossible."
In a personal note Netflix shared from Winger, she explained her decision to follow Orringer's dramatized account of events: "As a writer, I often explore history as metaphor for contemporary experience and I am always drawn to journeys from darkness into light. But this story is particularly close to my heart." This further influenced how she constructed the show.
When speaking to Deadline Winger spoke about how she wanted to set Transatlantic apart from other films and series: "We leaned into the style of the movies made at the time [of Casablanca], which were being made contemporaneous to what was going on [in World War Two]. They were processing their trauma with humor and I thought that was incredible."
Winger also added she had a personal connection to the story as her parents who were professors were colleagues with economist Albert Hirschman (Lucas Englander) and Lisa Fittko (Deleila Piasko), who Varian Fry helped. Both of whom are in the Netflix limited series. Winger's connection became even more poignant as during their second week of production, the war started in Ukraine which she feels gave a "fresh urgency to the project and a strong sense of purpose."
What Does Netflix's Transatlantic Leave Out?
Transatlantic captures the desperation of Fry and those involved in the ERC to save refugees in Southern France but omits going into much detail about how Fry got involved, and how a solid portion of Fry's work began before he even arrived in France.
After Germany invaded France, Fry visited Berlin as a foreign correspondent and was so horrified by the treatment of people under the Hitler regime that on his return to America he gathered over 200 notable Americans to found the Emergency Rescue Committee.
Transatlantic focuses on how Fry and those involved in the ERC lacked sufficient government support but it fails to mention that the ERC was supported to some extent by First Lady Eleanor Roosevelt, (who Gillian Jacobs played in Showtime's The First Lady funnily enough) A few days after the committee was founded the First Lady obtained emergency visas for several intellectuals. This led to the committee realizing they needed someone in France to aid their rescue efforts , for which Fry volunteered. Fry was only supposed to stay in France for over 3 weeks but ended up staying a year, initially meeting with refugees in his room at the Hotel Splendide where the show starts.
What Did Netflix's Transatlantic Change?
While the show tells the basic story of Varian Fry and those who supported the ERC, it does dramatize a few of the key facts which according to the New York Times has already led to the series being called a "travesty" by Sheila Isenberg who wrote a book on Fry.
One of the main areas people are unhappy about is the depiction of Fry as being in a gay relationship. Both Orringer's novel and the series depict Fry as gay but there is limited evidence that this is true. However, in 2019 The New York Times asked readers whether Varian Fry was gay and Fry's son, Jared D. Fry, wrote, "My father was indeed a closeted homosexual. I figured this out as a young man, after my father had died, from many clues, most of which have never been available to researchers." But he also added that he wrote in because the gay relationship in Orringer's novel would "aid the cause of Holocaust denialists."
Other changes the show made were more subtle. In the series, the American consul general in Marseille is called Graham Patterson (Corey Stoll) but the real general was called Hugh S. Fullerton. The essence of the American consul general has been kept the same as both wanted to keep the US out of the war and were not that supportive of the ERC's work. Fullerton worked with French police and frequently advised Fry to leave France.
The show depicts that after Patterson gets Fry removed from the ERC, Fry was able to sort out his visa renewal by obtaining a tourist visa. Before he decided to leave with two refugees he was helping immigrate to the United States. However the reality was a bit different. It was less a voluntary departure and more he was arrested by the French police and given two hours to pack his belongings. He was then escorted to the Spanish border by police where he went to Lisbon before returning to United States in October 1941.
American vice consul Harry Bingham Jr. played by Bridgerton's Luke Thompson is depicted as only helping Fry get travel documents for refugees. However the real Hiram Bingham IV did more than that and even hid refugees such as author Lion Feuchtwanger in his home. Gold's role in the show is given more of a prominent part than in most historical accounts of the time. Her work with the committee is rarely ever spoken about in the same magnitude as Fry despite her giving financial support.
The Netflix series suggests that Fry only started using illegal means after it was presented to him by Gold, Fittko and Albert Hirschman. However, in real life he had been using whatever means necessary since his arrival in France. The route used by Lisa Fittko in the show was a real-life route across the mountains that Lisa and her husband Hans Fittko helped Fry with. Additionally, the series presents Fry as stumbling upon the villa because his friend and lover lived there, but in reality, Fry rented the "Villa Air Bel" himself.
All seven episodes of Transatlantic are available to stream on Netflix now.