News
Tommy Lee Royce's Happy Valley Stunt Has a Bizarre Real-World Parallel
In Moscow in 2019, this Happy Valley scene almost happened for real. Spoilers.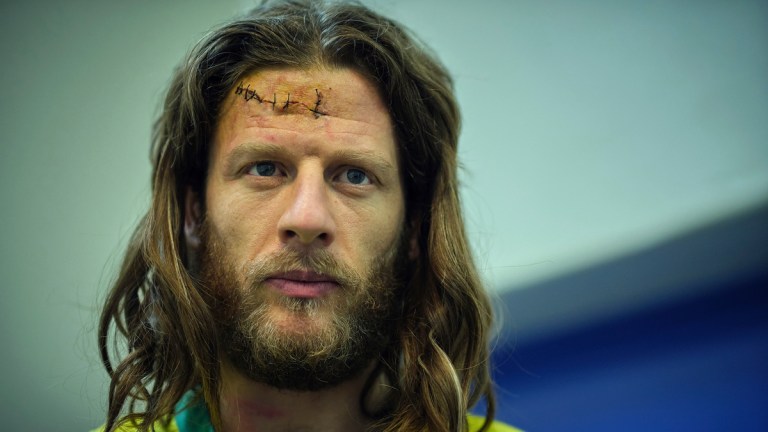 Warning: contains spoilers for Happy Valley Series 3 Episode 4.
In the final moments of Happy Valley Series 3, Episode 4, jailed-for-life villain Tommy Lee Royce (played by James Norton) enacts a bold escape. It's a big moment in a high-stakes drama that may seem like the stuff of fiction but which has surprising real-world parallels.
Out of prison under police escort while being sentenced for another crime on top of his current stretch, Royce absconds from the courtroom while the court is in session. In front of the judge, legal teams, gallery and his uniformed babysitters, he fights his way out of the glass box, using the back of a (possibly colluding) police officer as a boost to climb up and over the wall, then runs out of the courtroom and into the street.
He doesn't do it alone, but helped by a pair of gangster accomplices (whose boss he's made a deal with – keeping quiet about a 2014 murder he watched him commit in exchange for the break-out help). At a pre-arranged time, the heavies start a fight outside of the courtroom, creating a diversion that allows Royce to escape.
Thrilling TV? Absolutely. Unrealistic? Perhaps.
Then again, perhaps not. In Moscow in 2019, a real murder trial was disrupted when the accused attempted a very similar escape. 18-year-old Leonid Greyser was filmed climbing up and out of the defendant's glass box in the Scherbinsky District Court mid-session. Greyser didn't go over the side, but upwards, breaking through tiles on the suspended ceiling and almost making it into the crawl space. In the footage below by life.ru officers tasered the prisoner and pulled at his legs, taking his trousers down before he was recovered.
As reported by the Manchester Evening News, in July 2022 a defendant on the far less serious charge of possession of a Class B drug also absconded from court, albeit not during his actual sentencing. A 26-year-old man escaped from Tameside magistrates court by climbing out of his holding room via the ceiling and making it out of the building's fire doors and into the local area before being re-arrested and put back into custody later that day. Tommy's plan on Happy Valley may have seemed far-fetched, but it's clearly not outside the realm of possibility.
PC Lisa Ferrand: the Real Sgt Catherine Cawood
It's common for TV crime dramas to employ police advisors to give dialogue and procedure on screen the ring of authenticity. Happy Valley's chief advisor, former serving officer Lisa Ferrand, is even more central than most. Ferrand went to primary school with Happy Valley creator Sally Wainwright and the pair reunited after decades when Wainwright was first inspired to create the character of Catherine Cawood.
Ferrand, who worked for West Yorkshire Police for three decades from the late 1980s is the real-life inspiration for Cawood. She's been involved with the series since the very beginning, advising Wainwright and actor Sarah Lancashire on all manner of detail about Catherine from specific lines to details of life as a WPC (as women police constables were known in the UK until 1999), to the way Cawood knocks on a door-to-door.
You only have to see Ferrand interviewed from the 23-minute mark in this recent edition of Channel 4 magazine show Steph's Packed Lunch to see Catherine pouring out of her, and to understand how skilfully Wainwright has blended true-life details like the above escape attempts with her own brand of genius characterisation, glorious dialogue and expertly managed plotting. Bring on episode five.
Happy Valley continues on Sunday the 29th of January at 9pm on BBC One and iPlayer.