News
Tim Burton Finally Gets to Tackle The Addams Family… for Television
Tim Burton is angling to executive produce and direct a new live-action The Addams Family television series.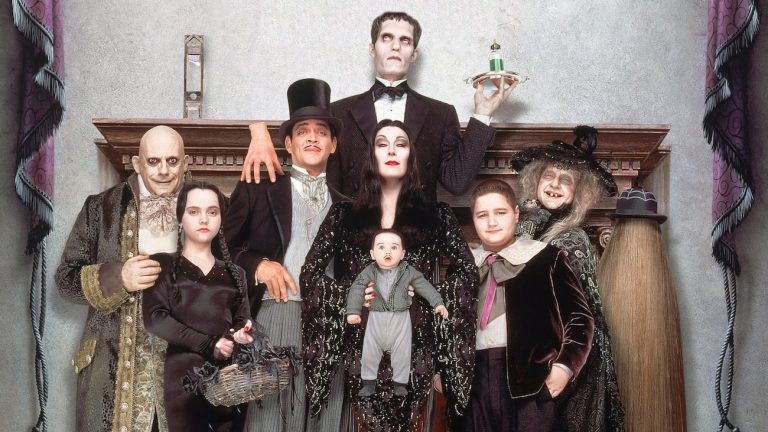 Tim Burton meets The Addams Family is the kind of union of artist and material that appears obvious. Inevitable, even. Yet despite The Addams Family, which has been a brand since the 1930s, seeing a resurgence in the early '90s, around the time Burton was reaching his artistic and pop culture peak with projects like Edward Scissorhands (1990) and The Nightmare Before Christmas (1993), the filmmaker and material have never actually come together… until now.
As per Deadline, Burton and MGM TV, which owns the movie and television rights to the characters, are shopping around a live-action television reboot of The Addams Family, which would include Burton as an executive producer (a first for the filmmaker) and as director of possibly all episodes. Additionally, Alfred Gough and Miles Millar of Smallville fame are lined up as showrunners who will lead the writer's room in addition to executive producing the project. Apparently, a bidding war has already commenced with Netflix reportedly leading the pack in acquiring the series.
The Addams Family concept was of course invented in 1938 by Charles Addams as a recurring cartoon in The New Yorker. There the artist would use these kooky characters to satirize the culture and attitudes of his era with the Gothic iconography then associated with horror movies. Of course the characters were always eccentric and ever lovable.
Yet for many folks today, The Addams Family is starkly defined by the pair of early '90s comedies directed by Barry Sonnenfeld. While those films were ostensibly based on the old Addams Family television series that started in 1964, they were closer to the more macabre and devilish temperament of the original cartoons. They were also closer to the wacky Burton aesthetic that was coming to dominate the mainstream. With the first Sonnenfeld film premiering one year after Edward Scissorhands, and three years after Burton's surprise Gothic comedy hit, Beetlejuice (1988), both the studio and Sonnenfeld were clearly emulating Burton's aesthetic.
While they arguably did not achieve the exact same effect, those Addams Family movies, which starred a delightful pairing of Raul Julia and Anjelica Huston, helped reintroduce characters who'd been a staple for the past two generations to millennials. They also redefined certain aspects, like sullen Wednesday Addams' personality becoming an acerbic deadpan delivery system. Now the character provided constantly devastating insults and menacing threats in the hands of young Christina Ricci. The filmmakers becoming aware of this is one of the reasons why Addams Family Values (1993) is arguably superior to the original film, and perhaps why she eventually would work with Burton in 1999's Sleepy Hollow.
It also appears to be informing Burton's take on the material 30 years later, with Deadline reporting, "The new live-action series could be set in present times and be from the perspective of Wednesday Addams and what the world would look like to her in 2020."
Hearing an icy Wednesday's thoughts about American culture in the age of debates over COVID masks could be brutally funny (or just brutal). It's interesting though that Burton is pivoting to television since the iconoclastic filmmaker is some years away from his last major box office hit in Alice in Wonderland (2010), and some years further away since his last major critical success. But bringing his brand of kookiness to another that's defined by its kooks seems like it'd be an irresistible pitch, particularly on a streaming service.
Interestingly, MGM is still developing a separate animated movie franchise around The Addams Family, with a second installment still scheduled for 2021.