Reviews
The Walking Dead: World Beyond Episode 5 Review – Madman Across the Water
Elton's in focus and the best laid plans of Felix and Huck often go astray when everyone works together on The Walking Dead: World Beyond.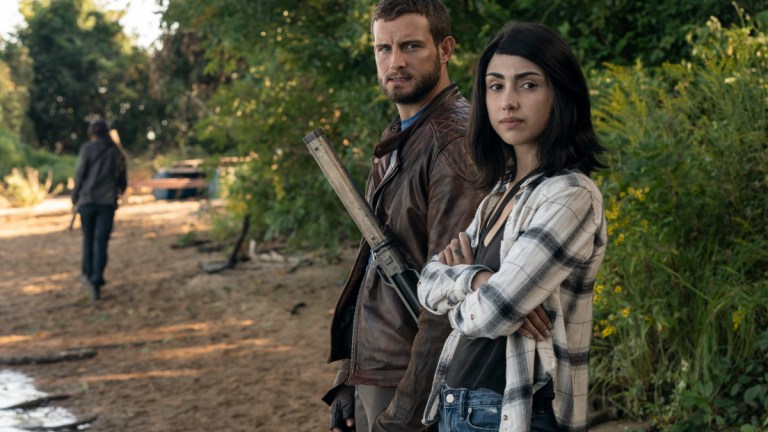 This The Walking Dead: World Beyond review contains spoilers.
The Walking Dead: World Beyond Episode 5
When the Endlings left Campus Colony, they were four kids who didn't really know each other. Even Hope and Iris, the two sisters, had secrets from one another. Silas kept the secret of why he ended up at Campus. And Elton, the quirky little fellow in the corduroy suit, had secrets of his own. On a show littered with traumatic stories, perhaps none is quite as traumatic as Elton's, and The Walking Dead: World Beyond puts that trauma, as well as his mother's manuscript, to great use in explaining Elton's current character.
One of the things Dan Liu does with his direction, particularly the montage towards the middle of the episode of everyone coming together to build a boat, is get over the importance of pulling together as a team. The kids have been mostly divided, but slowly pulling together as they journey, with Huck and Felix already an established team. The adults working to separate the kids out and break up their developing unity is a bit underhanded, and during the episode, it seems the Huck is slowly starting to feel this out as she watches the kids work together to solve problems that would be insurmountable to an individual working alone. The montage, and the many scenes of the kids coming to one another's assistance, help put that theme over fairly strongly, even before the alt-country song kicks in while building a raft out of pallets and barrels.
Another credit to Liu is for the ability he has with younger actors, particularly Roger Dale Floyd, who plays Elton in his flashback sequences. It's something that could easily go too big or too wide. It's a child, scared, hiding in a box while clutching a dinosaur fossil as a talisman of safety. However, it's pretty restrained, all things considered, and young Roger Dale Floyd puts in a solid performance, bolstered by the returning Amelia (Christina Brucato) and debuting Isaac (Reese Rios) as his bookish, educator parents. No wonder Elton is a precocious child; his mother is a university professor and his father is a paleontologist working at the local natural history museum, and Elton himself is shown to be precocious from the jump, his attitude towards life inspired by his mother's fatalistic manuscript and the bravery his father shows in the final moments the two spend together. (Since my father passed away and my own child has been born, things like this hit me harder than they should, especially when performed and shot competently, as this is. Also, like Elton, I'm claustrophobic.)
"Madman Across the Water" is peppered liberally with voice overs via Rohit Kumar's script, with Elton's mother's voice reading the words in her book in her son's head. His goal has been to finish his mother's magnum opus in her memory, and it's an interesting plot device to explain the character's fatalistic bent. Her book seems to be all about the inability of humans to overcome nature, so naturally, he'd feel that earth will eventually belong to the force of nature known in their world as the empties. At least, at first; however, after the successful launch of the ship and the ability of both himself and the others to rise above their fears and do great things, to look a force of nature like fear in the face and conquer it, to act in the face of certain death because of no other option.
As such, her book changes directions when it goes from typewritten to Elton's hand-written additions. After all, he's been living his life to attempt to finish someone else's story, not write his own, but he seems to be moving in a different direction after his bonding experience with the rest of his group. By being forced to confront his biggest fear to save his friends, and by doing it successfully, Elton goes through significant personal growth, the sort of growth that Huck talks about going through during her time on her own rafting adventure, growth that none of them would be able to achieve in the safety of Campus Colony. If nothing else, Nicolas Cantu remains the most interesting performer on the show, at least of the younger folks, and Elton remains the most interesting character, even more so when he's given an opportunity to emote and be something other than quirky for the sake of being amusing.
Elton feels like he's forging a pretty decent budding friendship with Felix (Nico Tortorella) in spite of Felix's attempts to manipulate him into turning against the others. There are a couple of make-nice moments throughout the episode, but I kind of doubt a group of teens would be so quick to forgive someone for turning against them, and they would definitely not be forgiving of an adult who tried to split their group apart in what is literally a life or death situation. Most likely, that'd be enough to break up the group, but apparently, the existential threat caused by dissent and deception pales in comparison to the actual threat of a group of walkers freed from a bargain-basement Margaritaville by a lightning storm.
The group can do more when they work together, as shown by the montage in the episode, splitting up to get more done, and the final cheer-baiting moment in which the group all pull together to launch the boat into the river and escape the pursuing zombies. However, after the group spends most of the episode arguing with one another, or yelling at Felix for his attempt to smash their togetherness, it doesn't feel quite like the heroic moment it's supposed to. Yes, they overcame their differences and were able to come together after the group politics were dealt with, but anyone should be able to work together to drag a boat into the water to escape being eaten alive.
That's less of a heroic moment and more of an obvious thing, and it's clear that the tension won't be done with until Hope shatters Elton's last bit of optimism somewhere along the way. What the audience has known since the second episode, that Hope is the person who killed Elton's mother and sister, is finally, officially revealed to Hope in ham-fisted fashion as she gawks at a photo of his mother. I had assumed, based off of the way Elton has been triggering flashbacks for her, that she'd already put the clues together, but it certainly doesn't seem like it based off of her reaction. It might be a needle drop for the character, but it's not for the audience, and it's pushed too hard here in the closing moments of "Madman Across the Water." It'd be a good punch if the audience hadn't been clued into it for so long, and for so obviously, that it makes Hope look silly for not knowing it. I'm all for dramatic irony, but it's been too heavily applied
One of the issues with a show like this is that drama needs to be created amongst the group. Felix's deceit seem to be resolved a little too easily, but the big secret—Hope's big secret—is going to hang over the remaining episodes of the season until she blurts it out, probably at the worst possible time given how these things typically unfold on teen dramas. With as long as it's been stretched out thus far, will audiences have any patience for this to continue very much longer?
The Walking Dead: World Beyond hasn't exactly been a ratings smash, even if it's still the fourth most popular show on AMC at the moment. It's a limited series with limited appeal, in a nontraditional genre for AMC. And, more unfortunately for the show, it's been done better elsewhere. I'm not quite ready to write the show off, but the shine has started to flake off a bit.