News
The Walking Dead Season 10 "Here's Negan" Finale Gives the Villain a Chance to Save Lucille
"Here's Negan" will finally unlock the origin of the villain as well as what his life with the real Lucille was like before he became the evil leader of the Saviors.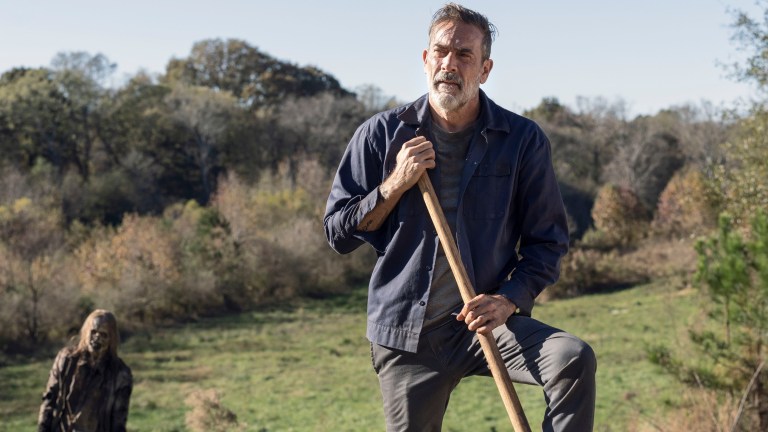 The Walking Dead season 10 has lasted longer than anyone ever expected. Due to delays in filming season 11 because of the Covid-19 pandemic, the show's 10th season will go down in history as its longest at 22 episodes in total. With next Sunday's finale, titled "Here's Negan," the season finally goes out with a loud bang.
Based on the comic book storyline of the same name by Robert Kirkman and Charlie Adlard, "Here's Negan" plays largely like an origin story for the villain. Those of you who've wondered about Negan's past will get to see a big and vital chunk of it in the finale, which also stars Hilarie Burton as his long-dead wife Lucille who later inspired the villain's trusty bat. The comic not only explored who Negan was before he became the megalomaniacal leader of the Saviors but also explained just how he ended up crushing people's skulls with a bat. It also briefly tackled the real Lucille's death, although it didn't go into as much detail as the TV series episode will.
In fact, the TV version of the Negan origin story takes some liberties with the source material. For one thing, it seems to change (and expand) Lucille's storyline. No longer does she die in the hospital at the start of the apocalypse. Instead, we learn in a brief trailer and a clip from the upcoming episode that Negan and Lucille are holed up together sometime after the outbreak. Lucille is still dying of cancer but Negan is trying to save her by finding and administering the medicine she needs for her chemotherapy.
But at some point in the story things will have to go wrong. After all, we know that Lucille is already dead by the time we meet in Negan in season 7. The preview below suggests the episode will show us the moment when things went bad:
Negan gets caught by a gang of bikers while making a run for Lucille's medicine, and we'll take a wild guess that this likely means bad news for Lucille, which in turn will unleash Negan's darker side. It would also be sort of tragically poetic if it were a group of villainous bikers who set Negan off, considering the biker jacket he would don later to terrorize Rick and his friends.
Although the finale will likely dabble in a few predictable plot points, it's sort of amazing the length "Here's Negan" seems willing to go to humanize the character who these days is morally gray at best. The trailer teases a version of Negan who genuinely wants to save someone as opposed to killing them. It's not a side of the character we've seen very often. But season 10 has also spent a lot of time trying to redeem Negan, although you could hardly call his undercover mission to kill Alpha a selfless act since he did it to curry favor in Alexandria.
None of this can erase his past crimes, especially in the eyes of Maggie, whose return to the settlement seems to spell doom for Negan in season 11. But until then, it sure is fun watching Negan and Lucille have a romantic candlelit dinner of dog food.
"Here's Negan" releases on AMC+ on Thursday and airs on Sunday at 9 pm ET on AMC.