News
How The Walking Dead's Dog Is Keeping Carl's Memory Alive
The Walking Dead episode "Find Me" finally reveals how Daryl met Dog for the first time. Little did we know that puppy Dog has a really fun connection to a character from the show's past.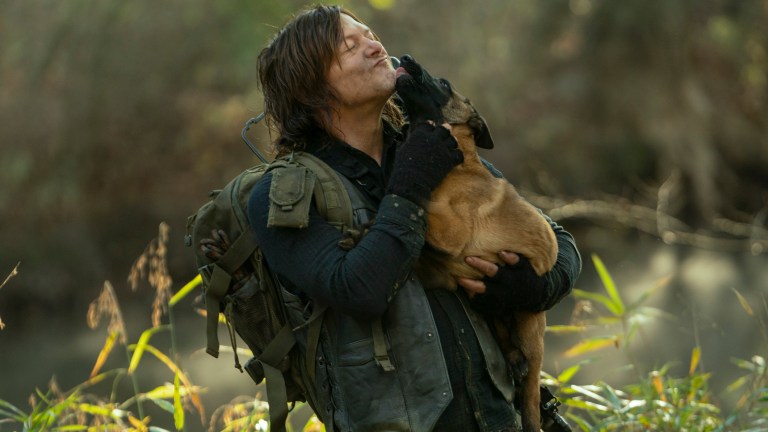 The final six episodes of The Walking Dead season 10 have so far taken the shape of "day in the life" stories about fan-favorite characters. "Home Sweet Home" followed Maggie as she deals with the consequences of leaving Hilltop so many years ago as well as what it means to be back in Alexandria. And last Sunday's "Find Me" followed suit, this time focusing on Daryl and the years he spent in exile while searching for Rick in the woods. The episode not only gives us a deeper look at what Daryl's life was like out in the wilderness, separated from all his friends, but who he met along the way.
"Find Me" introduces a new character named Leah (Lynn Collins), who played a major part in this once-unseen period in Daryl's life before he returned to the settlements. There's a suggestion in the episode that Leah may also play a part in Daryl's future, perhaps even as a character in the Daryl and Carol spinoff that will premiere in 2023, but that remains to be seen.
The episode also finally reveals how Daryl first met his trusty companion Dog. In fact, "Find Me" serves as a sort of origin story for the bestest boy, and in flashback scenes, we even get to see him as a friendly little pup who can't get enough of his new pal Daryl.
Norman Reedus has talked in the past about how badly he'd wanted Daryl to have a dog on the show, and when Reedus finally got his wish in season 9, it didn't take long for that very good boy to capture the hearts of Walking Dead fans. It's true: Dog's presence has improved the show by about 1000%. We love him.
Chatting with Collins ahead of the premiere of "Find Me," we learned what it was like hanging out with the Belgian Malinois on set, both the veteran Dog, whose real name is Seven, as well as the puppy version of Dog, who coincidentally shares a name with an iconic Walking Dead character.
"The little puppy that you see in the episode, his name is Carl," Collins reveals. No, it's probably not what you think. It's unlikely they named the dog after the late Carl Grimes, but it's no less heartwarming to hear that there's a new Carl on set and that it's puppy Dog. A lovely coincidence.
"[It] was really a treat because it's a puppy and already learning how to be on set. So that was really cool to watch him being trained in the process," says Collins of performing scenes with the puppy. "Anytime you're working with animals, as far as I'm concerned, it's just a plus. They're just joys to be around in general, so to have it at work is just awesome."
She also got to meet the original Dog, Seven, and it sounds like the Walking Dead veteran and Collins quickly became friends, too.
"He's actually an older guy. He's not a pup. And so he is really comfortable on set and really easy to work with and super loving and the trainers are incredible. So it was really easy to just sit with him and pet him and love on him. I think literally at one point they were like, 'Lynn, stop playing with him. He's not going to be able to focus.' That's how sweet and loving this dog was."
Expect more Dog shenanigans as The Walking Dead season 10 continues on Sundays at 9 pm on AMC.