Features
The Walking Dead Daryl Dixon: Ending Explained – What Carol's Return Means for Season 2
Melissa McBride's Carol is back in The Walking Dead: Daryl Dixon finale! We talked to showrunner David Zabel about what her return means for the future of the show.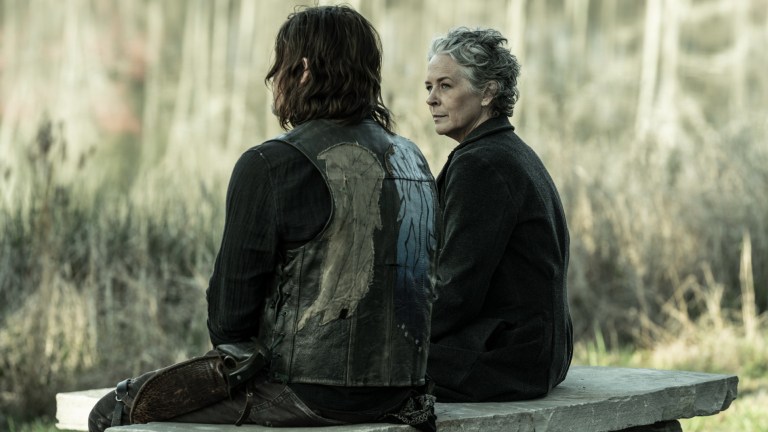 This Walking Dead: Daryl Dixon article contains spoilers.
Daryl Dixon always finds a way to get out of sticky situations and the season finale of his own spinoff show is no different. Not only does Daryl and his squad manage to escape the clutches of Genet and her drugged-up zombies but he manages to get both Laurent and Isabelle to the Nest in Mont-Saint-Michel (with a surprise assist from Codron).
It seems like Daryl's job in France is done as he passes through Normandy, pays a visit to his grandpappy who died during World War II, and prepares to board a boat back to the States. That's until Laurent shows up at the last minute, along with a horde of walkers who would love nothing more than to eat him. Now Daryl has a choice to make between staying with Laurent and Isabelle or heading home to his own family.
But before we can see what Daryl chooses, the finale cuts back to America, where we catch up with none other than Carol, who's chasing down a biker who might know where Daryl disappeared to. Carol is of course on the right track. She's made it to Maine and will likely soon learn that her pal has been shipped off to Europe. What happens next…well, you'll have to wait until season 2 to find out.
Fortunately, we caught up with Daryl Dixon showrunner David Zabel to get the inside scoop on what fans should expect when the show returns next year.
What Carol's Return Means for The Walking Dead: Daryl Dixon Season 2
Walking Dead fans who have been following Daryl Dixon since its conception will remember that the spinoff was originally meant to be a two-hander with Carol until Melissa McBride exited the series in 2022. "Relocating to Europe became logistically untenable for Melissa," AMC said in an official statement at the time.
It was a disappointing turn of events for fans of the zombie-killing duo, but Zabel tells Den of Geek that he never gave up the hope of seeing McBride back in the Walking Dead universe.
"I was brought in to talk about doing a show about Daryl Dixon in France. That's all I knew, at that point, really. So I wasn't a part of any conversation before that," Zabel reveals. "Probably a month or so after that, I first spoke to Melissa, and said, 'Hey, I'm doing this show. And there's always been a desire from everybody for you to be part of it. And I know, there are circumstances that have prevented that through this season for the most part, but I'm wondering, could we at least keep the character alive and keep the connection between these two great characters alive?'"
While the season one finale brings with it the big reveal that Carol is indeed back and searching for her partner-in-crime, Zabel worked to get McBride on the show just a bit earlier to set it all up.
"It was originally just going to be the scene in episode six. But then I wanted the radio call in episode five to kind of set up the emotion of the connection between Daryl and her," Zabel explains. "I also wanted to set up that there's there's a life going on at the Commonwealth that we are not privy to, but that is continuing on off screen somewhere."
We don't get to see what's been going on in the Commonwealth since the end of the flagship series, but during that radio call, Carol does attempt to tell Daryl that something or someone "came back" to the settlement. Daryl loses signal before Carol can repeat the message, but there's no doubt that that line is meant as a tease for things to come. Setting up a future reveal wasn't the only purpose of the scene though, according to Zabel.
"The radio call did a lot of heavy lifting in terms of that, both for an audience of fans who I think got very excited when they talked on the radio, but also for an audience that maybe is new to the show and is going 'oh, there's this person back somewhere in America who loves him and whom he loves and something's going on there. I don't fully understand that she's in some other place. And then you see her in episode six looking for him."
With Carol back in action and now searching for Daryl, we know she'll play a much bigger role in season 2, which is sub-titled The Book of Carol. In the very last seconds of the episode six, we learn Carol has made it to Maine, which very likely means her next stop is France. Just how and when she crosses the pond remains to be seen. Zabel won't reveal much about what The Book of Carol entails for McBride's character, but he does drop some hints for what else we will see in season 2…
What to Expect from The Walking Dead: Daryl Dixon Season 2
According to the showrunner, we should expect the Daryl portion of The Book of Carol to pick up right where the first season left off. Laurent has caught up with Daryl on the beaches of Normandy and our protagonist now has a decision to make: get on the boat back to America and the Commonwealth or stay in France. Considering The Book of Carol is filming in the latter, we have a good idea of what choice he'll end up making.
"It's very much a continuation of the narratives that have been established, and it doesn't avoid the hard questions and some of the complications that we get into in the finale," Zabel says of season two.
Another thing the showrunner promises is that fans will get to see a few other places in France next season: "We got some other amazing places in France that we have not seen in season one," he says. "I think a big part of the show is the visual scope. It's a beautiful show to look at, and it's shot in incredible locations, almost all of them are the place that they say they are, they're not created on a stage. We continue to build on that in season two."
Season two isn't just about Daryl and Carol finding each other, either. The show will also further explore the story of Laurent (Louis Puech Scigliuzzi), who may or may not be post-apocalyptic Jesus, and "what he represents, what he is [and] what he isn't."
The first season also planted the seeds for a blooming romance between Daryl and Laurent's aunt, the gun-toting nun Isabelle (Clémence Poésy), and Zabel confirms season two will "dig into that connection" further.
But what about the villains? Zabel teases that we'll definitely see a few more super-soldier zombies next season.
"We certainly continue the story of Genet, [who] is not done yet with her overall mission to 'save France' by using her weaponized walkers."
The Walking Dead: Daryl Dixon – The Book of Carol is currently in production in France and will premiere in 2024.