Features
The Umbrella Academy Season 3 Soundtrack: Complete Details and Playlist
Freed from 1960s Dallas, The Umbrella Academy season 3 soundtrack features bangers from all eras. Check out the playlist here!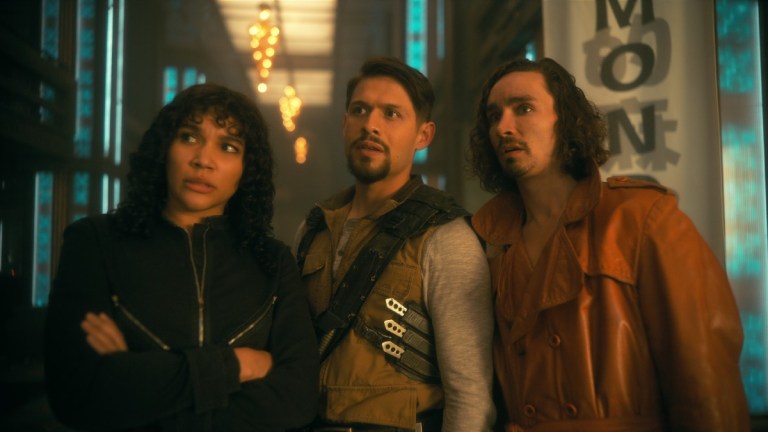 Nowadays it's hard for any superhero show to stand out on television. Through three seasons on Netflix, however, The Umbrella Academy has discovered that it sure does help to have a banging soundtrack.
Fittingly for a TV series based on a comic written by a musician (My Chemical Romance's Gerard Way), The Umbrella Academy knows its way around a tune. Season 1 was highlighted by an instant classic group dance session to Tiffany. Then the 1963-set season 2 upped the ante with a whole host of period-appropriate songs. For season 3, Umbrella Academy showrunner Steve Blackman wanted to make sure music played just as big a role.
"I write a lot of songs already into the script. And I encourage my writers to do the same thing," Blackman tells Den of Geek. "Sometimes they make sense in the scene. Sometimes they're a little weirdly subversive. And sometimes it's just literally a fun song for that moment. But as I've always said music is a huge part of the show. We love our little soundtrack every year, and it was a delight to do it again this year."
The Umbrella Academy's little soundtracks have proven to be a big hit with viewers, breathing new life into some classics or highlighting little-known tunes. Blackman hopes that season 3 can do the same, starting with the very first song audiences will hear, "Sometimes" by Scottish musician Gerry Cinnamon.
"(Gerry's) huge in Scotland. I don't know sure if he has broken yet past the U.K., but he's amazing and he's got a great voice. I love that song, "Blackman says. "I knew I was going to use it somewhere in season three. It just became one of those songs that fits so well in the opening. I do think his numbers (on Spotify) are going to go up after we premiere."
You heard the man, Umbrella fans: To Spotify you go! And speaking of Spotify, we have curated a Spotify playlist of our own featuring every song we heard in season 3. The goal here is to be definitive so please let us know if we missed anything.
And here is where we heard all the songs…
Episode 1 – Meet the Family
"Sometimes" by Gerry Cinnamon
"Footloose" by Kenny Loggins
"No More Heroes" by The Stranglers
Episode 2 – World's Biggest Ball of Twine
"The Passenger" by Iggy Pop
"The Oogum Boogum Song" by Brenton Wood
"Quando Quando Quando" by Tony Renis and Emilio Pericoli
"Higher Love" by Lilly and Steve Winwood
Episode 3 – Pocket Full of Lightning
"Do You Believe in Magic" by The Lovin' Spoonful
"The Lady in Red" by Chris de Burgh
Episode 4 – Kugelblitz
"House of the Rising Sun" by The Animals
"House of the Rising Sun" by Jeremy Renner
Episode 5 – Kindest Cut
"Crystalized" by The xx
"My Silver Lining" by First Aid Kit
Episode 6 – Marigold
Episode 7 – Auf Wiedersehen
"Little Girl" by Andrea and Ervin Litkei
"Ride Wit Me" by Nelly
"Cats in the Cradle" by Ugly Kid Joe
"Another One Bites the Dust" by Queen
"What Makes You a Man" by The Ninth Wave
Episode 8 – Wedding at the End of the World
"Total Eclipse of the Heart" (Karaoke Version) by Bonnie Tyler
"(I've Had) The Time of My Life" (Karaoke Version) by Bill Medley and Jennifer Warnes
"Teenage Dream" by The Rescues
"Come In, Mr. Lonely" by Jerry Dyke
Episode 9 – Seven Bells
"Friday I'm in Love" by The Cure
"Bitter Taste" by Billy Idol
Episode 10 – Oblivion
"Short Change Hero" by The Heavy
All 10 episodes of The Umbrella Academy season 3 are available to stream on Netflix now.