Reviews
The Time Traveler's Wife Episode 4 Is a Temporal Guess Who's Coming to Dinner
Henry and Clare finally confront the uh...problematic nature of their relationship as The Time Traveler's Wife stages a very stranger dinner.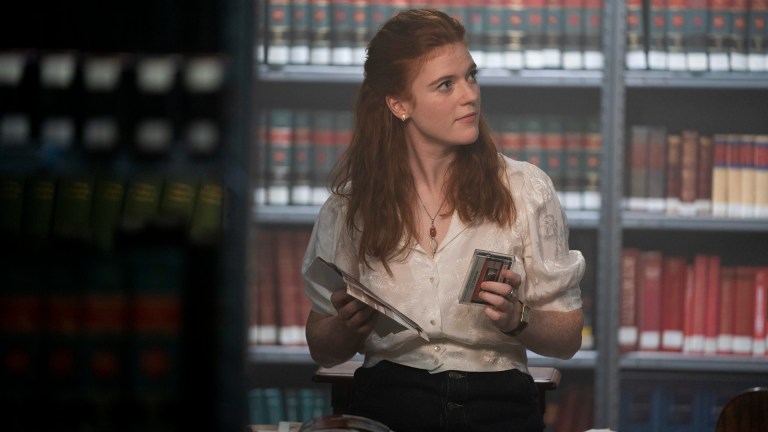 This The Time Traveler's Wife review contains spoilers.
The Time Traveler's Wife Episode 4
Episode 4 of The Time Traveler's Wife finally fills in key aspects of Henry and Clare's backstory. We  meet Clare's college friends and Henry's mysterious ex-girlfriend who play fairly large roles in the novel story. This episode also manages to show that Henry and Clare have some self-awareness that their dynamic is problematic. Henry's ability to have more than one version of himself in a place at a time makes traditional dating couple habits like meeting your girlfriends' friends more complicated.
The episode begins with Older Clare and Older Henry from the documentary but this time they're talking about their relationship developing in the wrong order and a lack of agency as a result. The scene then shifts to Henry walking up a set of stairs in an apartment building. We then see Clare attempting to cook chicken risotto and her roommate Charisse looking at the not very edible food. Gomez, Charisse's boyfriend, jokes that they're finally going to meet "library boy" aka Henry. 28-year-old Henry arrives and Clare makes all the necessary introductions. So far, there's a bit of skepticism but things are going well. Gomez thinks Henry looks familiar. Everything is going well until the buzzer rings again. A naked 41-year-old Henry is at the buzzer demanding to be let into Clare's apartment because the cops are after him. The "guess who's coming to dinner" joke now has a time travel twist!
After the opening credits the scene shifts to Clare running to meet Henry at their usual forest spot. 41-year-old Henry doesn't realize that this day is Clare's 18th birthday and it's also the last time she will see him until they meet again in the future. Clare also has picnic supplies and once again asks Henry if they can consummate their relationship but he says no because he's established rules for their relationship. Clare has a flashback to the assault as she hears Henry saying he wants to be her last intimate relationship and not her first. Clare then asks for a kiss which he's fine with.
We then jump to 19-year-old Clare in the same apartment but this time she's hooked up with Gomez while Charisse was out of town. Gomez is also much older than her but this is also not addressed as problematic. She blames drunkenness for breaking Girl Code and potentially ruining her friendships. Clare's crying while Gomez confesses he has a lot of feelings for Clare. Clare replies that she has no intentions of making this mistake again because she's waiting for Henry to come back. Gomez leaves and finds a blonde woman arguing with a man. That man is 28-year-old Henry and Gomez tells Henry to leave the woman alone because she's clearly not wanting to engage with him. Henry yells at Gomez for intervening but eventually gives up.
Charisse later on asks Clare if she is gay. Clare says no as she's avoiding relationships. Charisse still kisses her anyway which takes Clare by surprise. The scene switches from Clare once again blending the lines between friendship and relationship to Clare with Henry. Once again Clare asks Henry to be with her physically. This time Henry mentions the word grooming to describe their relationship which Clare responds that she in fact imprinted on him based on their future relationship. Henry suddenly proposes to Clare even though he doesn't have a ring. Claire succeeds in seducing Henry but it ends when he suddenly disappears to the future. He left her a note but we don't know what it says.
This naked Henry is the one that rings Clare's buzzer to interrupt the dinner party. Clare gives him a plaid blanket to avoid embarrassment. She's talking to the two Henrys at the same time and one remembers that this dinner party is known as the chicken risotto incident. Once again Clare's buzzer rings but this time it's the angry blonde Gomez saw fighting with 28-year-old Henry. Ingrid knows all about the time travel issues but of course came to control Henry for cheating on her.
One would think the focus of conversation would be the dueling girlfriends but Henry's confession on his time travel abilities is the star of the dinner conversation. He divulges stock tips about Netflix and surgical masks to Gomez. Ingrid notices Henry looks at her differently than everyone else and she asks if she's dead in the future. Older Henry tries not to answer that question while Younger Henry advises Ingrid to live as if she's going to live forever. Older Henry then disappears which scares Gomez and makes Ingrid even angrier. There's another flash to the note Older Henry leaves for 18-year-old Clare at their rock. The note says "have mercy" and it's clearly a sign for Clare to remember that younger Henry is still a work in progress. The episode ends with a visual reminder that the plaid blanket Older Henry used as a coverup at the dinner party is the same one 18-year-old Clare brought to her birthday picnic. 
What happens to Ingrid? Why can't Henry see past the age of 42? What about Henry and Clare's wedding? Hopefully the next episode of The Time Traveler's Wife will answer these questions.
The Time Traveler's Wife Episode 5 airs on Sunday the 12th of June on HBO in the US and on Monday the 13th of June on Sky Atlantic in the UK.