Features
The Teleprompter Interview: Laura Carmichael 'Doctor Who Used to Give Me Nightmares'
The star of psychological thriller The Secrets She Keeps and Downton Abbey, Laura Carmichael talks Den of Geek through her TV obsessions and memories…
Australian thriller The Secrets She Keeps, currently airing on BBC One and iPlayer, takes the audience to a very dark place says Laura Carmichael. Her character Agatha, a supermarket worker who befriends a pregnant blogger, 'does such unbelievable things, the most irresponsible things' driven 'by the impulse of motherhood'.
Building a crime thriller around that impulse makes the series relatable, says Carmichael. At its heart, the show is about 'wanting to be a mum and wanting to be the perfect mum.' As her character's backstory unfolds, 'you understand her' says Carmichael, though 'she absolutely puts people through hell.' Whether Agatha could ever be forgiven, she says, is a question for the audience to mull.
There's no talk of a second series as yet for The Secret She Keeps. 'It was taken from the book, which stands alone,' Carmichael explains, 'but it would be great to revisit and see what would happen.'
As the finale arrives in the US on streaming service Sundance Now, the Downton Abbey and The Spanish Princess actor talks Den of Geek through her TV obsessions and memories.
Which TV show inspired you to start your acting career?
I loved all of the Sunday afternoon BBC shows. The Lion, The Witch and the Wardrobe and all of the Narnia series, that we had on VHS. I loved Five Children and It and those classic dramas, mixed with MGM musicals. Those big productions always seemed like a dream. From a kid, I was very much spending Sunday afternoons in front of the TV.
What was your first TV love?
I remember loving Pride and Prejudice and The Fresh Prince of Bel Air, they were the mad two worlds when I think about what I loved as a kid, watching lots of TV with my sisters.
Was there a TV character you wanted to be when you were little?
Deeply inappropriately as a child I remember being obsessed with Ab Fab. Before I knew anything about what they were talking about or what any of the jokes meant, I wanted to be Patsy and Eddie.
Have you ever done fancy dress as a TV character?
Yes, Ab Fab. We were around 10 or 11. I was Eddie, my younger sister was Patsy. I had a Kangol beret and had curled my hair and wore bright red lipstick with a 70s-style shirt with a crop top over it and a jazzy waistcoat. The outfit was so good, it was really perfect.
And there is photographic evidence which I have shown to Joanna Lumley when she came to do a charity event on Downton and we were able to recreate the pose.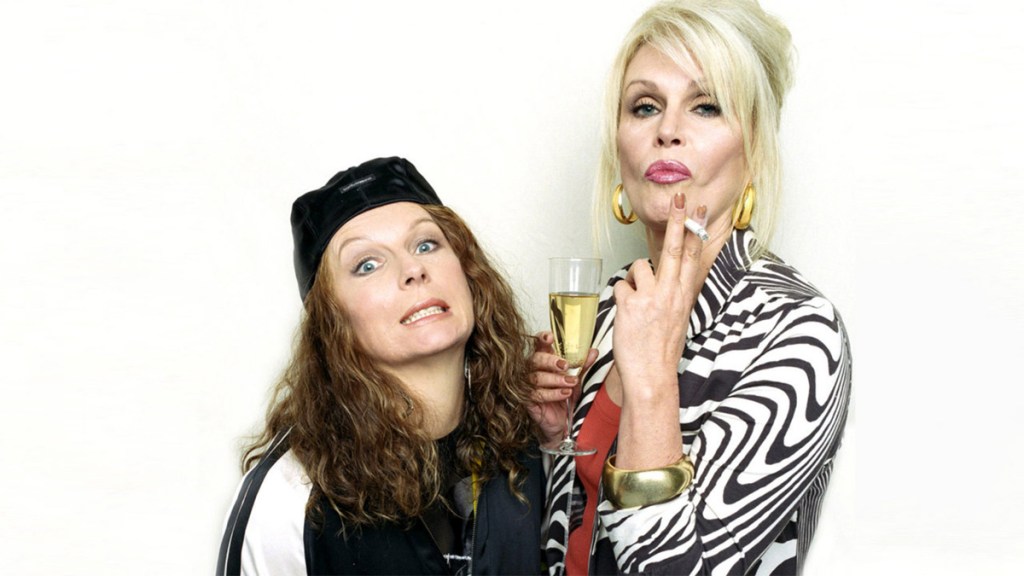 What's your current TV obsession?
I'm going to struggle to not answer every single question with I May Destroy You because of how brilliant that is. What Michaela Coel's been able to do is so personal and yet it feels as though the world is just saying 'yes!' We are so tuned in to what she is saying and how she is saying it.
When did you last cry watching television?
This morning, watching the finale of I May Destroy You.
And when did you last laugh out loud watching television?
During lockdown, we've been watching lots of Curb Your Enthusiasm. We've gone the whole way through and back again. It's just getting better and better as Larry David allows himself to go further and further into Larryisms, and it always makes me l-o-l. 'Lol' is a joke in the series, by the way! It really annoys Larry that this woman says l-o-l rather than laughing.
Which TV show has given you nightmares?
I've been watching The Sopranos again and I have been having gangster dreams. Because it's the story of the family, it doesn't always feel like it's about violence but then it'll catch you unawares and you'll see someone be tipped into a river and I've definitely had one of those nightmares.
From childhood, there's so many things. Doctor Who used to give me nightmares, anything with weird sound effects. Also the film The Water Babies, it's really creepy. It's about a kid who drowns and then becomes a water baby and it's terrifying.
What was the last TV show you recommended to someone?
I really loved Shrill with the brilliant actress Aidy Bryant who's in lots of Saturday Night Live, and also Lolly Adefope, who I think is hysterical. You can watch it on BBC iPlayer. It's another great female-led comedy show, very relatable and very funny. Also I'm always telling people to watch Stath Lets Flats, which I think is just genius. This Country, amazing. When you're doing some heavy drama in the day I really like switching off and just laughing my head off.
Older comedies, French and Saunders again, I have fangirled over them and am a huge fan of their work. Smack the Pony when I was growing up was such a huge thing for me. They were so cool and sexy. When you think of Britpop and cool 90s, I do think of those girls. Sally Phillips is so funny. I have done a comedy film with her and she was very gracious about the fact that I was supposed to throw something at her head and not hit her but I hit her square in the head with a baby monitor and she was so lovely about it! I always cringe when I remember that.
Which TV show have you never seen that everybody keeps nagging you to watch?
I have not seen Breaking Bad, which is terrible. This is a confession.
Straight to prison!
It's really bad, I know. I find dramas really consuming, and that feels like going into something quite intense and stressful. That's one I'm working up to.
Which TV theme songs do you know the words to?
I guess that would be The Fresh Prince of Bel-Air.
Does it come out at parties?
Only after several beers.
Is there a TV show from your back catalogue that you think deserves a wider audience?
I really did love Man in an Orange Shirt which was out a few years ago on the BBC. I'm in it a bit, but it's about these two guys that fall in love during the Second World War and have this amazing love story. You see the characters and their families later and see how it's affected them. It's a really beautiful piece of writing and really amazing performances from James McArdle and Oliver Jackson-Cohen.
Given the power, which TV show would you commission?
A tricky one. I think it might have to be something to do with dogs. I have a hilarious Jack Russell and since getting him, I find myself watching more dog programmes because I get a kick out of him watching it as well, so maybe just a Dogs Behaving Badly compilation.
What was the most fun you've had making television?
Oh man. Probably the finale of Downton. It was a real riot because it was the end of a really happy job. The day that we shot [Michelle Dockery] Mary's wedding to Matthew Goode, it was really sunny and there wasn't lots of dialogue or a lot of heavy lifting but everyone was in. I've got lots of funny photos on my phone of Michelle and Matthew just messing around. We were just all being quite silly and giddy, sitting in the gardens laughing our heads off. That's a very happy memory.
The Secrets She Keeps is available to stream on Sundance Now and BBC iPlayer