Features
The remarkable career of The Crystal Maze's Richard O'Brien
Stuntman, popstar, Rocky Horror creator... here's a look back at The Crystal Maze host Richard O'Brien's many accomplishments...
For those of us who first crossed paths with The Crystal Maze back in the 90s, the game show's host Richard O'Brien was an unforgettable presence. With his bald head, leopardskin coats and surreal tales of life with 'Mumsey' (breaking the fourth wall before years before it became a film and TV staple), O'Brien is, to many, the first image that comes to mind when you think of The Crystal Maze. Though Ed Tudor-Pole, Stephen Merchant and Richard Ayoade have all put their unique spin on the Maze Master role, O'Brien's flamboyance and quick wit made him the gold ticket standard.
When Merchant briefly took on hosting duties for The Crystal Maze's Stand Up to Cancer special in 2016, he acknowledged just how difficult it was stepping into O'Brien's sizable leather boots. "What's impossible to emulate is Richard's unique persona – he's a total one-off – but I've been inspired by his irreverence and winking complicity with the audience at home," Merchant said.
Anyone who's ventured into The Crystal Maze LIVE Experience in London or Manchester will recognise O'Brien's influence in the Maze Masters guiding participants toward the Crystal Dome. From the sartorial inspiration to the gentle encouragement (and occasional sardonic put-down!), the eccentric spirit of Richard O'Brien is very much at the heart of The Crystal Maze LIVE Experience.
Leah Gray, who plays NoName at the Crystal Maze LIVE Experience in Manchester, described her Maze Master role as "rewarding, fun, and crazy all at the same time." "I am definitely part of the generation who grew up watching the show. It's a dream job!" she said, adding that O'Brien's charm hugely inspired her portrayal: "He could laugh at you, comfort you and make you feel so involved all at the same time. I think my character has taken on his wacky side. I'm very energetic and very positive, I also love to dance outside the game doors like he did!"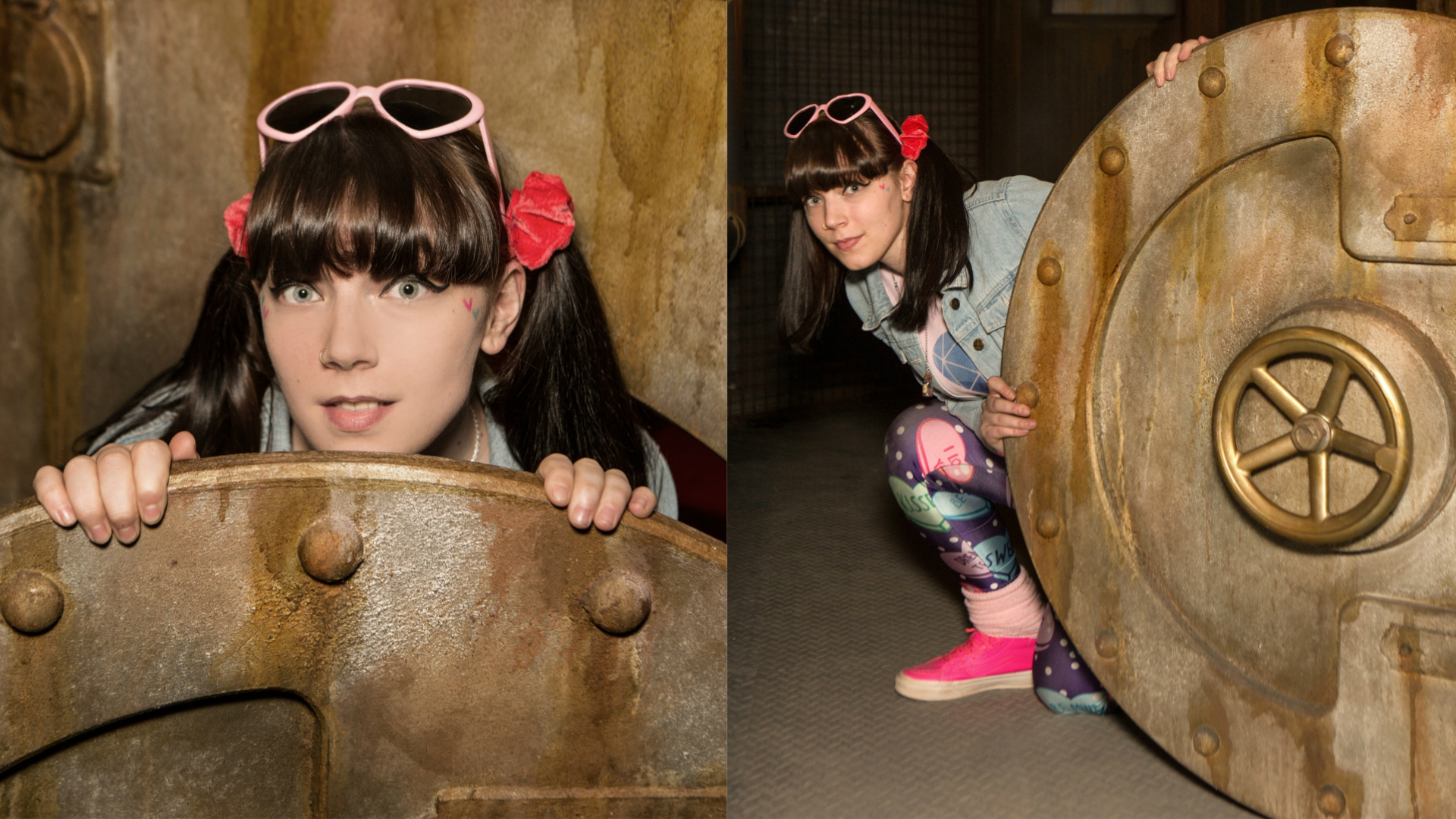 It's easy to forget just how diverse O'Brien's career has been beyond The Crystal Maze, though. For a man who's touched musical theatre, TV and cinema, it's perhaps a surprise to learn that his showbusiness career began as a stuntman. O'Brien emigrated to New Zealand with his family at the age of 10, where his father purchased a farm – there he learned to ride horses and upon returning to the UK he used his talents to break into the film industry as a stunt performer on 1965's Carry On Cowboy. Intriguingly, the Carry On connection runs through to O'Brien's Crystal Maze tenure, with 'Mumsey' Sandra Caron starring in Carry On Camping. O'Brien was part of the stunt team for Disney's The Fighting Prince of Donegal and the chaotic Bond spoof Casino Royale before embarking on a journey that would lead him to his defining creation: The Rocky Horror Show.
Channeling the science fiction and horror films of his childhood, O'Brien conjured up a wild story of a newlywed couple and their encounter with Dr. Frank-N-Furter and his Frankenstein-like creation, Rocky Horror. O'Brien's role in a London production of Jesus Christ Superstar proved instrumental in getting Rocky Horror off the ground. It was there he met director Jim Sharman, who helped him steer the musical to the stage and suggested he change the title from the rather less memorable They Came from Denton High. Sharman directed The Rocky Horror Show's West End debut in 1973, the eventual film adaptation and the quasi-sequel Shock Treatment in 1981. If there's an unsung hero in the Rocky Horror story, then Sharman is it. In the years since The Rocky Horror Picture Show's cinema opening in 1975, it's cemented itself as a cult classic, still playing in limited release to make it the longest-running theatrical release in cinema history.
At the height of O'Brien's Rocky Horror stage fame he launched a short-lived pop career with his then-wife Kimi Wong. Recording under the name Kimi & Ritz through his Rich Teaboy Productions music company, O'Brien and Wong released two singles between 1973 and 1975. Neither Merry Christmas Baby nor I Was in Love With Danny troubled the charts, but the former single received the seal of approval from Radio 1's John Peel.
As an actor, O'Brien has racked up more than 40 screen credits across film and TV. He played the treeman Fico in 1980's Flash Gordon, the sinister Mr. Hand in Dark City and, memorably, the corrupt druid Gulnar in Robin of Sherwood. Younger readers may recognise him for his voicework in animated comedy Phineas and Ferb, in which he played Lawrence Ferb's father. O'Brien's eight-year run voicing Phineas and Ferb is actually longer than he spent as the harmonica-playing host of The Crystal Maze.
Despite his strong association with the game show, O'Brien spent just three years front-and-centre from 1990 to 1993. Speaking about his departure from the Channel 4 series in 1998, O'Brien explained that he left in order to pursue other work. "If I stay here much longer I'm not going to be able to do anything else," he said. "I did four movies shortly after that and I don't think I would have been allowed to have done them if I'd stayed as a game show host, so it was the right decision for me." The show was never quite the same after his departure – in true O'Brien fashion he explained to viewers he was leaving to live in America with Mumsey – but repeats on Challenge and the success of The Crystal Maze LIVE Experience helped fuel nostalgia and prompt Channel 4's 2016 revival.
O'Brien's call of "start the fans, please!" may have made him a small screen icon, but it's easy to forget just how many strings he has to his bow. Stuntman, actor, musical theatre legend… Richard O'Brien is perhaps the very definition of a Renaissance man.
Take on The Crystal Maze at the LIVE Experience in London and Manchester. Tickets are available here.