News
The Osbournes: Night of Terror to Horrify Travel Channel on Oct. 30
On the night before Halloween, the First Family of Darkness is all over the house in The Osbournes: Night of Terror.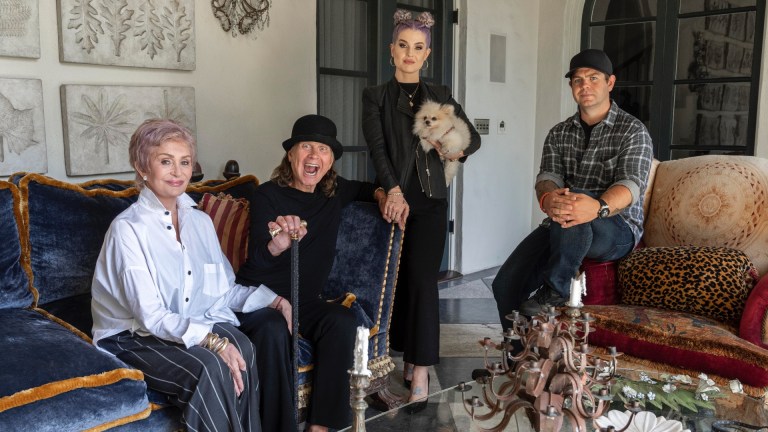 "What is this that stands before me," Ozzy Osbourne asked on the song "Black Sabbath" by his band Black Sabbath. "Figure in black which points at me. Turn 'round quick and start to run. Find out I'm the chosen one." Yes, The Prince of Darkness himself was picked to appear on Travel Channel's two-hour special, The Osbournes: Night of Terror. This will be the first time Ozzy and Sharon Osbourne join their offspring Jack and Kelly Osbourne on their first-ever paranormal investigation together. The Osbournes: Night of Terror premieres Friday, Oct. 30 at 9 p.m. The event is part of Travel Channel's third annual "Ghostober" programming event.
"Halloween is inching closer, and it wouldn't be a spooky celebration without an appearance from the 'First Family of Darkness' themselves," reads the press statement. "Get ready for a family fright night like no other." The Osbournes will go inside the Heritage Square Museum, a haunted historical site in the heart of Los Angeles.
"Most families go pumpkin picking around Halloween. The Osbournes – we go ghost hunting," Jack Osbourne said in a statement. "My family has always been intrigued by my work in the paranormal, so I decided it was time for them to experience it themselves. Heritage Square is a very haunted location that not many people outside of Los Angeles know about."
Heritage Square touts itself as a "living museum," a collection of relocated Victorian-era houses taken from different spots around L.A. The enclave, which is considered the most haunted hotspot in the area, has seen a recent rise in paranormal activity, according to reports from the staff. The Heritage Square haunting has never been investigated for TV.
The property includes multiple houses inhabited by its own set of ghosts. The Perry House "is rumored to be haunted by the original owner's daughter, Mamie, who now roams the halls, spreading regret and despair," according to the press statement. The Hale House is believed to be haunted by former occupant Bessie Hale, who is still tied to the house after a bitter divorce from her husband. The Octagon House promises the most frightening encounter.
"As Jack and Kelly go deep into the night to investigate the prolific spirit activity, Ozzy and Sharon monitor the action from basecamp," according to the press statement. Psychic mediums Cindy Kaza and Sarah Lemos and paranormal expert Ben Hansen provide additional clarity and context to the findings.
The Osbournes: Night of Terror follows a special sneak-peek episode of Portals to Hell, Jack Osbourne and fellow paranormal investigator Katrina Weidman investigate Connecticut's Captain Grant's Inn, a historic property from the 1700s that is claimed to be haunted by more than 300 spirits. "Frightmare in Connecticut" airs at 8 p.m.
The Osbournes: Night of Terror premieres Friday, Oct. 30 at 9 p.m.