News
The Many Saints of Newark Will Not Be Just Like The Sopranos
Don't go looking for the TV series. The Many Saints of Newark is a gangster movie, Jon Bernthal tells Seth Meyers.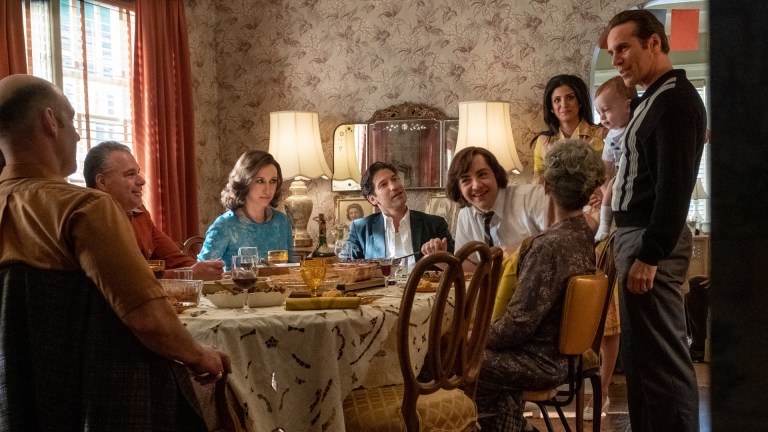 The Sopranos was the premier gangster series and it changed television. The HBO show drew from David Chase's memories, expertise, and love of mob movies of the past. The Many Saints of Newark has all those things, but it won't just be a big screen version of the influential small-screen hit. It will be a fully formed gangster movie.
During an interview on Late Night with Seth Meyers, Jon Bernthal, who plays Tony's father Giovanni "Johnny Boy" Soprano in The Many Saints of Newark, admitted he hasn't yet seen the film, and couldn't give too much away even if he wasn't upholding the tradition of omerta. "What I will say is that it's different," Bernthal told Seth Meyers. "I think people are going to go in expecting The Sopranos. It's not that."
Set in 1960s Newark, The Many Saints of Newark explores the tensions and rivalries between Italian-American and African-American crime enterprises, and an oppressive police force intent on keeping order. "It's a gangster movie. It's about gangsters in the late '60s, early '70s in New Jersey — both Black and white," David Chase told Rolling Stone.
The prequel film was shot to make sense of The Sopranos to both fans, and those who have never seen the series. "I think that it was very smart that they set it in the past and it's a genuine prequel," Bernthal told Meyers. "David Chase has this sort of encyclopedic kind of Shakespearean knowledge of these characters. And you will see things that when he was writing this show during its heyday, he clearly understood the full history of who these characters were. For the real superfans, it's just gonna be so much fun."
You can see that interview here:
The Many Saints of Newark is divided into two parts: In 1967, when Tony Soprano was a child, and 1971 when he was a teenager. In the series, the late Joseph Siravo played Tony's father Johnny Boy. He has a wild backstory on the series, most of which is told in flashback. Some bits, like the time he shot a hole through Tony's mother's hair, are only overheard in conversation. But the stories make him out to be a street legend.
Bernthal told Meyers he'd been a fan of the show from the outset. "All I wanted was just an audition just to get on that set, that's when I was starting out as an actor." He says he was thrilled to get Chase's "blessing" for the film. He was also impressed with Michael Gandolfini, who he says "approached it with courage and real dedication."
But The Many Saints of Newark only uses the character to set a time frame. "The studio has made a lot about the fact that this is a Tony Soprano origin story. It wasn't written that way. There is some of that in it," Chase told Rolling Stone. This is a gangster movie about Dickie Moltisanti (Alessandro Nivola), the father of Christopher (Michael Imperioli) on The Sopranos.
The Many Saints of Newark is directed by Alan Taylor (Thor: The Dark World), who directed several Sopranos episodes. The screenplay was written by Chase and Lawrence Konner.
The Many Saints of Newark will premiere on September 22 at the Beacon Theatre to kick-off the Tribeca Fall Preview, a season-long series featuring film premieres and musical performances.
The Many Saints of Newark will be released in theaters on October 1, and will be available on HBO Max for 31 days from the theatrical release.