Features
MobMovieCon and SopranosCon to Have a Sit-Down in Atlantic City
SopranosCon and MobMovieCon creator talks about fans' enduring love of The Sopranos and the gangster movie genre.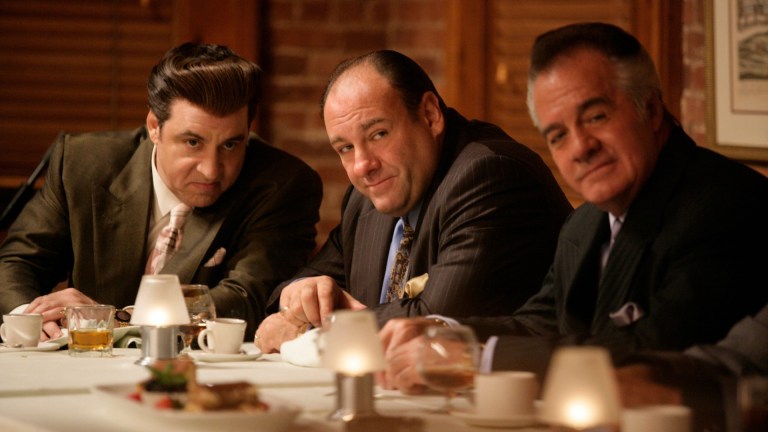 It's time for the punks to meet the godfathers. The creators of SopranosCon merged with MobMovieCon for a family celebration. From July 23 to July 25, Harrah's Resort & Casino in Atlantic City will house the boardwalk's biggest gangster gathering since Nucky Johnson hosted the mob's Atlantic City Conference in 1929.
"Al Capone will not be coming though," VirtualCons CEO Michael Mota tells Den of Geek. "Those were the mobsters. I would say this would be the biggest gathering of mobster wannabes." The Sopranos fan convention has come a long way since it was dreamed up by three gangster movie aficionados from New York, Maryland, and Rhode Island. The 2019 SopranosCon drew thousands of fans from as far as The Netherlands and the United Kingdom to the Meadowlands Exposition Center in Secaucus. A planned expansion to MobMovieCon had to be pushed back because of the pandemic, but the organizers introduced VirtualCons' free downloadable app to host fan "experiences," like a trip to Tony Soprano's house in Caldwell, N.J.
"It's grown unbelievably well," Mota tells us. "We started with SopranosCon of 2019 and got 15,000 people over two days. We decided to open it up to be both SopranosCon and MobMovieCon, but the global reach we have, because of the virtual apps we built during the pandemic, has been unbelievable. Not only will we have thousands of people in Atlantic City, we'll also have hundreds of thousands of people that will stream it through our app. It's a great way to connect people to this genre."
The opening shot for the weekend is a one-night event showcasing the 1996 HBO film Gotti. "It kicks off the weekend, 'The Gotti Reunion,'" Mota says. "We'll have Armand Assante, William Forsythe, Dominic Chianese, who was Junior in The Sopranos, but played in The Godfather, and Gotti, and in a tremendous amount of movies." William Forsythe, and Robert Miranda will also join in the live reunion, which will culminate in the event's big, as-yet secret announcement.
In Atlantic City, crime pays off. This year will premiere the convention's Mob Movie Awards, which takes place 8 p.m. Saturday. "It'll be just like watching the Academy Awards and the Emmys," Mota says. "There will be a dinner served, people will be dressed up, there'll be a red-carpet event. We'll have live music. It's going to be a really nice night of just appreciating the art of mob movies."
The Mob Movie Awards will be hosted by a bona fide O.G. One of the premiere gangsta rappers who also wailed in heavy metal, and a Newark native. "Ice T became a partner of ours on the app that we came up with during the epidemic," Mota says. "He crosses over from the music genre to the movies. He's been on Law & Order for over 20 years, so we just thought that he would be the greatest addition to it."
According to advance press, awards will be given in categories like favorite depiction of real-life gangster in a film or TV series, and a James Gandolfini Humanitarian Award. "There will be 10 awards," Mota says. "One is going to be given to someone that's no longer with us and there'll be a tribute. Some of the categories are greatest hits. We have the greatest mob wives. I don't want to give too many away."
This year's guests include Paul Sorvino, who played Paulie Cicero in Goodfellas; Lorraine Bracco who played Dr. Melfi on The Sopranos and Karen Hill in Goodfellas; Aida Turturro (Janice Soprano); Vincent Curatola (Johnny Sack); Kathrine Narducci (Charmaine Bucco); Federico Castelluccio (Furio Giunta), Dan Grimaldi (Philly and Patsy Parisi), David Proval (Richie Aprile) and Jerry Adler (Hesh Rabkin). Also on deck are Michael Madsen, Kathrine Narducci, Tom Sizemore, Tony Darrow, Sofia Milos, Jerry Adler, Jeff Marchetti, Taral Hicks, Eric Roberts, Ray Abruzzo, Matt Servitto, Dan Grimaldi, Jason Cerbone, Oksana Lada, John Bianco, Johnny Martino, John Fiore, Frank Santorelli, Garry Pastore, and Artie Pasquale.
The first event hosted 54 actors from the series, but didn't stop there. There was a "Pine Barrens" tribute maze, an escape room designed like Dr. Melfi's office, Bada Bing dancers, costume contests and cannoli-eating tournaments.
"The convention is very different than most," Mota explains. "We have the traditional, celebrity autographs, but we try to really think outside the box. We have Tony Soprano's truck, the white Escalade. We have the vehicle that Silvio and Patsy Parisi got shot up in. We purchased that from HBO. We have a motorcycle with all the autographs, so we have a little bit for everybody. It's very experiential. There is a feast-like atmosphere." So far, the organizers haven't told the caterers to use Martin Scorsese's mother's famed recipe for tomato sauce. "Not this time," he says. "We will consider it for next time.
Mota hopes upcoming MobMovieCon gatherings will mix in some of the older classic mob movies as well as gangster with gangsta movies. One day we may see New Jack City playing along with Once Upon a Time in America. "Yes, exactly, Mota says. "We want to make sure that it's very diverse and hits on everything. We actually are working right now on the west coast and December doing one in Las Vegas," he says. "We would like to do one on the east coast and one on the west coast. And each time we do it, we'll theme it out. This one is mostly focused on the Gotti movie and then obviously it brings in The Godfather, and Goodfellas. But we'll pick one or two classics that everybody loves."
There are a lot of reasons to appreciate the genre which go beyond crime and punishment. "I think people love the connection with family," Mota says. "I think that people do like to root for the villain. It's got that constant idea of the government against these folks that came over to this country. They had it tough. They had to come up with a new way of life. And then there's a balance of glamorizing that type of life, but it is just so it's just so exciting to see. The diversity of people who were able to come out and come up with their own way of living."
As a fan of both the series and the genre, Mota doesn't quite see the upcoming The Many Saints of Newark becoming a gangster classic on the level of its source material. "I was just having this conversation yesterday," he grins. "I don't think anything can touch The Sopranos. As much as I want to watch it. I'm afraid that nothing will be able to live up to that standard, for me personally, to be even close to what The Sopranos was able to achieve, but we'll certainly see."
MobMovieCon will happen in Atlantic City on July 23 through the 25th at Harrah's Resort. Tickets start at $50 for general admission and $75 for a two-day pass. VIP tickets cost up to $1,000.