Features
The Magicians Showrunners Reflect on the Series Before Its Finale
After a five year run, The Magicians will have its series finale this week, and the showrunners shared their thoughts on the journey.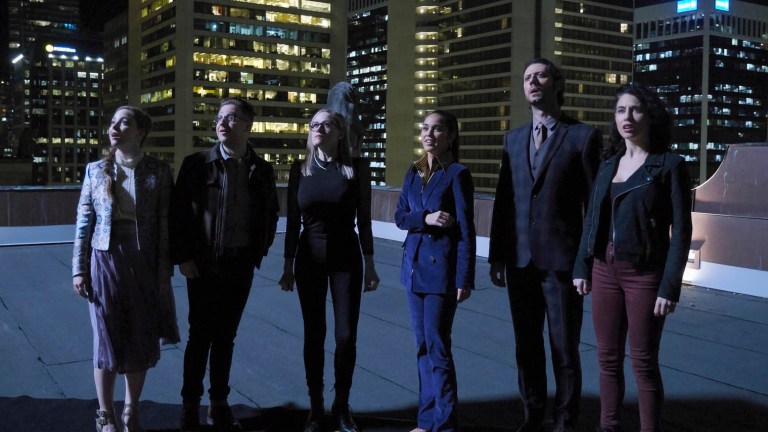 As one of the longer-running shows on Syfy, The Magicians has delivered plenty of entertainment with its humor, its universal themes, and its spellbinding goddamn magic. Although it has not been renewed for a sixth season, cancellation feels like a harsh term for the end of this show, especially since part of its story overlaps with the final book of Lev Grossman's trilogy from which the series is adapted. With that in mind, we spoke to all three of the showrunners from the past seasons to get a sense of the conclusion and look back on the accomplishments of this great series.
DEN OF GEEK: Was there a sense that, even if you had been renewed, this was one last chance to adapt the big events of The Magician's Land?
Henry Alonso Myers: There's a bunch of scenes from The Magician's Land that I have really, really, really wanted to adapt that we were finally able to do this season. Part of it was budgetary, but part of it was — if you're going to put a spoiler alert banner over this — I would say this: we get to [SPOILER REDACTED], which is a huge, huge section of that book.
Sera Gamble: I feel like we've been kind of chopping up and remixing all the stuff we love in the books for several seasons now, and we frequently talked about the heist that ended up being a musical on the show. We also frequently talked about what happens to the land of Fillory in the books. So I think those were the greatest hits we were most interested in touching on this season.
John McNamara: I was just super-bummed that we never found a way to make the flying magic carpet work because I love that in the book. I just love it! And we maybe talked about it for a good ten minutes before we realized it was going to be budgetarily impossible to make it look amazing.
Sera: That, and a giant demon with big, dangling balls!
Henry: That was actually from the first book, but yes. That's been on the wish list forever.
John: You're re-breaking my heart!
Since Plum was a big character in that final novel, can we conclude that she'll be a significant part of the finale, or was she just a fun nod like the character of Hamish?
Henry: She does play a big role in the finale, without spoilers.
Sera: Hamish was a fun nod, but I think because Plum is a Chatwin, that's so much more central to the mythology of the series. We wanted to make sure we, in some significant way, brought it all back to this little story we tell in the pilot of these three English kids walking through the grandfather clock and everything that happened to their family before and after. So Plum was one of the key ways that we got to bring that in this season.
Will the audience still be able to speculate on what a season six would have looked like?
Sera: God, I hope that's true! There's definitely some open threads!
Henry: We work to split the difference between finding some kind of closure for people but also keeping a lot of plot threads open because that's how we do on The Magicians. I feel like the finale is a pretty good example of that.
Looking back on The Magicians overall, were there any characters that surprised you with where they ended up?
John: That's a huge question!
Henry: I feel safe in saying I don't think we planned on having Julia be pregnant, but life takes a turn and we just leaned into it. That's sort of the fun of making television.
Sera: I was actually going to say Fen because she was brought on the show specifically to be part of a story about Eliot and the sort of backwards place he finds himself in as a ruler of Fillory… We had a firm philosophy writing this show that we didn't want to treat any character as insignificant… Why do we make the assumptions that we do about who the hero is and who the monster is? And so because we were fortunate to get to tell this story over five seasons, we just kept pushing ourselves to keep asking those questions, and by the time we came out the other end, characters like Fen and like Zelda (who didn't even have a name when we cast Mageina Tovah in the role; she was just called the Head Librarian) and Kady, who was actually killed in an early draft of the pilot. But it's the nature of this story that it wants to continually churn through your concept of who the hero is.
Did you or the actors keep any souvenirs from the set as a reminder of your time with The Magicians?
Sera: I kept Stoppard's timeline machine.
Henry: Oh, did you get that? I didn't know that!
Sera: If you're really nice to me, you can borrow it.
John: I kept a book that was used in the Brakebills library: Elizabeth Ashley's autobiography. It's really good!
Henry: I don't think I kept anything!
John: You can borrow my book.
What will you miss most about your time in the magical land of Fillory?
John: I'm not really going to miss anything that you would associate with the stuff that's made up like the castles or the dragons, although they're awesome and incredibly well wrought. I miss the actual real people we worked with… Making a show to me was less about living in the fantasy world and more about how do we create a family and then make the fantasy world feel real to the viewer. Because, I don't know about you guys, it never felt real to me. It felt like we were making a really, really cool TV show that was really imaginative, but what was real and tactile and had meaning in my life was the people.
Sera: Yeah, I would agree with that now that we've been away from production for a little bit. I really miss the people that we work with. For example, Magali [Guidasci], our costume designer has been with us since the pilot. Without her, I don't know that the show would have lasted this long. We needed somebody who was brilliant and could do it on a shoestring budget as soon as we actually walked into the magical world of Fillory because it could have been so cheesy that the show got canceled right then and there.
John: I literally could not agree more! As we were approaching the first episode in Fillory, I'd have these cold sweats because I was dreaming it was like a Renaissance Faire with an all-you-can-eat buffet… Magali, among many other artists on the show, really made you feel like Fillory was real.
Henry: Along those lines, the thing that I will miss the most is seeing Magali's outfits for Margo and Eliot. That was a delight! They were unbelievably creative and cool. In the same way when you watch a television show that does time travel and you realize the thing that makes you feel like you're in a different time is the cars on the street, the thing that creates a fantasy world are the costumes that people are wearing.
Sera: We kind of knew from the beginning that we had the opportunity to do something that would feel special because John and I fell in love with the books, optioned them with our own money, wrote the pilot on spec in his garage, and then just started meeting people to work on it with us… I will always be grateful that we got to do this for five entire years of my life.
So will we, Sera. So will we.