Features
The Last Kingdom Cast on the New Big Bad: 'Brida is Fierce in Season Five'
Alexander Dreymon and Emily Cox reflect on Uhtred and Brida's love-hate relationship in Netflix's The Last Kingdom.
"Everyone has died!" says Emily Cox, in some shock. "From season one [of The Last Kingdom], it's just Eliza, Alex and me. Everyone else has gone!" We're speaking on Zoom in July 2021, a month after filming wrapped on the final season of the Netflix action drama, and Cox hasn't had much time to reflect. She went straight from playing warrior Brida to a lead role on feature film Alma & Oskar, even having to miss the wrap party with her beloved Last Kingdom co-stars.
To be one of only three original cast members still standing at the start of the last season (alongside Alexander Dreymon's lead Uhtred and Eliza Butterworth's pious Lady Aelswith) clearly means a lot. Cox talks about the character of Brida with affection and compassion – no easy task for a character capable of such sadism. In season five, Brida is Uhtred's enemy. But it didn't begin that way.
"She changed so much," says Cox. "She started as this really, quite friendly in her own way, young girl who was in love and her whole life was in front of her. Now, she's this angry, angry woman who's been hurt so badly."
Brida's suffering began in childhood when she, like Uhtred, was kidnapped and raised by Danes. After their adopted Viking father was slaughtered, the young couple set out on different journeys. Uhtred's, Alexander Dreymon tells Den of Geek, is about becoming comfortable with his dual identity of Saxon and Dane. Brida's involves no such serenity. A fervent believer in Danish supremacy, for her, fighting for Daneland is the only true path.
It's all about safety, explains Cox. "When she was a little child, that was taken away from her. In her world, the only way the world can be safe is if everywhere is Daneland. She's trying to get that safety for herself and for her daughter."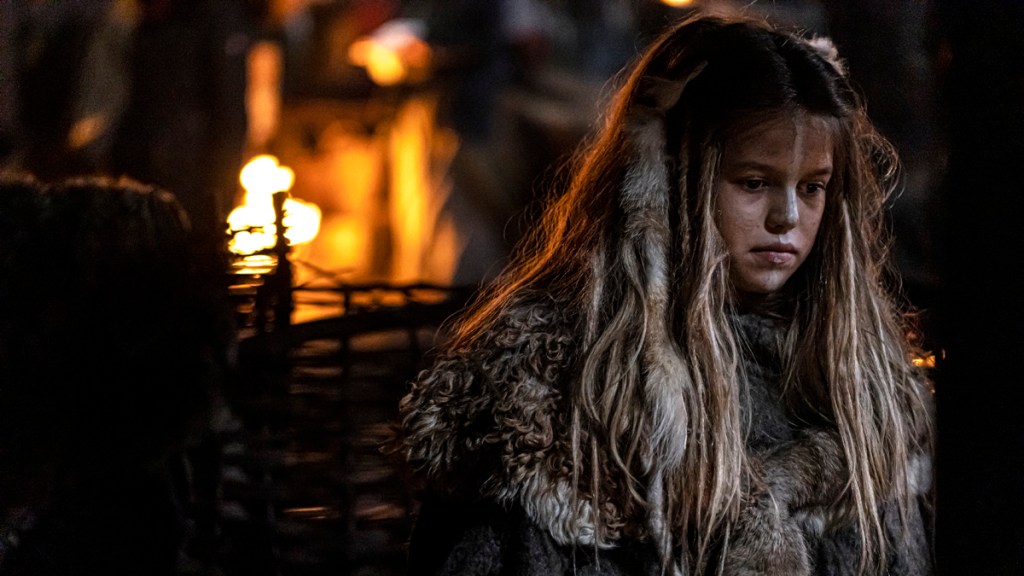 Season five introduces daughter Vibeke (Emili Ackchina), a daughter that Brida never thought she'd have after being cursed in season one not to bear children. Curse lifted, Brida became pregnant by her Viking partner Cnut, whom she killed when she learned he had plotted the murder of her last love, Ragnar. In season five, we meet Vibeke as a child, having been raised by her mother as part of a Danish warrior cult in Iceland. Brida is an adoring, loving mother, says Cox, grateful to be able to play a softer side to a character whose axe does much of her talking.
After their paths diverged, Brida came to see Uhtred as a traitor to the Danes and to hate him for it, but according to Cox, it's not only hate she feels. "There is a great deal of love for Uhtred, because if you don't really love then you don't really hate. She's just very, very, very hurt and very, very, very sad and that's why she does what she does."
"There's such a deep understanding between the two of them," Cox continues. "Although Uhtred had a lot of women, I personally don't believe that anybody got him as much as Brida, and he really got Brida." Emotionally speaking, Uhtred is the most important person in Brida's life apart from her daughter. She's still half of his life and all of his madness, as Uhtred described her in season three? "That's how I want to see it, definitely."
Uhtred sees Brida in the same way, says Dreymon. "He has such a huge inner obstacle to overcome when he's fighting her because despite everything she does, he loves her." Uhtred doesn't understand the source of Brida's hatred and despite everything, hopes to be able to bring her back to the light, Dreymon explains. How possible that will be for a character so entrenched in violent revenge remains to be seen. Dreymon laughs, "Brida is fierce in season five, scary!".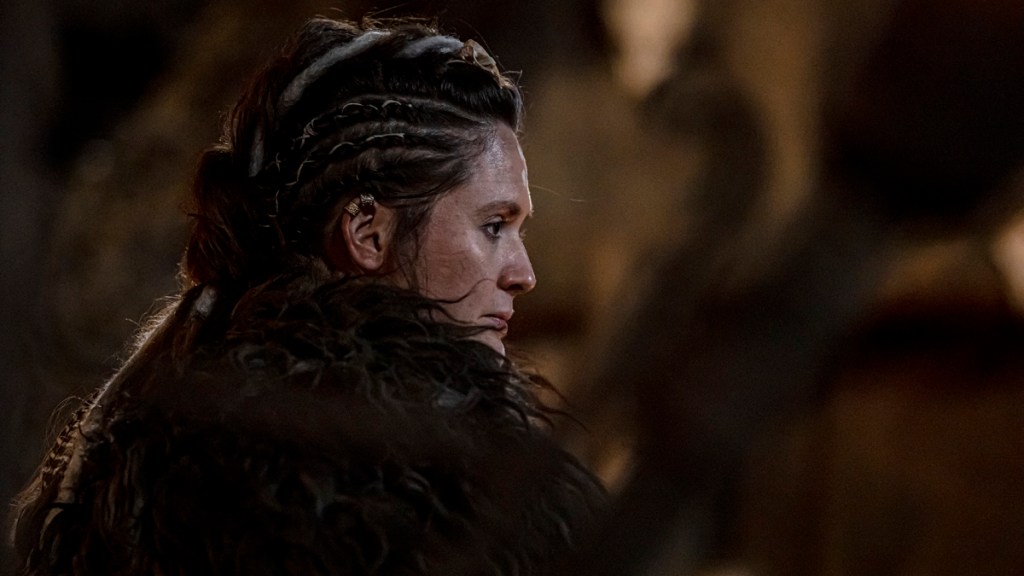 Scary, but also strangely content, says Cox. The season five opener finds Brida as happy as she could be, with a cult-like army of followers and a mission from the Gods. "From her point of view, big injustice has happened to her and she's ready to take revenge and to destroy the people who did that to her. Also, from her point of view, it's just the right thing to do, because being Danish or being Viking, it's the right way to live. She thinks that if she goes over to conquer England, that is a good thing to do because she's saving people."
Dreymon and Cox share the same wish for Brida – for her to find redemption and peace. Even after some of the stunts she pulls in the final season? Cox agrees. "In a way, Brida finds peace, and I'm very happy about that. A strange form of peace, but it is peace."
Has Cox made her peace with filming The Last Kingdom's final ever season? (A Netflix movie, not announced at the time we speak and about which the actors were sworn to secrecy, is currently in production) "It's quite sad. It's the last time I'm putting on these shoes and I'm putting on her clothes and taking her axe. That felt different, knowing I'm not coming back to Budapest with everyone else, that was the saddest part about it."
The Last Kingdom season 5 is available to stream on Netflix now.