Features
The Hometown Roots of Craig of the Creek
The creators of the new Cartoon Network series explore the locations that inspired Craig's town.
If the locations in Cartoon Network's newest series, Craig of the Creek, feel lived in there's a really good reason for it. It's directly based on series creators Ben Levin and Matt Burnett's hometowns in Maryland and New Jersey. They're actually where the original idea for the show sprang from.
"It's based on our childhood experience growing up on the east coast," Levin explains. "I grew up in Maryland and Matt grew up in Jersey. We both lived in the suburbs near these small patches of woods that we'd play in after school."
While as kids the woods seemed huge and expansive, revisiting the locations as adults both found they were much smaller than they remembered, only being a half-mile tops. Still, it seemed perfect for a kid's world to be set in.
"As a kid you remember these epic adventure you went on," remembers Burnett, "but really they were so epic because you were so little and the scale of everything is bigger."
The two saw an opportunity to do a show set in a real world but felt heightened and grand because of that point of view. To make that world feel even more real they based several locations in the show directly off their hometowns.
Levin, who grew up in Olney, Maryland, took reference photos of the places he used to hang out when they were working on the pilot.
"The sewer they got into in the pilot is the sewer I used to crawl into as a kid," Levin says. "I'd have to walk on the wall of it, foot by foot, so I wouldn't get my shoes wet."
Even parts of Craig's neighborhood and some of the library are based on where Burnett lived, although the house they used as photo reference for Kelsey's house actually burned down. "We're all pretty sad about it," mourns Levin.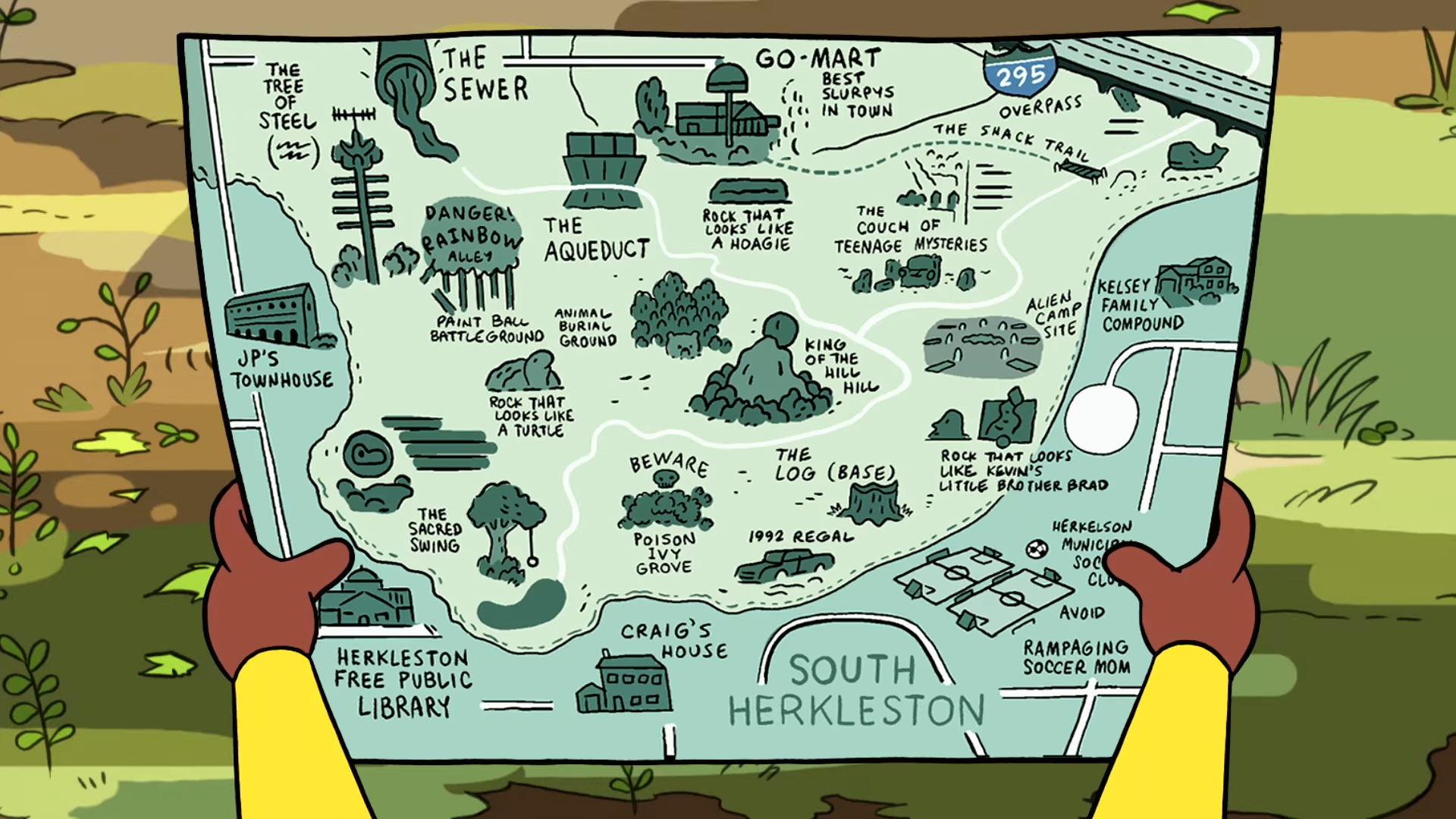 For Burnett he looked to the odder side of Jersey for inspiration.
"There's these magazines that have been put out for years, Weird New Jersey," he says. "We went through them and pulled out landmarks like Tripod Rock, this glacial rock anomaly. We based the rock the 'The Elders' live under on that." 
If you watch closely the convenience store the characters frequent is also based on the real life east coast chain of Wawa convenience stores. "We called them Duck Mart which I realized after we named it that the Wawa logo is actually a goose."
These little touches really make the world of Craig of the Creek more real and for animation that's paramount. Plus for anyone from those places it's a great tip of the hat (full disclosure, I grew up about fifteen minutes away from Olney). 
As the series goes on, see if you can spot other references to Maryland or Jersey landmarks!
Shamus Kelley is a pop culture/television writer and official Power Rangers expert. MARYLAND REPRESENT! MOCO! Follow him on Twitter!