Features
Creating the World of Craig of the Creek
The creator's of Cartoon Network's newest series discuss the conception, writing, diversity, and fun of the Creek.
Craig of the Creek is perhaps Cartoon Network's most down to earth series. Sure, one of the early episodes features main characters Craig, Kelsey, and J.P. treating a game of tag like life or death, but it only feels like a slight exaggeration on reality.
Craig of the Creek follows Craig and his friends on their many adventures through the titular creek. Created by Matt Burnett and Ben Levin, former writers for Cartoon Network's Steven Universe, the series was heavily based on the two's experiences growing up on the east coast. They remembered playing in areas like the ones Craig and his friends now inhabit. 
"We thought about what would be a cool kid world," remembers Levin, "that kids could get into and feel like a place that you could explore forever. We've got the trading tree where we get snacks; we've got the sewers where we can go visit underground places. The kids have a functioning society."
The two infused their main character of Craig with the need to explore that world. Levin explains Craig is a kid who "wants to see more of this world, which I think is perfect for guiding our viewers through the show. We (also) wanted a kid who could idealize what kids can do."
Infusing more of themselves into the character, Levin and Burnett's artistic sides manifested as Craig's love of building things. Throughout the early episodes Craig builds a number of wild contraptions that "exercise that imagination we all had as kids. Craig is making cool forts and building fun traps to ward off enemies. He's this uniting force of his friend group."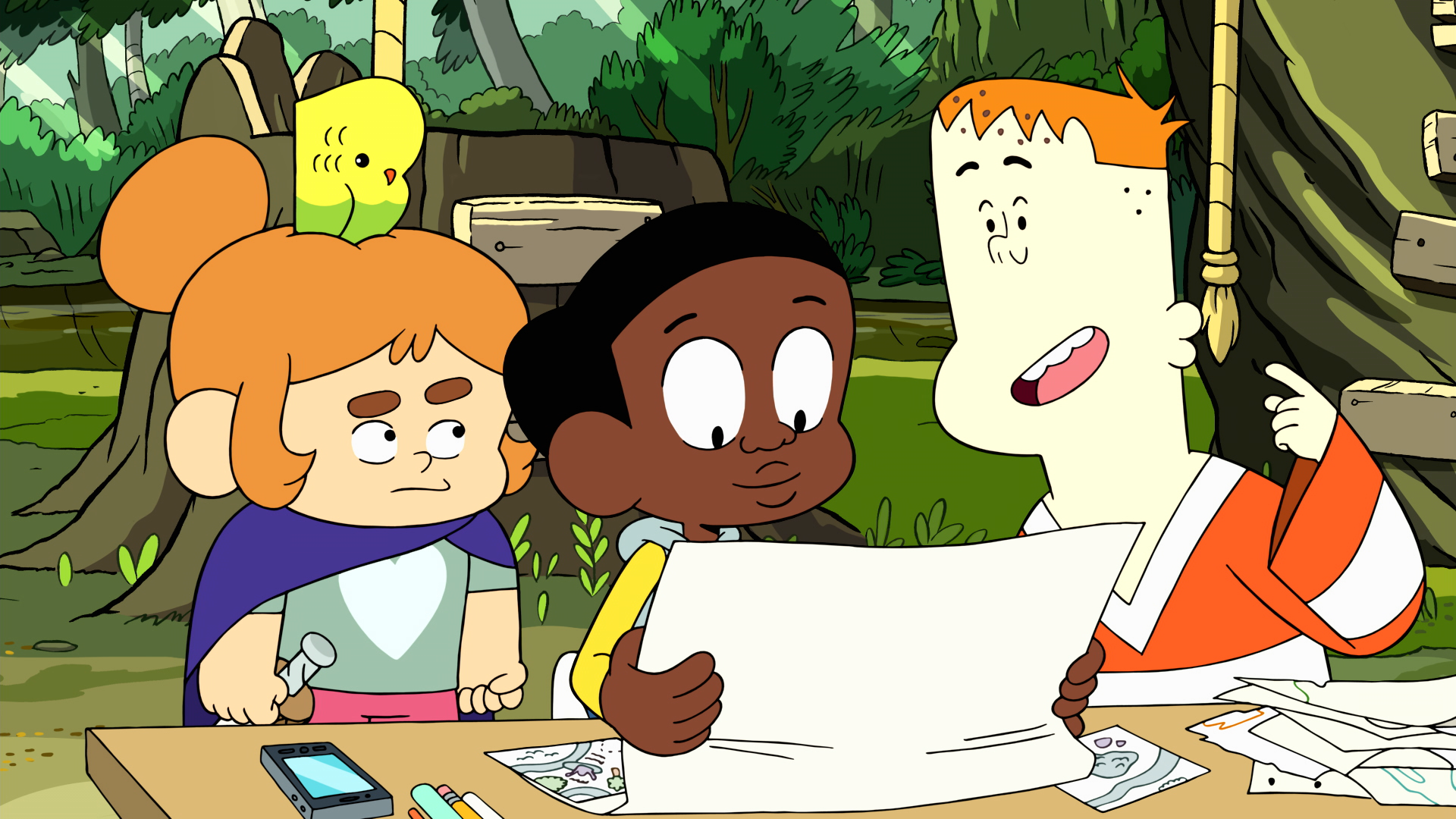 The first of Craig's best friends is J.P., is a much simpler character than Craig who's on the total opposite end of spectrum. J.P. doesn't always think everything through and marches to the beat of his own drum. He's a little weird but "his friends have accepted this" jokes Burnett.
"We tried to base everyone on a kid you felt like you knew," explains Levin. "J.P. feels like one of those kids who always wore a sports thing, even though they didn't play sports, and had a runny nose all the time."
Craig's other best friend, Kelsey, is the wild opposite of J.P. A lover of all things fantasy, Levin describes her as the most imaginative of the group. Often narrating her life as if it were an epic novel, Kelsey represents "the deepest lore you can go into as a kid."
If Craig is in the middle, J.P. is at the one end of an extreme where Kelsey is on the other. The creek is also populated with a whole host of memorable characters, all of which were drawn from things the crew were interested in as kids. "Every little they became obsessed with," Burnett adds, "we tried to blow out into different characters."
Even though the series has only been on for a handful of episodes it's already drawing acclaim for its diversity. Craig alone is a rare lead character of color in an animated series and his family if often at the center of plots. For Burnett it was their work on Steven Universe, another series lauded for its diversity and inclusion, that drove home how important it is for different kinds of kids to see themselves in cartoons.
"Getting to see yourself go on an adventure has a lot of power."
Levin says they try to highlight characters with diversity but "also let those characters play roles that are typically played by white males."
While the two's biggest success before Craig of the Creek was on the heavily serialized Steven Universe, Levin tells fans Craig of the Creek will be more standalone. That doesn't mean there won't be different kinds of development. They plan on expanding the world of the creek, using it to highlight "all types of kids in all types of play."
He also teases that "there will be mysteries that Craig will uncover as the show goes forward."
Burnett slyly adds, "There's parts of the creek that are unknown to Craig and his friends and that's all I can say for now."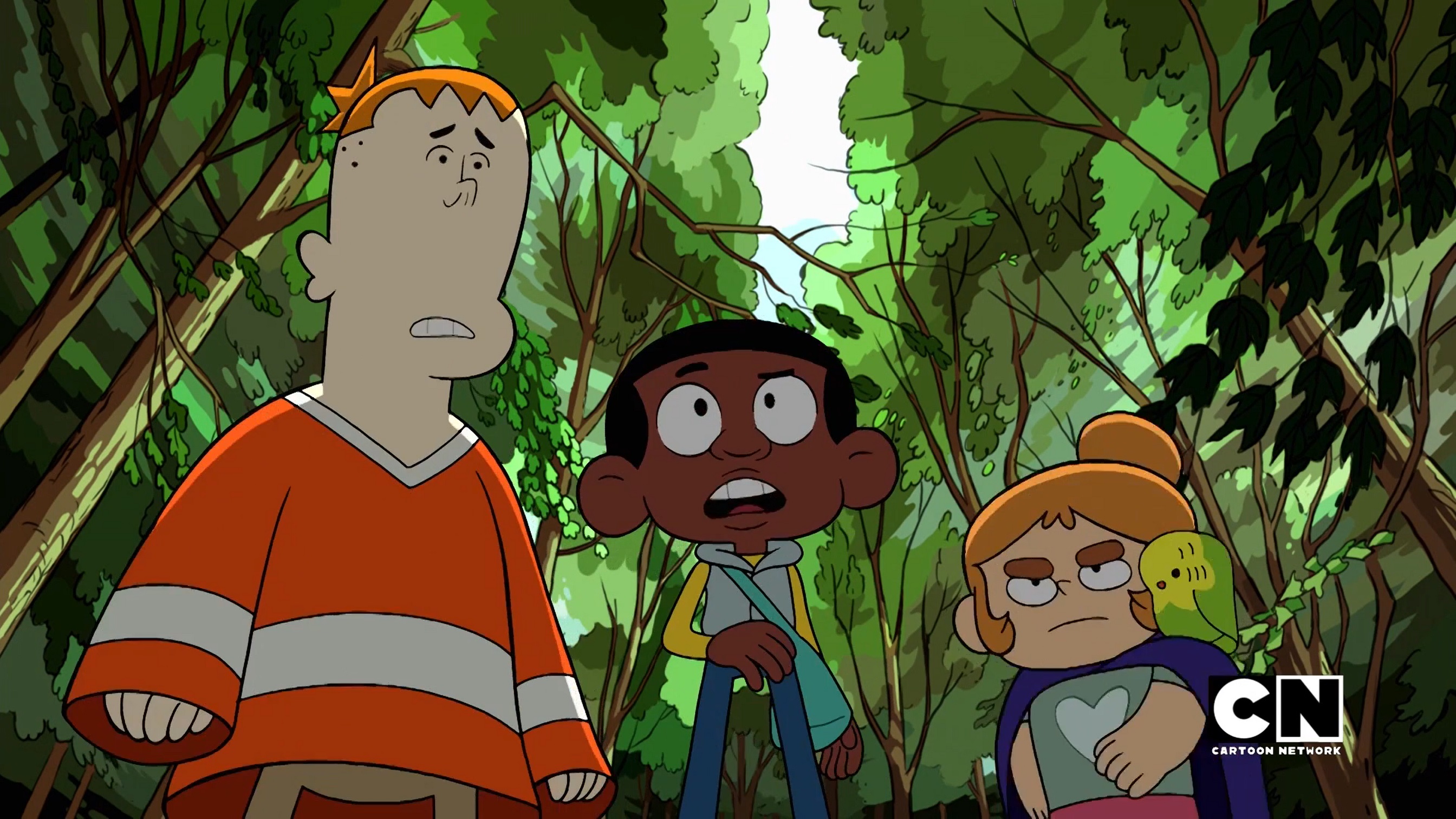 With exploring the world such a big part of the series Levin hopes that kids see their characters and be inspired to look at their own world in a different way.
"Kids can see these creek kids making their own spaces and playing their own ways and be inspired to play the way they want to be or be the way they want to," Levin says.
Burnett has been delighted that the fan response that's already come in has proved that kids can make their own version of "the creek" anywhere, even without trees or water. 
"Kids growing up in the city, they'll find their own space to exists away from adults," Burnett says. "Even if it's just a playground, lot, or public park, this kind of space exists for kids everywhere."
Levin even hints that that the team behind the series is trying to figure out ways to bring Craig and his friends into those other areas of play, "either by taking Craig to other places or bringing characters to his place and comment on how they're different."
Some series might use this "go outside and imagine" platform as a way to shame kids who are more and more connected to technology these days, Burnett instead wanted to incorporate everything kids do into Craig of the Creek.
"There's a perception that kids today, oh they won't go outside and play, but we wanted want to show how kids today go outside and play," Burnett says. "They're still so creative and smart and brave. We wanted to show that to kids and parents alike."
He hopes that the series will inspire adults to go play in wild ways just like kids are today.
"The kind of fun you remember from when you were a kid? It still exists and the kids are doing it on their own." 
Shamus Kelley is a pop culture/television writer and official Power Rangers expert. He's about to go on some adventures of his own. Follow him on Twitter!