News
Is Janine Dead in The Handmaid's Tale Season 4? Madeline Brewer Answers
Actor Madeline Brewer has given a tantalising answer to the question of whether Janine survives the events of season 4's 'Chicago'. Spoilers.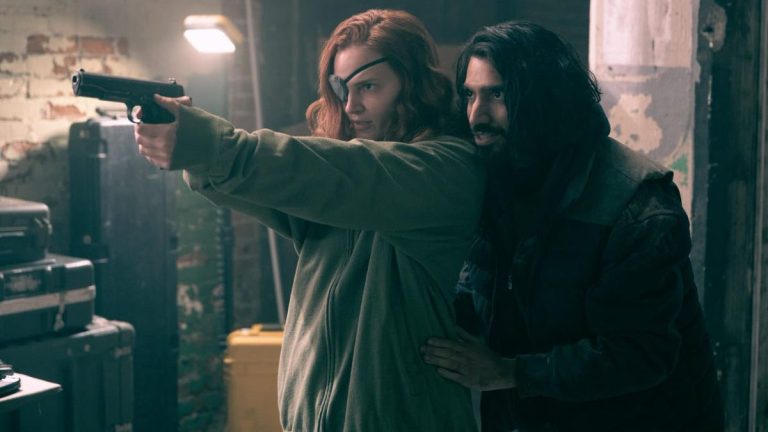 Warning: contains spoilers for The Handmaid's Tale season 4
Are people better off without June Osborne? In season four episode five 'Chicago', a Martha tells Nick that he would be, because everybody who helps June ends up dead. That Martha isn't wrong. The Econo-Husband in season two, the Mackenzies' Martha and Eleanor Lawrence in season three, the Guardian at the Keyes farm in season four, Alma, Brianna… all died at least partly because of June's actions. And by the end of 'Chicago', we're left with the possibility that the choice to stick with June has led to yet another casualty: Janine.
When June and Janine are picked up by a group of resistance fighters in war-torn Chicago, June is instantly disenchanted. Steven and his group are scavengers and survivors, not the violent revolutionaries June wants them to be. (Steven's also kind of an asshole who has no qualms about making transactional deals exchanging sex for food with traumatised victims of sexual assault, even if Janine comes to think he's dreamy.) So June decides to leave and seek out the real resistance – the Nighthawks. Janine has other ideas. She's fallen for Steven and can envisage a future with the group, so lets June strike out alone.
For about a minute, that is. Not long after the pair say a teary goodbye and June strides off through the city, Janine catches up to her and says that she's changed her mind. After all they've survived, she doesn't want to be without her friend. She feels safer when they're together, she says, a statement almost immediately followed by a Gilead air raid attack that blasts Chicago to rubble. June survives but Janine is nowhere to be found. Was she killed in the explosion? Is that the last we see of Janine Lindo, the beautiful girl with one eye?
Look away now if you want it to remain a surprise. According to actor Madeline Brewer in a recent interview with Good Housekeeping about her character's fate, "We see Janine by the end of the season." Brewer tantalisingly added, "It's not at a place that we want her to be, but such is life."
Could that place be the cold hard slab of a mortuary? Or does Brewer mean that Janine survives the Chicago blast but is recaptured by Gilead? If so, might she end up back in the care of Aunt Lydia, now back on top after her alliance with Commander Lawrence, and with whom Janine has always had a complicated mother-daughter-torturer-victim dynamic? Will Janine wind up in a Magdalene Colony?
Speaking to The Wrap, Brewer was more circumspect about Janine's fate, teasing, "Who is to say whether or not [returning to June's side] was a fatal choice? I will not say." Love was behind Janine's decision to follow June, Brewer explained: "I think she made a choice based on the fact that she loves June, she does. She loves her like a sister, like a friend, like her own blood."
So there's our answer, such as it is. Janine will be seen again in The Handmaid's Tale, and hopefully will continue to be a player in the already-commissioned fifth season. Blessed day.
The Handmaid's Tale season four is streaming now on Hulu in the US. Season four is airing weekly on Sundays at 9pm on Channel 4 in the UK.