Features
The Good Place: Nerdy Season 1 Details You Might Have Missed
Ahead of season 3's arrival, here are 29 nerdy facts about The Good Place, gleaned from the official podcast. Spoilers…
Warning: MAJOR spoilers for The Good Place Seasons 1 & 2.
Welcome! Everything is fine.
When NBC asked TV comedy writer Mike Schur (The Office, Parks & Recreation, Brooklyn 99) to give them 13 episodes of any show he liked, he did not waste the opportunity. Schur seized the chance to create the most inventive, intelligent, silly comedy around, and to fill it with actors people love and a creative staff capable of wonderful, wonderful things.
One such wonderful thing is The Good Place Podcast, hosted by actor Marc Evan Jackson (who plays Shawn). Each installment covers an episode of the show (they're releasing two a week now, to catch up in time for season three's September 27th premiere) and features guests from the cast, crew and writing team. It's a delight for fans that lets us in on what went on behind-the-scenes during season one's long con, and gives us a glimpse of the extraordinary effort put into every scene of this beloved comedy.
Do listen to the podcast if you can, but also enjoy 29 nerdy titbits gleaned from it about season one. Final warning now: spoilers ahead…
1. In order to keep the massive season one finale secret, creator Mike Schur and costume director Kirston Mann didn't allow a saturated color red to appear anywhere in season one, so no unconscious associations would be made with devils, demons or hell.
2. The characteristic blue and yellow colors of the Good Place are a nod to the colors of the University of Michigan, creator Mike Schur's father's alma mater and the state in which he actor Kristen Bell grew up. (Costume director Kirston Mann also likes to think that blue and yellow combined, make green, which symbolizes good, while red symbolizes bad.)
3. Of the actors, only Kristen Bell and Ted Danson knew about the season one finale twist right from the start. The twist was kept so secretive that Kristen Bell apparently didn't even tell her husband Dax Shepard. (Ted Danson, on the other hand, told "around seventy people.") This video, filmed by Kristen Bell, shows the other main cast members finding out.
4. In season one, Ted Danson had a codeword he used on set with which to communicate with the episode writers and not give away the end-of-season twist to the guest directors and other actors and crew who were still in the dark.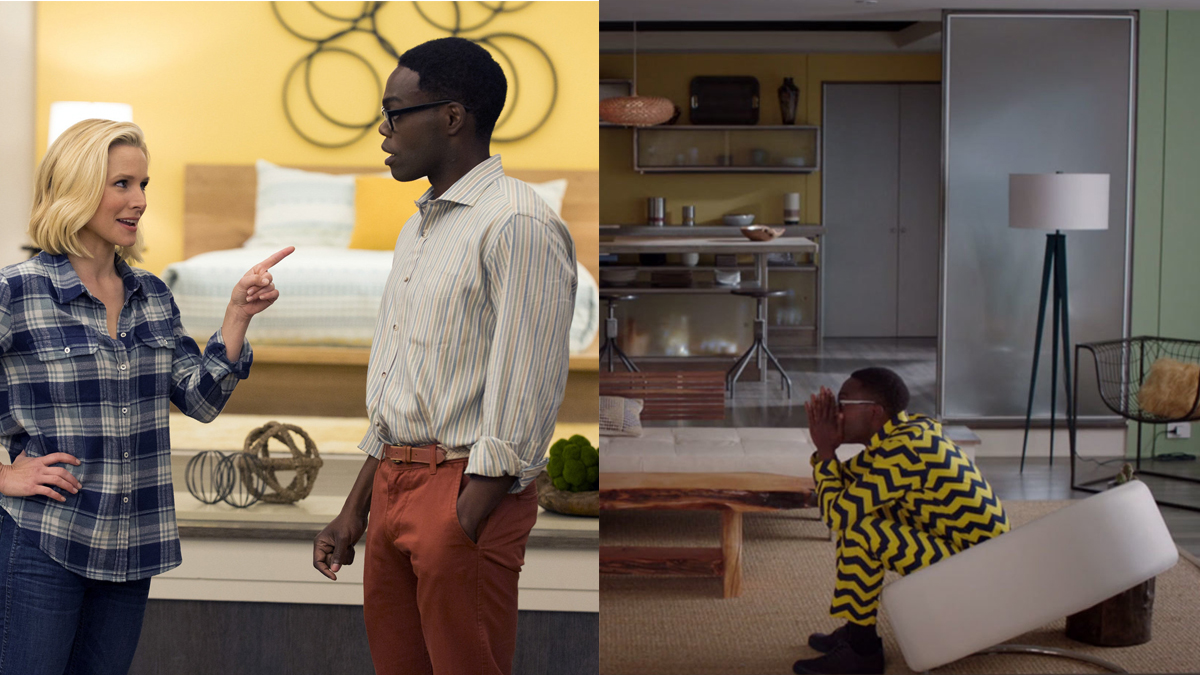 5. Look closely at Eleanor's apartment in season one and the furniture may look chic and pleasant in design, but each piece was chosen specifically for its lack of comfort, i.e. it's all part of the torture. The chairs are too low to relax on, or don't have backs. The stool is impossible to sit on. The statues are all pointed with sharp edges, the circular artwork over her bed resembles abstracted barbed wire as a hint to her imprisoned status. There's broccoli in the fruit bowl—in other words, everything isn't fine.
6. The jeans and checked shirts and clogs Eleanor wears in the Good Place are a deliberately different style to those she wears on Earth because they're not supposed to be her clothes—they're meant to belong to "Real/Good Eleanor" played in series one by Tiya Sircar.
7. The safe in which Jason Mendoza suffocated (because no, a snorkel can't be used to breathe air inside a locked box) was branded a "Swanson" safe in homage to Ron Swanson from Mike Schur and many of the creative team's previous show, Parks & Recreation.
8. In The Office, Mike Schur played Dwight Schrute's cousin Mose.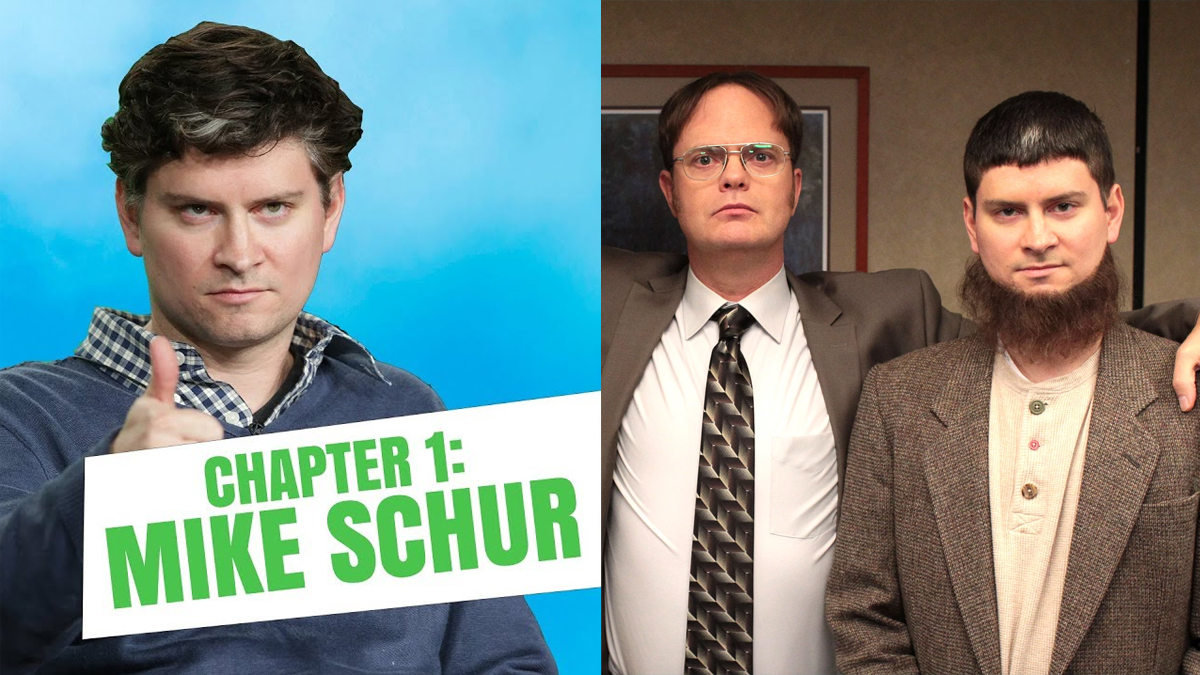 9. Janet started life as a kiosk, not a person. Before putting D'Arcy Carden in the role, the casting team's only brief was to find "funny," so auditioned actors of all backgrounds, genders and ages (including Champions' teenager JJ Totah), going from 13 to 74 years old. Janet and Jim are default names Mike Schur uses in scripts before finalising his character names and this time, Janet stuck.
10. Costume director Kirston Mann's inspiration for Bad Janet's clothing was Olivia Newton John at the end of Grease. She's "a good girl dressing up as a bad girl."
11. Janet's two-piece skirt suit was inspired by 1970s air hostess uniforms. Kirston Mann used to fly alone as a child and came to see air hostesses as like angels who helped her, which is her impression of Janet's role. The purple color was chosen specifically to symbolise neutrality and unity, as it's a mix between the political associations of red and blue in the US.
12. On Jameela Jamil's first day on set (and her first day acting—she's a former DJ and TV presenter but hadn't acted professionally before this role), Ted Danson helped her with her nerves by pretending to break wind on her, repeatedly.
13. Everybody loves Ted Danson, by the way. Every single person interviewed on The Good Place Podcast—actors, writers, producers—describes what big fans they are of him and how positive and helpful and team-spirited he is on set.
14. Producer Morgan Sackett (who also produced on Veep and Parks & Recreation) started out in television as a PA on Seinfeld, getting people's lunches.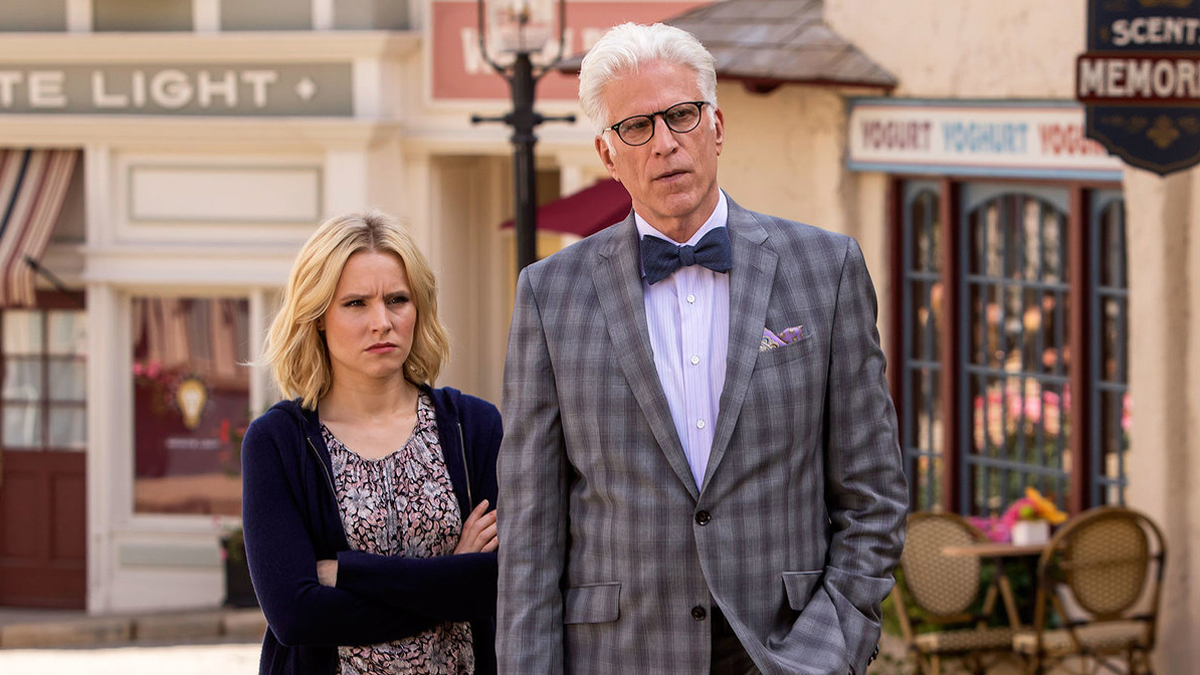 15. The Good Place town set is Little Europe, which already existed on the backlot of Universal Studios. Universal was ready to knock it down, but The Good Place team renovated the buildings to use as their set. Those buildings, and the production office, are infested with raccoons.
16. VFX supervisor David Niednagel makes pre-vis tests of special effects on the show using his eight and five year old daughters to stand in for the actors. The major special effects on the show—Janet vomiting pennies, characters flying through the sky, reaching entire arms into each other's throats—have all been practised first on those two kids.
17. The props are incredibly detailed, even if they only appear in the back of a single shot. The brand name of the tequila on the shelf in the supermarket before Eleanor's death is called Basurero, which means "rubbish dump" in Spanish. On the packaging for Lonely Gal Margarita Mix, the slogan is "You don't need them anyway." In the supermarket, you can spot Tahani on the cover of "International Sophisticate" magazine.
18. As many spotted, the ad on the back of Eleanor's favorite magazine Celebrity Baby is for Glyde, a perfume by Parks & Recreation parfumier Dennis Feinstein (played by Jason Mantzoukas, who also plays Derek in The Good Place and Adrien Pimento in Brooklyn Nine-Nine). The effect was added in post-production. It is only an Easter Egg though, stresses Mike Schur, not evidence that The Good Place and Parks & Recreation take place in a shared universe.
19. Some Easter Eggs in the show, says VFX supervisor David Niednagel, would only be recognized by very few people in the team, and they're mostly at the expense of executive producer Morgan Sackett, whose brotherly relationships with Mike Schur involves a certain amount of joshing.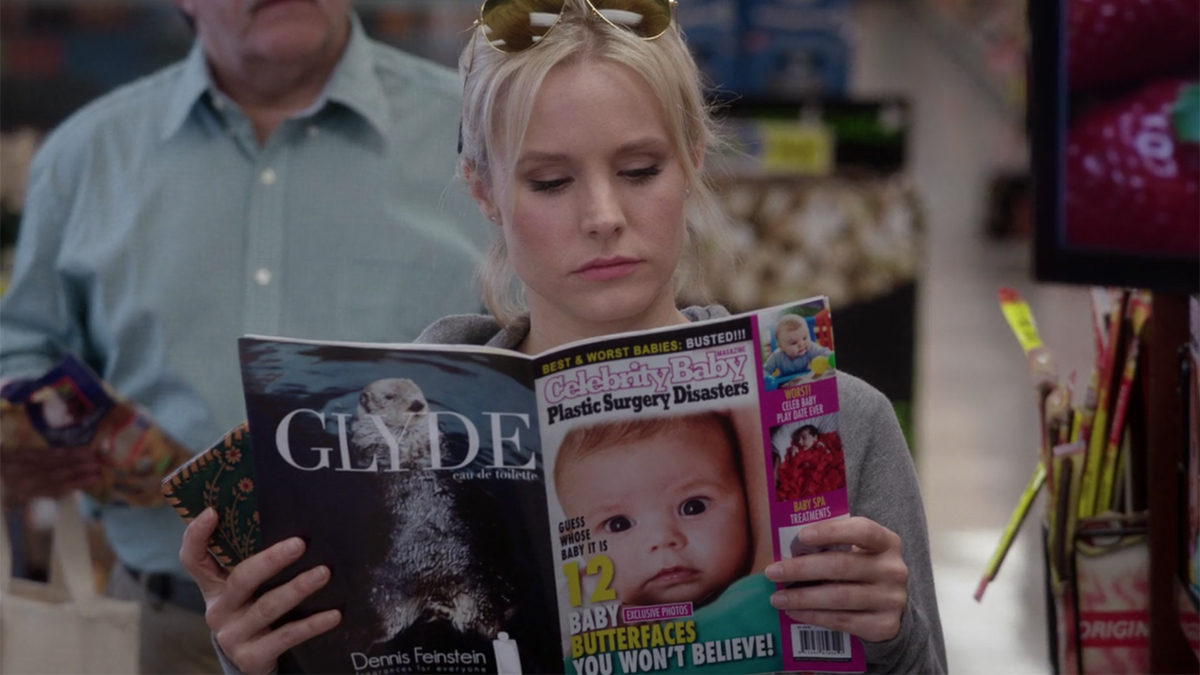 20. More prop details – in the scene where Chidi takes in the philosophy essays from Eleanor, Jason and Tahani, those essays were really written. Even though you didn't see the detail in the episode, Tahani's was titled "What I learned about moral philosophy from Claire Danes' father-in-law," and Jason's was written in three different kinds of ink with "By Jason Mendoza, age 27" on the title page.
21. Other insane levels of detail on set: In the frozen yogurt shop, all 500 flavors are written for real, including flavors such as "A Nap, Full Cellphone Charge, and Folded Laundry." On Michael's home screen when he gets a text from Shawn in season one episode 12, there's a folder on his desktop labelled "Song Lyrics" in reference to an earlier comment he made to Tahani about not wanting her to look at his computer because he's written song lyrics he doesn't want her to see.
22. The philosophy notes on Chidi's blackboard are all researched and accurate, checked like all the philosophical references in the show, by professional academic advisors.  
23. Tiya Sircar, who plays Vicky/Good Eleanor, originally auditioned for the role of Tahani. The team put her details in what they call the "Good for Something" folder, where they put all the actors whose auditions they like but who don't get the original role they read for, with an eye to casting them later on.
24. The character of Vicky was explained to Tiya Sircar as essentially that of Donald Trump – a megalomaniac with absolute confidence in herself.
25. The shorthand for Jason Mendoza's character in the writers' room was that he had to start out as stupid as Chris Pratt's character Andy Dwyer was by the end of Parks & Recreation, and get stupider from there. Joe Mande describes Jason as "a wet cat" to Eleanor in season one, basically a feral creature badly in need of assistance.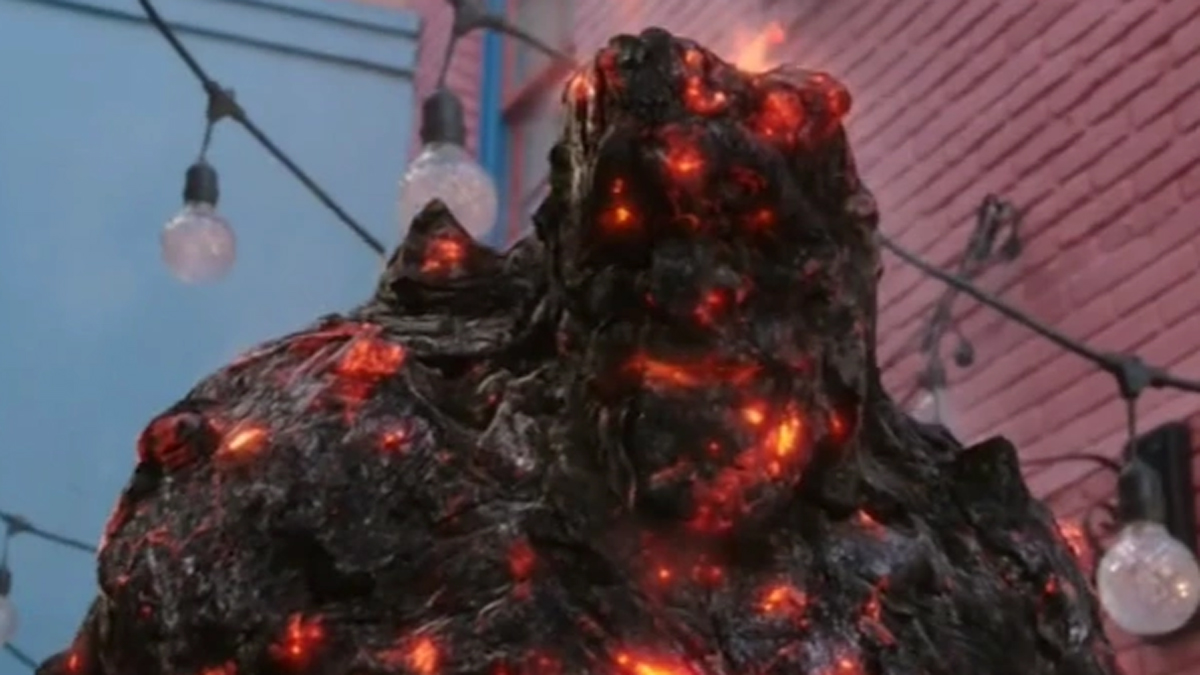 26. Several of the writers have appeared on the show. Josh Siegal plays Glen, the Good Place resident who falls into the sinkhole. Jen Statsky played a waitress in the Mexican restaurant Jason and his pal try to rob. Joe Mande is the voice of Todd, the fire monster. Megan Amram read for the role of Gen, played by Maya Rudolph…
27. All thirteen episodes were filmed before the first episode aired. They finished shooting in early August 2016 and the show premiered in late September of that year.
28. It's in Kristen Bell's contract that a season of The Good Place can't extend to twenty-two episodes. NBC is able to take the season order up to a maximum of sixteen episodes, but not beyond that.
29. NBC requested an alternate ending be filmed for season one. They'd loved the initial twist pitch but as filming approached, the network got nervous and asked for an alt finale. The team never wrote or filmed one though, and—thank goodness—NBC didn't press the point.