News
Parks and Recreation to Return for a Special Episode Next Week
NBC is bringing back Parks and Recreation for a special, socially-distanced episode that will feature all of the original cast and benefit Feeding America.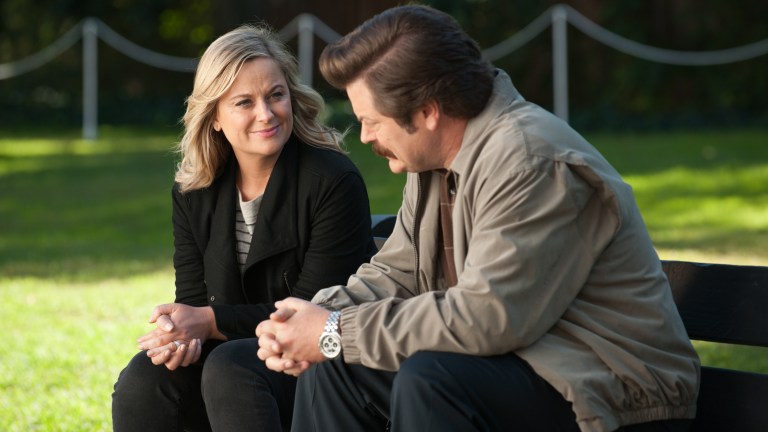 Pawnee forever! After the world spent five dark, terrible years without happiness factory Parks and Recreation, the show is now returning for one last last ride. 
NBC has announced that Parks and Recreation will air a special half-hour episode on April 30 to raise money for Feeding America during the coronavirus crisis. Not only will this be a full original episode written by co-creator Michael Schur and several other Parks writers, but the entire cast will reunite. That's right: Amy Poehler, Rashida Jones, Aziz Ansari, Nick Offerman, Aubrey Plaza, Chris Pratt, Adam Scott, Rob Lowe, Jim O'Heir, and Retta will all return.
According to an NBC release, the plot of the special will follow Pawnee Parks director (and future POTUS) Leslie Knope (Poehler) as she is determined to stay connected with her friends during a time of social distancing. This premise will likely be an easy set up for all the Parks employees and friends to reunite via video chat, mimicking a format that other shows like SNL have utilized to some success during quarantine.
The special will raise money for Feeding America's COVID-19 response fund. Viewers will be encouraged to donate while sponsors State Farm and Subaru will donate $150,000 each. NBC Universal and the cast and producers of Parks and Recreation will contribute donations as well.
"Like a lot of other people, we were looking for ways to help and felt that bringing these characters back for a night could raise some money," Schur said in a statement. "I sent a hopeful email to the cast and they all got back to me within 45 minutes. Our old Parks and Rec team has put together one more 30-minute slice of (quarantined) Pawnee life and we hope everyone enjoys it. And donates!"
The origin for this idea may have come from what was seen as a fictional enterprise at the time. In Vulture's article "If I Wrote a Coronavirus Episode," writer Maria Elena Fernandez asked several showrunners what a hypothetical coronavirus episode of their respective shows would look like. When asked, Parks creator Schur had a pretty thorough vision for how Pawnee would respond to the crisis, writing:
"First of all, Leslie would've known the CDC protocols for social distancing already, and they would've been instituted within 24 hours of the first reports of the coronavirus in America….She would check in on Tom and Donna and April and Andy and 50 other people four times a day to see if any of them had a fever or cough. They would pretend to be annoyed but would secretly love it."
Now, Leslie will officially get the chance to prove her COVID-19 preparedness bona fides.
Parks and Recreation ran for seven seasons on NBC from 2009 through 2015. The show is largely considered one of the best comedies of the decade, and perhaps one of the best science fiction properties of the decade for its depiction of semi-competent government employees who have people's best interests at heart. There is no word yet on what time the special will air.