News
The Fates Steal the Waverider in this Exclusive Legends of Tomorrow Clip
Astra has a list of very sensible demands for the Fates as they control the Legends of Tomorrow's ship.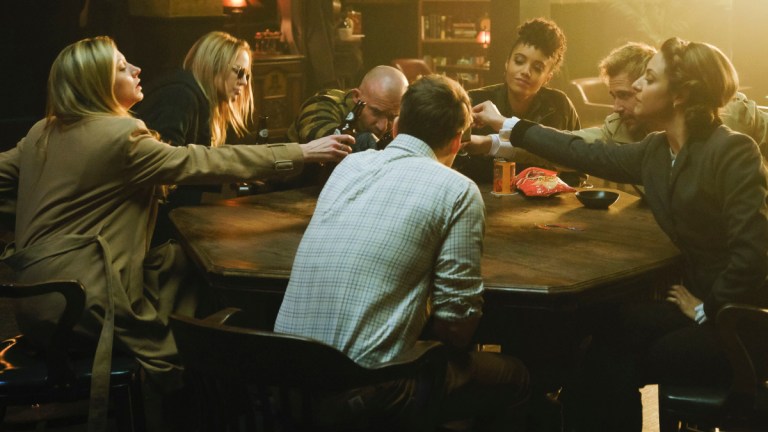 Last week's episode of Legends of Tomorrow, "Freaks and Greeks," was a fun frat party full of zatoichi beer pong and mean girls, but it ended with a bit of a bombshell: Astra drinks from the cup of Dionysus, granting her immortality for a day so she could use the Loom of Fate, and Lachesis, Charlie's fate sister and the one pulling Astra's strings in Hell, caught up to Astra and called in the favor she's owed. That's all going to come to a head in "I Am Legends."
Here's the official synopsis:
"After drinking from Chalice, the Legends have immortality for 24 hours, which gives them time get to the Waverider and use the Loom of Fate. However, they quickly discover that the sisters have stolen the Waverider and they are stuck at Constantine's (Matt Ryan) house in the middle of nowhere in London during a Zombie Apocalypse. Meanwhile, Gary (guest star Adam Tsekham) is left on the ship and once he discovers what is going on, he takes something important to the sisters."
In this exclusive preview of this week's episode, Astra sets some terms for working with her new Fate sisters.
Honestly, Astra's demands in exchange for her cooperation operating the Loom are pretty reasonable.
Eliminate all prunes.
Dogs should stay puppies forever.
Bring back her Mom.
The third one is what she's been working towards all season, basically. Once she pivoted from "revenge on Constantine" and realized that having a life with her mother was possible, she started growing as a character and following a reasonably familiar trajectory for Legends of Tomorrow villains and turning…at least antihero, if not all the way good. Prunes are hands down the worst of all the dried fruits, and while I'm wary of any plan that eliminates them with too broad a brush (plums are great, keep plums), I can certainly understand the desire. And as for dogs staying puppies…go ahead and argue that. I dare you.
Astra's trajectory feels familiar, and this clip certainly plays into it. The frivolity of Astra's demands are a little out of character for who she was at the beginning of the season, and even compared to where she was at the beginning of "Freaks and Greeks." But over the course of the last episode, she bought into the team's methods a little bit and started to see positives in the world for the first time since she was damned. It's certainly odd for her to fixate on prunes like that, but I can definitely see it as a component of a Legends-esque plan to distract the bad guy so the team can reclaim their ship.
Legends of Tomorrow airs Tuesday at 9:00 pm on the CW. For more on the show, including interviews with the cast, episode reviews, and rampant, baseless speculation, stick with Den of Geek!