Features
Roy Wood Jr. On Why The Daily Show Had to Face Its Fears
Longtime Daily Show correspondent Roy Wood Jr. discusses the show's evolution and his busy TV schedule.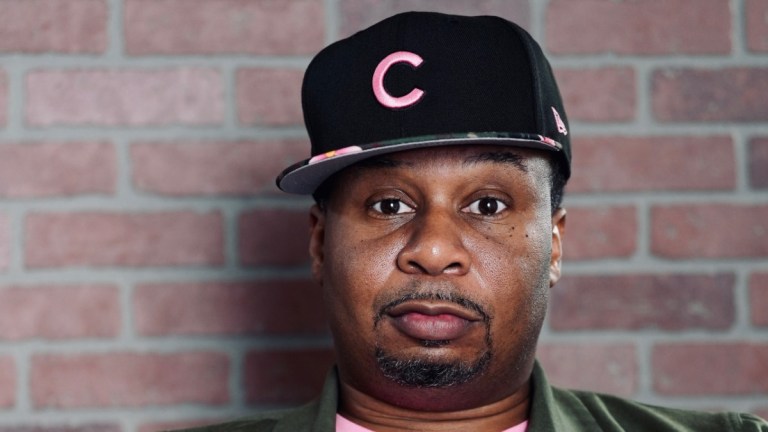 Few cultural commentators are better equipped to discuss the ever-evolving media landscape than The Daily Show correspondent Roy Wood Jr.
Though known first and foremost as a comedian, the Harlem-based humorist's journalism credentials run deep. Wood's father, Roy Wood Sr., was a radio broadcasting pioneer who covered the civil rights movement. The younger Wood then followed in Sr.'s footsteps by earning a B.S. in journalism from Florida A&M University. Since then, Wood has embarked on a media spanning career in comedy and commentary that includes his current seven-year tenure on The Daily Show.
That tenure has covered all of the show's Trevor Noah era, after the South African comedian took over as full-time host from Jon Stewart in 2015. It's also covered the show's continued evolution from satirical news outlet to cultural institution.
"The Daily Show that I started at, if you had told me this was the type of Daily Show I'd be on now, I wouldn't have believed you," Roy Wood Jr. told Den of Geek during SXSW 2022.
Back in early March, Wood was in Austin to host a live version of The Daily Show's "Beyond the Scenes" podcast. The event, titled "The Daily Show: Being a Black Journalist America", featured Wood speaking with a panel of Black journalists about representation (or lack thereof) in mainstream newsrooms. The day before the panel, Den of Geek was able to sit down with Wood to discuss the media's narrative on race, how The Daily Show has changed, and even some recent TV shows.
DEN OF GEEK: How's your Austin experience going thus far?
ROY WOOD JR.: My Austin experience has been good so far. Every time I come to South By, there's a new type of barbecue in town that I didn't get to investigate the year before. So that's really why I come. I'm not here for tech and Daily Show. I'm here for food. I'm a Southerner. Think I care about electronics?
What's your favorite BBQ place here?
All of 'em. I don't even know the names of these places. People just take you there. That's what Austin is like. People give you barbecue here the way they give you weed in California. Like "here's a rib, try it." Alright! I'm not asking any questions.
You're here for this fascinating panel. Can you tell me a little about that?
We're doing a live podcast which is an extension of our Daily Show: Beyond the Scenes podcast. We're going to have Symone D. Sanders from MSNBC who was on Vice President Kamala Harris's campaign, Vladimir Duthiers from CBS Morning News, and Yamiche Alcindor from PBS. We're basically sitting three very prominent Black journalists and I'm going to be talking about what it means to be a Black journalist in this country. What are the stresses of that? What are the blind spots of working in a traditionally white newsroom and how do those blind spots affect the stories that are covered or not covered. Which ultimately, when we look at media, it helps shape the perception of issues race and things that affect minorities in this country.
You've been on The Daily Show for seven years. What has it been like watching the show adapt and change in the media environment in that time?
The Daily Show that I started at, if you had told me this was the type of Daily Show I'd be on now, I wouldn't have believed you. The Daily Show I started on was under Obama with the assumption that Hillary Clinton would be our next president. The night that Trump was elected there was a shift. When George Floyd happened, there was a shift. And when Biden was elected, there was another shift. In the early days of the Trevor Noah regime, we had the freedom to explore other things that people may not have known about. But as the pain become more and more real to more and more Americans, as the trauma become more real to more and more Americans, as the shutdown gave us an opportunity to face a lot of our fears, even if we didn't try to fight them or conquer them – we had to become a show that acknowledges the pain of what people are going through. There aren't always jokes in that.
Trevor does a good job of carrying that but ultimately my job as a correspondent is you can't always find the joke within the pain but you can find jokes within the cause of the pain or the solution to the problem. How did we get into this rut and how do we get out of this rut? If you look into those two realms, that's a lot of where the jokes lie for us now. Because now a lot of the jokes are touching on an open wound. Whereas in 2015, you could make jokes about the thing and it wasn't as traumatic and as shocking for people.
Do you have a favorite segment that you've done in the past seven years?
We have to go in-studio and out-of-studio. Out-of-studio, I would say I really enjoyed going to the south side of Chicago and walking along with former gang members to better their community, which combated the narrative that Black people aren't doing anything about Black-on-Black crime. That's what people love to do when they talk about Chicago. But they're wrong. There are people every day who walk those streets and they get more respect than the police when it comes to trying to stop a lot of the drama and quell the beefs that go one in the city.
My favorite (in-studio) segment is CP Time. Which is just such a silly thing where I play an older version of myself with a terrible mustache and we just crack jokes about little known Black history facts. It's a wonderful opportunity that Trevor and the writers have created. From time to time you need to know that these are the things happening when you talk about Black history. When you talk about Black contributions and Black history it's generally Martin Luther King, Rosa Parks, Obama, or Carl Lewis winning gold medals in Los Angeles. So the segment is this fun opportunity to talk about weird, little-known things like a Black dude invented the super-soaker. A Black man taught Jack Daniels how to distill whisky. I enjoy it because you know in those moments you're giving new pieces of information. You know we have a Black host but we still have a predominantly Black audience. So it's dope to have an opportunity to sprinkle in things that people may not have known so we're not just living in the pocket of whatever's in the news cycle.
You're everywhere on TV lately. It's hard to distill it down to just a handful of projects. So I'll present three recent shows and you tell me what the experience was like. Number one – Only Murders in the Building.
It was cold and it was an education in friendship watching Steve Martin and Martin Short interact off-camera. The realization that I don't know if I have that type of creative partner and friend. I have a lot of comedians that I'm cool with. But that's a relationship that was nurtured over decades. I was thankful to be a part of the project but I was also envious.
Nervous. Because that's such an institution. The world that Vince Gilligan has created – there's no small characters in that world. Every single character in Saul ripples off into doing other things. It's also cool though to be in the long lineage of standup comedians that are part of the Breaking Bad universe from Bill Burr to Lavell Crawford to Joe DeRosa to the Sklar Brothers. Of course: Odenkirk himself even though that's more improv. The idea of just to be a part of that in any capacity was cool.
Space Force was a Daily Show reunion. Me and Steve Carell talked more about The Daily Show than the script if I'm being honest. I think that The Daily Show is a very interesting institution to be a part of and it's very underrated how much the alums look out for one another. I had an opportunity to work with Jason Jones on his then TBS series The Detour and there's just a synergy. There's a shorthand. The only thing I can compare it to is SNL but it's hard to compare us to SNL because there's not as many graduates. Our cast is just not as big. When you meet someone who was on The Daily Show it's like meeting someone who went to the same high school as you. You didn't graduate together but there's an understanding. If you have that pre installed then it makes doing the scene with Steve Carell way less nervous. We've both been on field pieces where we're sweating in a suit. We've ironed our clothes in a bus station.
The Daily Show airs weekdays at 11 p.m. ET on Comedy Central.