Features
Why Pink Flamingos Remains the Gross-Out Comedy Standard
50 years after it came out, John Waters' Pink Flamingos is still the trashiest movie ever made.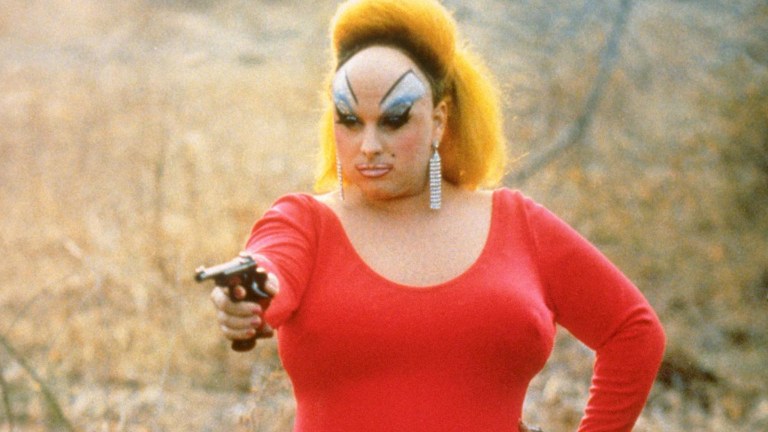 TW: This article contains references to fictional depictions of sexual assault and animal cruelty that some readers may find disturbing.
Social commentary in motion pictures implies high art. Pink Flamingos, which premiered on a single screen in a rented theater in Baltimore 50 years ago, is an antisocial commentary. It goes in the other direction. Written, directed, produced, shot, edited, and narrated by counterculture icon John Waters, the film features singing assholes, chicken-crushing sexcapades, and dog-doo finger foods. It changed movies forever.
Pink Flamingos was the first of Waters' "Trash Trilogy," which would go on to include Female Trouble (1974) and Desperate Living (1977). It led beat poet legend William S. Burroughs to declare Waters the "Pope of Trash," and was even trashier than Andy Warhol's Trash. Written and directed by Paul Morrissey, about a heroin addict looking to score and screw, that 1970 film made an impact on Waters, and Andy Warhol paid it forward, recommending Pink Flamingos to cinema legend Federico Fellini.
Pink Flamingos was campy, kitschy, grotesque, and disgusting, designed to have audiences gagging in the aisles. When it first came out, Variety called it "one of the most vile, stupid, and repulsive films ever made." Waters, who dubbed himself "the king of sleaze," "the prince of puke," and "the godfather of gross," featured the quote prominently on the movie posters.
"To me, bad taste is what entertainment is all about," Waters wrote in his memoir Shock Value. "If someone vomits watching one of my films, it's like getting a standing ovation."
"There are just two kinds of people, my kind and assholes."
Pink Flamingos is filled with such cheer. It was pilloried for featuring rape, murder, incest, cannibalism, cop-killing, bestiality, necrophilia, sadism, masochism, and coprophagy, the last of which was included, the director has said, just so critics would have to look it up. "Pornography was also just becoming legal, which left exploitation and art films with nowhere else to go," Waters told The Guardian. "So I tried thinking up things that weren't illegal on film yet, but should be. I always knew that eating dog shit was going to be the kicker ending."
The film's most infamous scene is a single-take shot. Babs Johnson (Glenn Milstead, better known as Divine), walks her dog down a Baltimore sidewalk until it does its thing. She bends over, scoops it up, puts in her mouth, chews, and smiles, all to the tune of "How Much Is That Doggie in the Window." There are no cuts. It is real. It is cinema verité at its vilest veracity.
Mel Brooks only had to use sound effects to get his bean-fart scene in Blazing Saddles on every list of classic "gross-out films." No one mistook the hair gel in Cameron Diaz's doo in There's Something About Mary to be anything but a lookalike product from a prop department.
"It was just a little piece of dogshit, and it made her a star," Waters gleefully told reporters at press conferences. After Pink Flamingos, Divine complained that people believed the character ate dog shit on a regular basis.
Pink Flamingos was repulsion with a cause. It skewered middle-class conformity, family values, and suburban similitude. The characters confront traditional perceptions of taste, challenge sexuality, gender, culture, and intestinal fortitude. It was groundbreaking. It redrew the boundaries of gross out humor, paving the way for National Lampoon's Animal House, Porky's, and all their mainstream imitators.
None matched Pink Flamingos, and how could they? The plot of the film is the battle for the title of "Filthiest People Alive."
Dirty Deeds Done Dirt Cheap
Waters borrowed $12,000 from his father to make Pink Flamingos and maintains his parents never saw it. In the film, the current title holder of "the filthiest person alive" is Babs, she's even made the tabloids for it. She lives in a pink trailer, out in the woods, with her hillbilly son Crackers (Danny Mills) and his girlfriend Cotton (Mary Vivian Pearce).The pink flamingos in the dirt give the mobile dwelling a homey feel. Babs' mother, Mama Edie (Edith Massey), is kept in a crib, where she is clothed as a baby and lives on a diet of "eggs, eggs, eggs." In one unforgettable scene, Cotton watches as Crackers has sex with a woman in a coop, ecstatically crushing a live chicken to death between their bodies.
The major contenders to the throne are Connie and Raymond Marble (Mink Stole and David Lochary), and they make a good case for it. They earn their money the old-fashioned way: Dealing heroin to high school kids and selling lesbian couples' babies, which were birthed by teenage girls who they kidnapped, locked in a basement, and raped.
"Kill everyone now," Babs publicly proclaims as her mission statement. "Condone first degree murder! Advocate cannibalism! Eat shit! Filth are my politics, filth is my life!" The Johnson family amasses a following. By the end of the film, the rivalry body-count reaches national coverage and becomes a media sensation the likes of which film audiences won't see again until Natural Born Killers.
Mass murderers have massive appeal in Divine's world. Pink Flamingos is a cult movie in several ways. In one scene, Babs walks past graffiti reading "Free Tex Watson," one of the killers in the Charles Manson murders. A framed picture of Susan Atkins also hangs on an apartment wall.
"I went to the Manson family trial right before I made Pink Flamingos," Waters told The Guardian. "It had a huge effect on me. They were the real-life filthiest people alive."
A Cult Favorite?
Cult movies are more than just favorite films. They are cultures in themselves. Blockbusters are beloved, but cult status denotes a special kind of obsession.
Pink Flamingos is the ultimate cult movie. It isn't a film which failed at the box office and went on to gain a popular following. It was never popular. It's still not popular. The film was made by outsiders who despised conventions and was shown outside the normal theatrical venues. The Rocky Horror Picture Show enjoyed a full cinema run before being consigned to midnight showings. Pink Flamingos started there.
After its Baltimore Film Festival world premiere on March 17, 1972, at the University of Baltimore, New Line Cinema picked up Pink Flamingos for distribution. The new indie company booked a one-night New York showing at the Elgin Theater, where midnight movies began.
Midnight movies were discovered after showings of Reefer Madness found ironic success after hours on the weekends. Alejandro Jodorowsky's spiritual Western epic, El Topo, took the slot and became the first true "midnight movie." Starting on Dec. 18, 1970, his film ran every night at the Chelsea district theater until the end of June 1971. David Lynch's Eraserhead would later have a midnight Elgin Theater premiere.
Pink Flamingos drew 100 people on its February 1973 opening night and sold out both shows when it was extended to the following weekend. It played the Elgin Theater for a year before it expanded into other cities. The film played Los Angeles's New Art theater for a full decade.
Authentically Offensive and Obscenely Funny
Pink Flamingos was declared obscene in Hicksville, Long Island, and in Switzerland. It is currently rated NC-17 by the MPAA, which noted the film contained "extreme perversities shown in an explicit way."
The film was released before the MPAA code came into effect and an X rating was not a commercial liability. Melvin Van Peebles promoted his indie classic Sweet Sweetback's Baadasssss Song as "Rated X by an all-white jury!" in promotions. Neither film could ever be granted an R rating because both featured real sex when only "realistically simulated" sexual activity could pass approval of the ratings board. The unsimulated fellatio sequence between Babs and Crackers was a comment on the "porno chic" leaking into mainstream movies, which would peak when the adult film Deep Throat banged the box office in June, 1972.
In Boston, Pink Flamingos opened in a gay porno theater. The film pushed back against prevailing gay politics of the time, which urged assimilation, and anticipated the radical charge of the 1990s New Queer Cinema movement. Pink Flamingos holds a vital and influential space in LGBTQ culture, politics, and identity. It is uninhibited, unabashed, unapologetic, and undeniably individual. It is one of a kind. Shot with amateur actors too inexperienced for self-consciousness, it nonchalantly smashed taboos with gleeful abandon and fiercely funny deliveries.
Even ruder now because of political correctness, "cancel culture" will never touch Pink Flamingos because it cancels itself. Waters may flirt with mainstream success in commercial hits like Hairspray, Cry-Baby, and Serial Mom, but he truly committed to the underground film ethos with Pink Flamingos. We who love it should probably also be committed.