Reviews
The Alienist: Angel of Darkness Episode 7 Review – Last Exit to Brooklyn
The Alienist: Angel of Darkness presents its penultimate hour with mommy issues and gruesome deaths.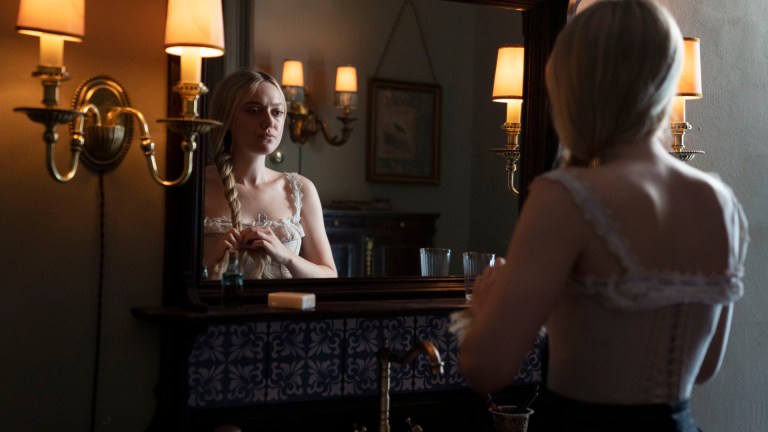 This The Alienist: Angel of Darkness review contains spoilers.
The Alienist: Angel of Darkness Episode 7
It's hard to believe, but we've already reached the penultimate hour of The Alienist: Angel of Darkness. It's unclear as to why TNT wanted to burn through the series with two episodes a night; perhaps the network knows the show will do better on streaming platforms and is just speeding up that arrival. Regardless, we're at the end of the line for this season and though there's been some missteps along the way, solid performances, immaculate production design, and a dash of campiness has made Year 2 more or less on par with the series' first season.
Though Kreizler may no longer be at the center of the story, the show has done a solid job making Sara Howard the series' new protagonist. Her storyline this year, from launching her own detective agency to grappling with her lingering feelings for John Moore, has been compelling stuff. Sara's painful backstory has made her overcompensate and keep her emotions close to her chest, and tonight we learn that her dedication to her job and this case don't just stem from her desire to bring Libby to justice, it's also a method to distract her from her feelings toward John.
Sara's real motivations start to show when she learns that Byrnes and Hearst have used her solid detective skills for nefarious purposes. Sara is able to hunt down Libby's mother Mallory after discovering a witness statement filed by the woman accusing Libby of murder. With Kreizler's help, Sara discovers that Mallory made up the accusation to get "crazy" Libby locked up and Libby's daughter taken into state custody, freeing her of any familial responsibilities after her husband's suicide. It's a callous act that explains Libby's fixation on replacing her child. Byrnes and Hearst use this information to track down Libby's daughter from child services and they use her as a pawn to lure Libby out of hiding. It's dangerous and irresponsible to begin with, but Sara seems particularly angry about it because Hearst is ultimately a part of the scheme.
Using Libby's child as bait doesn't work exactly as predicted, as a decoy Libby comes to Mallory Hunter's door instead of the real Libby. However, Libby is observing from a location that's close enough to get her recognized by patrolling officers, including Captain Doyle. Doyle tracks her down into a dead-end alley, but carelessness finds him taking his eye off of Libby long enough to get stabbed and killed. It's a gruesome death for a loathsome character but it's not exactly shocking. The minute we see Doyle and Libby in isolation, it's clear which way things are going to go.
The same can't be said for the episode's end. Before the climactic, cliffhanger ending to "Last Exit to Brooklyn," Sara confronts her feelings for John in the most direct way that she can muster. John basically pleads with her to just say the word, and he'll end things with Violet, but Sara can't bring herself to vocalize what she wants. It almost appears that she's resigned herself to losing John, but then she begins calling back, perhaps realizing that it's not wrong to acknowledge her love for John. It's hard to know exactly what her intention is in calling John back, but before she can reach him, someone enters her office.
Sara hopes that it's John, but in reality, a furious Libby steps out from the shadows demanding to know the whereabouts of her real daughter. Sara tactfully handles the situation as best she can, speaking as humanely to Libby as possible and promising to try to facilitate a meeting with her daughter, but it isn't enough. Libby is too far gone, and she points her weapon at Sara, but John arrives just in time to knock her gun off its aim. Libby and John wrestle for the weapon as Sara flies after her father's gun. After the dust settles, Libby has John by the throat and Sara has Libby in her crosshairs.
Although it's a mostly heavy episode, Kreizler and Karen have an amusing trip to a sex club that once again pushes Kreizler out of his comfort zone in a way that's healthy for the good doctor. Karen is offered a job outside of the city and is essentially waiting for Kreizler to ask her to stay, but Laszlo's rigid formality is preventing him from expressing himself in a similar way as Sara. I love the scenes between this pair in a vacuum, but once again, they just feel so far removed from the rest of the proceedings. From the looks of it, Karen may be leaving Kreizler for Freud.
"Last Exit to Brooklyn" is a propulsive episode that brings both the plot and the episode's most compelling relationship to a head. I would lament its cheap cliffhanger, but TNT is melting that problem away by queuing up the finale next. There are a lot of answers left to resolve in the season's final hour, but we're not going to have to wait long to receive them.