News
The 100 Season 5 Episode Guide
The 100 Season 5 is over, but you can relive all of the post-apocalyptic drama with this handy episode guide.
In the fifth season premiere, Clarke (Eliza Taylor) struggles to survive on a desolate, scorched earth while her friends in space come across a long-awaited beacon of hope.
Original air date: 4/24/18
Octavia must take guidance from an unlikely ally when the future of the bunker and all those inside it is jeopardized.
Original air date: 5/1/18
Bellamy leads the charge investigating a potential way home; Clarke and Madi deal with the new, uncertain threat to their home.
Original air date: 5/8/18
The 100 Season 5, Episode 4: Pandora's Box
The team must rely on the help of Shallow Valley's dangerous new inhabitants to save some of its own.
Original air date: 5/15/18
Octavia leads her people towards Shallow Valley against the advice of Clarke and Bellamy; Kane and Abby adjust to a new set of challenges.
Original air date: 5/22/18
Kane's (Henry Ian Cusick) attempt to prove himself useful tests Wonkru's allegiance to Octavia (Marie Avgeropoulos). Madi (guest star Lola Flannery "Shadowhunters," "Home Again") faces an unexpected threat inside Wonkru, forcing Clarke (Eliza Taylor) to make an unlikely ally.
Original air date: 6/5/18
Clarke (Eliza Taylor) and Bellamy (Bob Morley) make a startling discovery about Wonkru's battle plans as Echo (Tasya Teles) risks her friendship with Raven (Lindsey Morgan) to complete her mission.
Original air date: 6/19/18
Clarke's determination to protect Madi puts Bellamy in an impossible position.
Original air date: 6/26/18
The growing fractures in Wonkru threaten to explode once and for all. Meanwhile, in Shadow Valley, Murphy (Richard Harmon) starts a fire, unleashing catastrophic results.
Original air date: 7/10/18
Monty tries to show Wonkru an alternative to war; Abby's health continues to deteriorate, along with McCreary's patience.
Original air date: 7/17/18
The 100 Season 5, Episode 11: The Dark Year
As Clarke races to save Abby, she learns more about what Wonkru was forced to do in the dark year.
Original air date: 7/24/18
Octavia leads her people into war; the heroes must overcome their differences to save Wonkru from extinction.
Original air date: 7/31/18
Clarke and her friends risk everything to fight one last battle for survival, only to glimpse an even darker threat to the last living valley on Earth.
Original air date: 8/7/18
The 100 Season 5 Trailers
The CW went all in with this gorgeously-stylistic promo for The 100 Season 5…
Here's that extended trailer again (because it's that good)…
There was a sizzle reel and season 5 teaser unveiled at SDCC back in July. Check it out!
Oh, and here's a gorgeous poster promoting Season 5.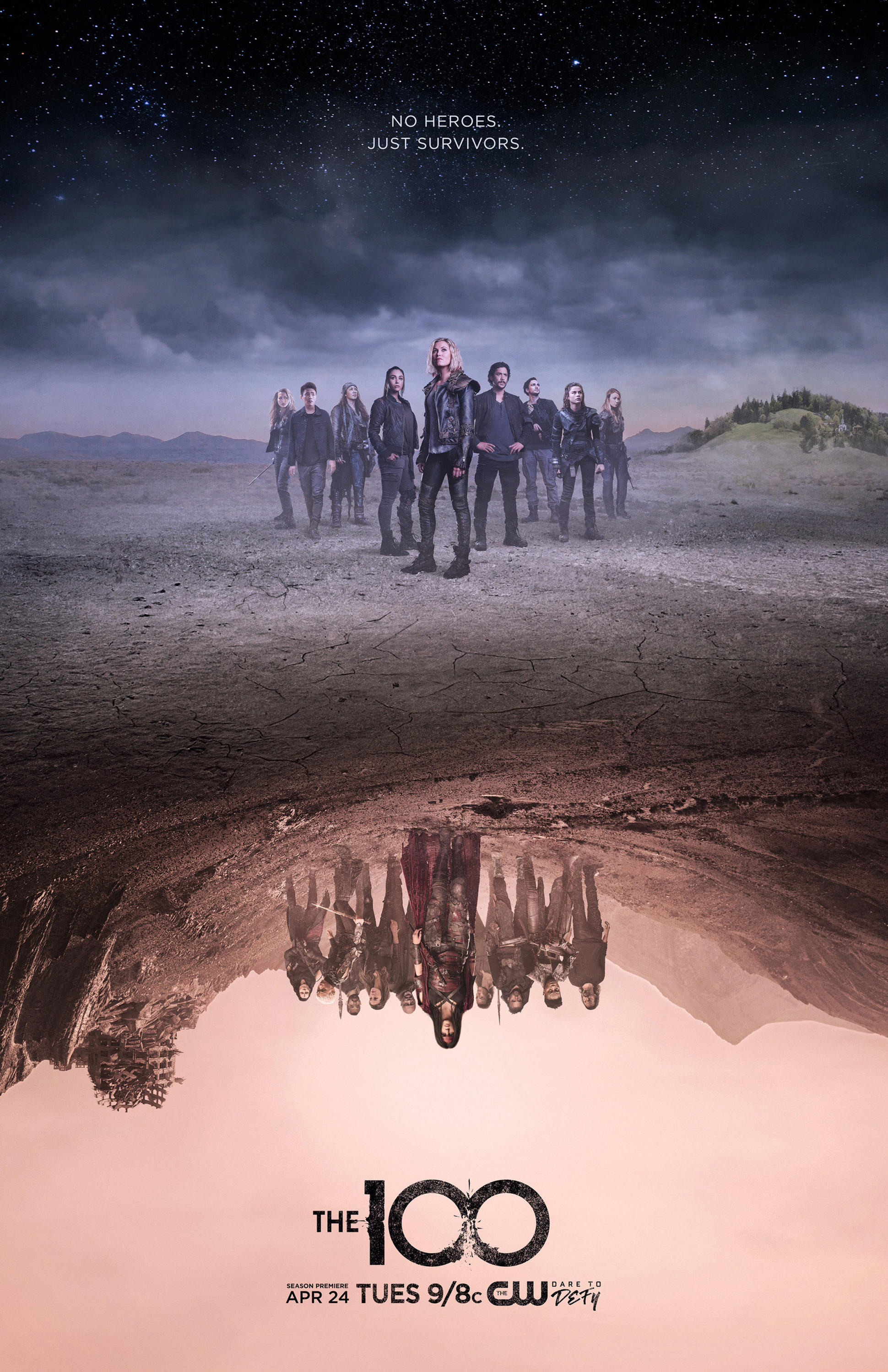 The 100 Season 5 Villain
The 100 Season 5 has cast William Miller as the season's Big Bad. According to TV Line, the Spanish actor will play Robert McCreary, a mysterious prisoner aboard the long-distance mining mission sent from our time. A former enforcer from a powerful crime syndicate, his ruthless, violent methods make him a formidable antagonist to our heroes." Watch out, Clarke!
The 100 Season 5 Cast
Ivana Milicevic (Love Actually) is Charmaine Diyoza, one of the "mysterious criminals" on the prison ship we see in the final moments of The 100 Season 4 finale. Milicevic will be a recurring guest star, so look for her to stick around for at least a few episodes.
According to Entertainment Weekly, Charmaine is a "ruthless military strategist who will go head to head" with our already established characters. Sounds like a worthy adversary for Clarke.
Jordan Bolger (Peaky Blinders) has also joined the cast in a recurring role of Zeke Shaw, an adrenale junkie "brimming with brains, wit, and bravado."
In other casting news, Tasya Teles (Echo) has been upped to a series regular, and Madi, Clarke's "daughter," will now be portrayed by Shadowhunters' Lola Flanery. 
According to Deadline, Shannon Kook (Shadowhunters) has been cast as a new character, set to appear in the Season 5 finale. The most interesting aspect of the casting announcement is that Kook's character has the potential to continue on into Season 6. Not many characters on this show get the assurance that they will survive the season!