News
My Hero Academia Season 5: Everything You Need To Know
When will the next season of My Hero Academia arrive? What will it be about? Here's everything we know so far about My Hero Academia season 5!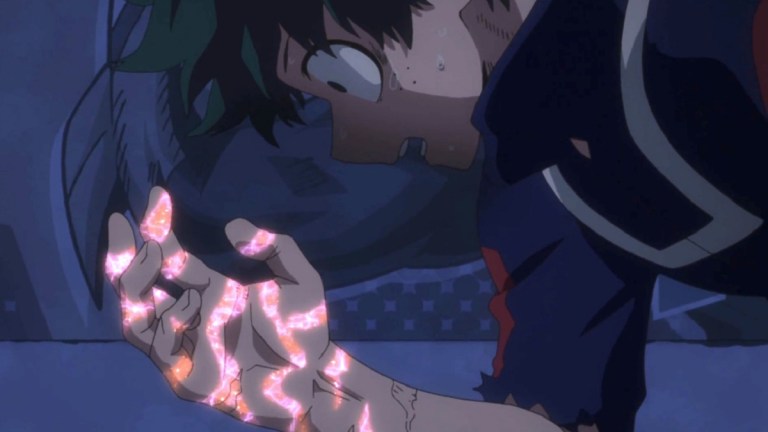 My Hero Academia has been one of the most popular anime in its category ever since the series premiered back in 2016. The series has been able to take something as oversaturated as superheroes and find fresh, emotionally rich stories to tell that really take the material to unique places. Each season of the show has looked at the gradual journey of Izuku "Deku" Midoriya and his classmates to become professional heroes. As Midoriya and his friends grow stronger and more mature, the tasks and dangers that face them also become more intense.
This has never been more true than in the show's fourth season, which took My Hero Academia to its darkest places yet and branched out of the show's typical stable of characters to give other faces opportunities to shine. Our episode guide on the fourth season will give you all of the specifics of the year's threats like Overhaul, Gentle Criminal, and beyond, all of which build to what will be a highly explosive My Hero Academia season 5.
So what do we know about My Hero Academia season 5 so far? We've gathered all the information out there in one place for you.
My Hero Academia Season 5 Release Date: When Will It Air?
The My Hero Academia season 4 finale teased that the show would be back with new episodes, but no firmer date beyond that.  The first three seasons of My Hero Academia all debuted in the spring during April, but season four bucked that trend with an October premiere. If a 2021 premiere is in the cards then another October debut for My Hero Academia season 5 seems likely. However, if more time is needed, the series may return to an April premiere, but in 2022.
We'll update this when we have official confirmation, of course.
My Hero Academia Season 5 Trailer
A very brief teaser trailer for My Hero Academia season 5 has been released in conjunction with the season four finale, but it really doesn't offer anything new that wasn't already in the last episode. It's just another look at the end of Deku's dream and a confirmation that season five is coming and that "something" has been awakened. Watch it here!
Once a more substantial look is provided at season five, we'll update with an improved trailer.
My Hero Academia Season 5 Plot Details
In terms of what will be tackled in My Hero Academia season 5, it's a certainty that Endeavor's tenure as the new Number One hero will be a major plot point, as well as his efforts to repair his reputation with his family. There are likely to be more developments with everyone's progress at U.A. High as Class 1-A competes against Class 1-B and the series' scope continues to expand. Season four ended with hints towards these heroes-in-training learning how to evolve their Quirks in new ways and this will surely get explored at a more significant length.
It looks like Izuku Midoriya in particular has major changes on the way that will be a big part of season five. The post-credits tease has Midoriya making contact with what appear to be apparitions of all of the former One For All users. Midoriya's abilities grew substantially in season four, but if next season looks at him communicating with some Speed Force-like energy of past heroes he may finally be able to access 100% of his Quirk in a way that a hero has never seen before. It also seems like these One For All ancestors are reaching out to Midoriya for a special reason and that a great danger may be on the way.
On that note, it's also likely that the League of Villains will occupy a large role in season five. The villains' story and the evolution of their organizations during the end of the Shie Hassaikai arc didn't exactly get a conclusion and only hinted at more sinister things to come. Shigaraki and his forces continue to grow stronger and All For One is still lurking in the shadows with an agenda that's yet to come to fruition. It's possible that Endeavor's new role as the Number One hero will come into conflict with the rejuvenated League of Villains and other evil organizations that have been growing during All Might's absence. A popular character from this season, Gentle Criminal, also leaves on a somewhat ambiguous note and it wouldn't be surprising if season five features the return of him and La Brava, albeit as heroes this time around, instead of villains.
Finally, it's worth pointing out that even though My Hero Academia's success is still rampant, Kōhei Horikoshi has spoken about the series nearing its natural end point and many of his ideas for the show running their course. With the growth that these characters have shown, especially in the fourth season, it wouldn't be impossible if season five is the show's final year. Of course, there's still My Hero Academia spin-off manga that are available to adapt into anime if the main series does come to a close. We'll update this as more information becomes available on either topic.
My Hero Academia Season 5 Episode Count
The anime's debut season started with a modest 13-episode run, but every year after that has been a larger set of 25 with no hiatus in between. While there's no been official confirmation on a My Hero Academia season 5 episode count, with the show's popularity at an all-time high it'd be seriously surprising if it wasn't for another order of 25 episodes.