Reviews
That '90s Show Review: Red and Kitty Forman Steal the Show
Netflix's revival of That '70s Show works best when it's playing the old hits.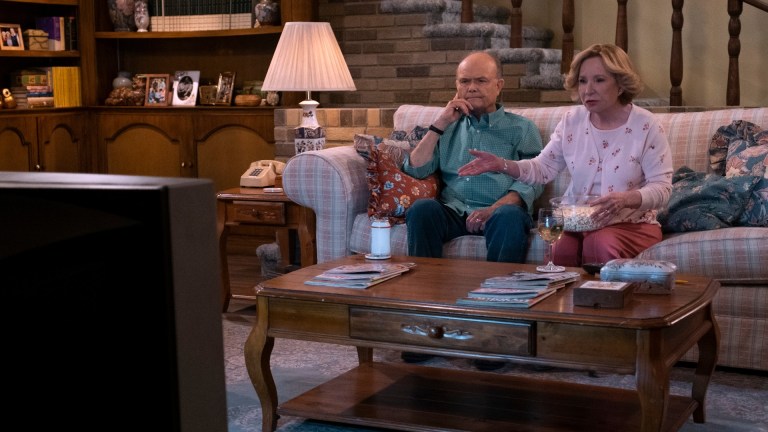 This That '90s Show review contains no spoilers.
Reboots of old shows are all the rage right now. Whether it's a revival with the same cast members returning or a spinoff set in the same universe as a previous hit show, it seems the television industry is dead set on giving audiences a dose of the same medicine from the past. This is a dangerous trend for those who want a little more creativity on our screens, but it's also comforting to see characters and actors from our childhoods, especially in a time with so much economic and health turmoil following COVID-19.
The latest in a long line of these modern takes on classics is That '90s Show. Using the same setting and bringing back various characters from the hit Fox sitcom That '70s Show, Netflix is hopeful that fans of the original era-specific comedy series will still enjoy the antics of the teenagers from fictional Point Place, Wisconsin. Like a lot of these reboots that have occurred on streaming services, such as Fuller House, finding a balance between new and old characters is a very arduous task.
It's especially difficult in the case of this reboot, as the people from the original show are incredibly beloved by television fans all over the world. The talented cast of That '70's Show have gone on to appear in a myriad of blockbuster films and other successful series. Ashton Kutcher and Topher Grace are the first that come to mind here. In fact, both actors outgrew their roles as Michael Kelso and Eric Forman on the original series and left before it ended to pursue other career opportunities. Grace was the antagonist, Venom, in Spider-Man 3, and Kutcher replaced Charlie Sheen on Two and a Half Men.
For these reasons, the vibrant and unique acting skills that were displayed on That '70s Show make it nearly impossible to replicate in a rebooted format with new actors. The showrunners are hopeful that small cameos by most of the main cast, along with an increased presence from the legendary Kurtwood Smith and Debra Jo Rupp as Eric's parents, Red and Kitty Forman, will be enough to scratch the nostalgic itch of their intended audience. There's also an effort to mirror some of the traits of the original characters in the new cast members, but this results in a mixed bag of mediocre joke setups and punchlines.
The protagonist of That '90s Show is likable enough. Leia Forman (Callie Haverda) is the daughter of Eric Forman (Topher Grace) and Donna Pinciotti (Lauren Prepon). She combines her father's timidity and nerdiness with her mother's flair for theatrics and adventure. When she's interacting with her parents in the pilot episode of the series, it seems like there's a lot of potential. She plays off of her parents well, but this might just be the charisma of Prepon and Grace rubbing off on their onscreen daughter. Once her parents leave the picture, Leia turns into an ordinary teenager of sorts. She has boy issues, problems with fitting in, anxieties about her progress in life as an adolescent, you know, the whole gamut of first-world issues that 15-year-olds espouse on TV.
Leia's surrounded by a potpourri of friends that simulate some of the key ingredients we loved in the original cast members, particularly her would-be boyfriend Jay Kelso (Mace Coronel). Jay is actually the best character from the new additions, as he isn't a carbon copy of his father. Instead, Jay tones down the wild stupidity of Kutcher's famous idiot and suffuses the show with more of an innocent ignorance. His progression throughout the season from a bad boy into a thoughtful, yet still-unaware teen is sensical, but not really completely revelatory. All of the plot points throughout the 10 episodes come through as somewhat generic as we await the next one-episode appearance by Fez (Wilmer Valderrama), Donna, or even Donna's father, Bob Pinciotti (Don Stark).
The glue that holds this spinoff together is the husband-wife team of over 40 years that we mentioned at the beginning. Red and Kitty Forman are somehow even more fleshed out than they were on That '70s Show. With multiple decades separating their appearance in the two shows, the writers have keenly evolved these parents into more modern versions of themselves. Grandparenting looks good on Red, who has softened significantly since his days of incessantly desiring to shove his foot up everyone's ass.
There's still enough curmudgeon in Red to make him everyone's favorite crank, but the time that has passed since his own son was in the house has changed his outlook on the world a little bit. Red is now a more caring husband, a more involved father-figure, and someone people can look to for advice. He constantly encourages Kitty to pursue her dreams in their senior years, topped off by nudging her back into the workforce as a nurse.
Kitty is still a motherly force to be reckoned with. Her infinitely optimistic energy creates a fantastic yin and yang to Red's still-sometimes-sour demeanor. Kitty is an older woman who wants to spice up her golden years with the new kids down in the basement, but she also appears to want more. She's ready for the advancements of the 21st century that are on the horizon. A couple key storylines that follow Kitty's newfound curiosity in the world is her acceptance of the new group's gay character, Ozzie (Reyn Doi), and her anticipation of learning all about the internet.
In an absence of Red and Kitty's perpetual involvement in every episode, That '90s Show would almost feel completely detached from the parent program. Sure, the music and set pieces are pulled straight from the Point Place we've always loved, but they would feel stiff and lifeless without the energy the Forman patriarch and matriarch infused into the shenanigans. They are the connective tissue that makes up for the miniscule stints of Eric, Donna, Fez, Kelso, and Jackie. Steven Hyde (Danny Masterson) doesn't even show up once, presumably due to the actor's legal troubles in his personal life.
The show also tries to juggle '90s pop culture references with '70s decor around the Forman residence, and this attention to detail should erase any distractions that may have occurred otherwise for fans who get obsessed with time pieces on television. The laugh track in the background is also a nice touch that reminds older viewers of the traditional multi-camera style of sitcoms from their upbringings.
The heart of these two series has always been the characters, and hopefully a second season of That '90s Show can pull reluctant viewers closer to the newly-minted teens of Wisconsin introduced here. As for this first season, the whole experience is probably more of an appetizer for viewers to go back and rewatch That '70s Show all over again. I guess there are worse things that can be said about a reboot though, right?
All 10 episodes of That '90s Show are available to stream on Netflix now.