News
Syfy's Late-Night TZGZ Animation Block Expands Darkly
TZGZ animates the overnight with apocalyptic weirdness, even for SYFY.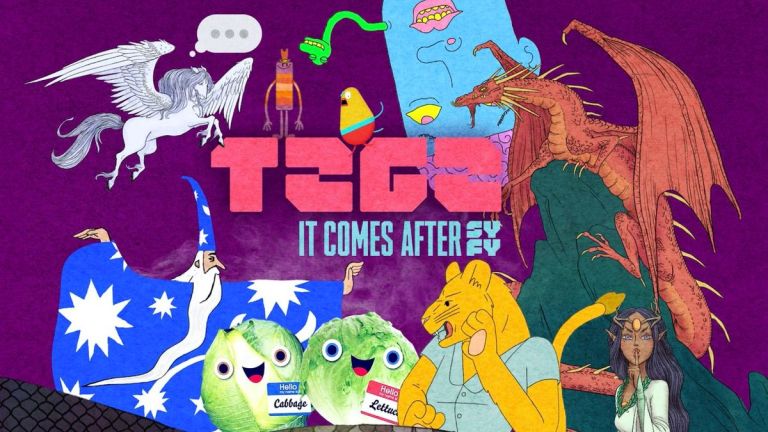 Syfy, the channel dedicated to the fiction of science, runs some mind-bending content during prime time. But they shoot short daggers into the brain in the after-hours. Cartoons have taken over the traditional cult movie slot, midnights on Saturday. TZGZ is a late-night block of comedic, animated genre-based programming, made for adults.Syfy's late-night animation block, TZGZ, is expanding with 3 new series and 2 pilots.
The computer, HAL, on 2001: A Space Odyssey was named after IBM. Each letter of the villainously nerdy computer's name is the letter preceding the letter of the giant computer company's name. TZGZ follows the same tradition, only later. "It Comes After SYFY."
"What happens when SYFY stays up late? Things. Get. Weird," Syfy promises in its press statement. "Welcome to TZGZ, where lettuce sings, the undead text, and wizards get high… all before bedtime."
Syfy launched the 90-minute, late-night adult animation block last fall. TZGZ bolstered its lineup with originals that are either completely new or are getting in-house follow-ups to first seasons. The returning Hell Den will begin season 2 with six 15-minute episodes created just for TZGZ. The animated twist on sketch comedy centers on the silly cartoons which will be shown after the apocalypse.
"After an Uber-Apocalypse wipes out civilization, only one person miraculously survives: 12 year-old Andrew," the show logline reads. "With the last working TV and VCR in existence, he invites a motley group of apocalyptic creatures into his house to watch weird cartoons and old movies." Hell Den combines original animation with old live-action and animated clips re-dubbed by the Dr. God troupe. The cast includes Sean Cowhig, Neil Garguilo, Brian James O'Connell, David Park and Justin Ware; guest stars Matthew Lillard, Katie Leclerc, Maria Bamford, and Kevin Heffernan.
Wild Life is TZGZ's first internally developed pilot greenlit to series. The series is another post-apocalyptic show, but with a cast of animated animals. "Together, they come up with elaborate schemes to entertain themselves and pretty much just keep from going insane," according to the official synopsis. Wild Life features Natalie Palamides, Baron Vaughn, Reggie Watts, John Paul Reynolds, Claudia O'Doherty, and SkittLeZ Ortiz.
Dr. Havoc's Diary, an acquired six-minute-long, 30-episode series, is "a supervillain tale in the vein of Dr. Horrible's Sing-Along Blog, with a baddie whose greatest foe is his midlife crisis."
Syfy also gave the green light to pilots for Plutonians, which is about "aliens on Pluto trying to prove they matter to the rest of the solar system after their home was deemed not a planet," and Psycho Psalms, which is a stop-motion meta-cartoon. "The Interplanetary Federation has conferred and it's official: Pluto is no longer a planet," reads the official synopsis. "The Plutonians are now determined to rebrand their image and prove themselves to the other planetary beings of the solar system – with the exception of Earth, who are notorious bullies and can't find out about alien life.
Stop-motion dark comedy Psycho Psalms tells the story of a 1940s D-List cartoon character named Timecrow and his misfit costars, as they "attempt to navigate our postmodern internet hellscape after being yanked through a portal to our present day," according to the synopsis. "These offbeat characters will take you to a dark place, but they won't leave you there."The TZGZ adult animation slot launches with the debut of Dr. Havoc's Diary on Saturday, April 25, at midnight on Syfy.